Three-star general tactfully changing face of the capital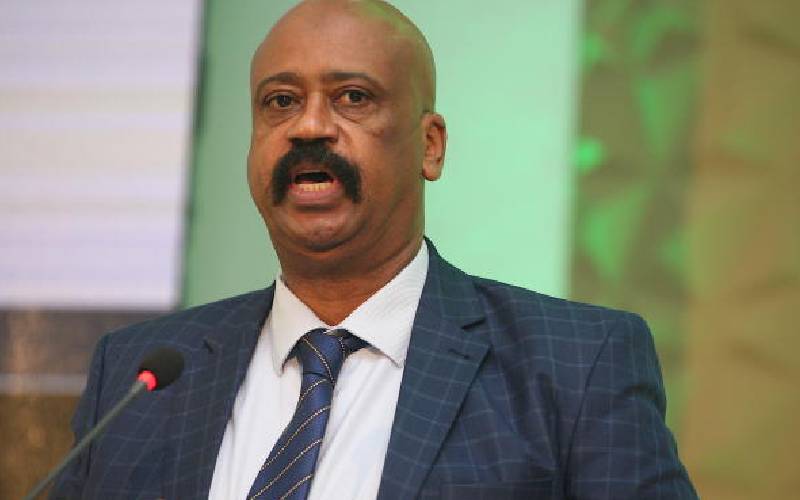 Perched on the 24th floor of the city's most iconic building, accorded a bird's eye view of the city and recently promoted to a lieutenant general, Mohamed Badi is not sitting any pretty in his high office.
Strategic to the core, focused to the bone and unrelenting, Lt-Gen Badi admittedly works day and night to rid Nairobi of its ills, and to satisfy his Commander-in-Chief, President Uhuru Kenyatta.
At his office, a portrait hangs on the wall, bearing mugshots of all city MCAs, who initially opposed his thunderous entry into City Hall as Director-General of Nairobi Metropolitan Services (NMS).
Like a true military man, he may have moved on – as a matter of fact almost all of them are now on his side – but he has not forgotten. A good general keeps a running consciousness of present and past enemies.
"Happy New 2021," the engraved portrait reads, as though mocking the folly of the man they staked their necks out for, ousted Governor Mike Sonko. While the latter, with hundreds of thousands of votes, spends his days whining on social media and pulling pranks, Badi whiles his days and nights taking the president round city projects.
"He was angry and thought that I had taken over his job. He should have played smart by being close to me for a harmonious working relationship. However, I harbour no grudge against him," he says of Sonko.
At the height of their acrimony, there was no love lost between the pair. Sonko roundly dismissed Badi, describing him in no pleasant terms. The lieutenant general kept his cool but applied more pressure, and within weeks, Sonko was out, condemned to the dustbin of political history maybe for good.
But even with Sonko gone, and consigned to social media, Badi has little time to rest. His new battleground is the ever thriving, stubborn cartels, which have survived every City Hall administration since independence.
"These are not normal human beings," he says of the faceless vultures always swirling around City Hall, hunting for looting opportunities.
Badi's typical day begins at 7am, ending at 11pm when he retires to his home. During the day in office, he is usually engrossed in paperwork and attending to visitors before leaving at around 6pm for the next phase of his night schedule that involves inspecting ongoing projects.
"There is little time to relax, I work day and night," he tells the Saturday Standard.
It is during such tours that Badi is occasionally joined by President Kenyatta, who picked him up from the barracks to transform the city.
"With the current Covi-19 situation, we don't want to expose the president and this is why we prefer conducting the inspections at night when there are no crowds," he says.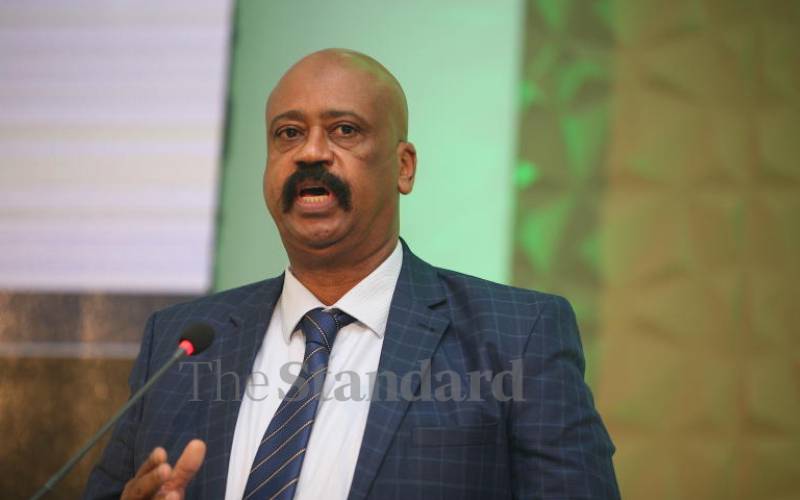 Some consider him the president's blue-eyed boy. Badi, however, downplays this, only saying Uhuru is his friend and boss.
Their friendship started at Moi Air Base where the pilot interacted with the president whenever the latter was travelling by air.
"But our relationship is purely work-related," says Badi with a deep pause. Asked whether he would be the next Chief of Defence Forces (CDF) going by the flow of events, he measured his words like the military man he is.
Dream of every soldier
His promotion last week puts him in good stead to succeed General Robert Kibochi when he retires.
"The dream of every soldier is to be a four-star general. However, the position of CDF is only one yet we are four lieutenant generals. My chances of becoming CDF are 25 per cent, there is high possibility I might not rise beyond; civilian life is beckoning," says Badi.
From a humble background, he feels honoured to have risen to the apex of the military from where he was fished to transform Nairobi, a city that for long had been left to the dogs.
After completing his high school in Mombasa, Badi joined the military and trained as a pilot. According to him, he had long achieved his ambitions by the time the president picked him to turn around Nairobi.
"My dream was to be a pilot, which I achieved, becoming an instructor before rising to airbase commander," he says.
One of his fears when airborne is the thought of an accident. However, this is balanced by the satisfaction and fulfilment he gets whenever he safely navigates through space.
Sonko, cartels and change of work environment, Badi too admits he has been on a learning curve. He says he has come to realise that working in a civilian environment is not a bed of roses.
In the military, he was used to taking and barking orders in a well organised and disciplined unit where order is the greatest virtue.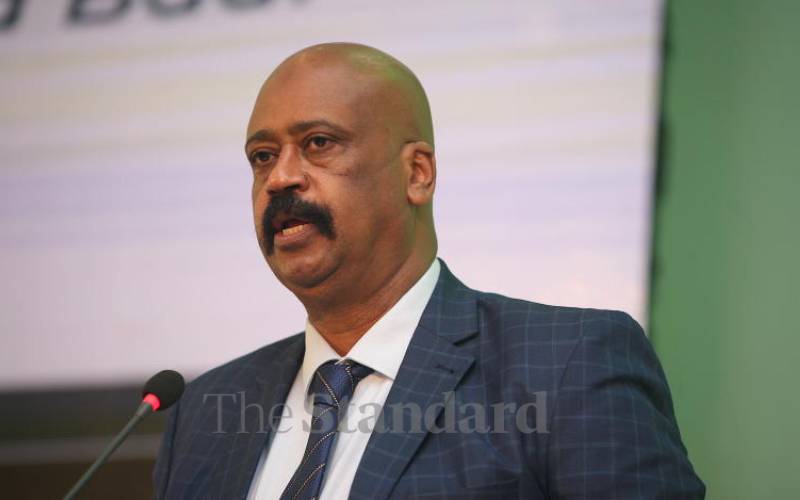 Out here, he has had to condone with civilian preoccupation with chaos, obsession with indiscipline and runaway impunity.
"In the military, it is a hierarchy but out here, some people are not used to taking orders. You have to explain to them your, we part ways," says Badi.
The military man cannot come to terms with people who want to cut corners. And yet, such people make the most of the city he was tasked to transform. He has now set his gaze on unscrupulous people who are running parallel systems in provision of water and health services, and the billing.
He wants to bury them alive, and vows that he will gradually run all cartels out of town.
"The cartels were running a parallel water system involving diversion of water from our supply channels, and exorbitantly selling the same commodity to residents," he says.
Illegal health facilities
The problem, Badi says, has partly been addressed through sinking of boreholes in various parts of the city and acquisition of bowsers to support water distribution efforts.
On health, Badi says it had reached a level where even unqualified individuals operated unregistered health facilities.
"We had a situation where mushrooming illegal health facilities were being run by quacks. Thankfully, following the construction of health centres, we have been able to drive these individuals out of business," he says.
Twenty-four health facilities constructed by NMS are now operational. They are in Dandora, Kiamaiko, Soweto, Uthiru, Githurai, Kibra, Mukuru Kwa Reuben, Mukuru Kwa Njenga, Gitare, Kawangware, Korogocho, Mathare, Viwandani and Majengo.
These achievements and more, Badi says, have not come easy.