Shonas attain Kenyan citizenship after decades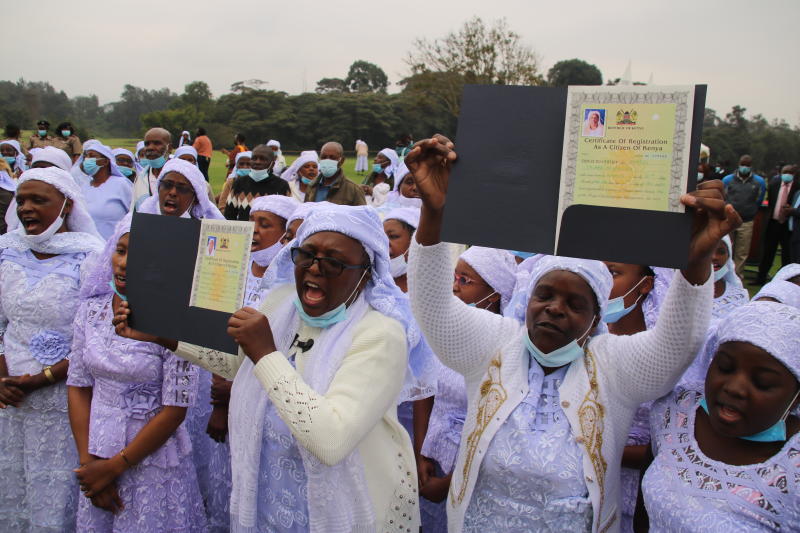 For more than 60 years, the Shonas bestrode the country as stateless people, devoid of official recognition as citizens and denied essential services on account of their status.
Their ancestors had moved to Kenya in the late 1950s from Matebele, Zimbabwe and settled in the country. Another batch of missionaries, sent by Johane Masowe of Gospel Church of God, checked in between 1959 and 1961, settling in Kinoo and Kiambaa areas.
And therein began their lifelong petition for citizenship, including marriages with Kenyans to secure backroom recognition as citizens.
Yesterday, after all their toils and struggles, the government made a significant step towards formalising their stay in the country.
At a ceremony where over 200 of them were issued with identity cards and citizenship certificates, Interior CS Fred Matiang'i announced that they will now be officially recognised as an additional ethnic group. "I would like to thank those who have been with us during this journey, including UNHCR and KHRC because we have been talking about ending statelessness in the country," said the CS.
A few years ago, the Makonde received State recognition after staging protests, walks, petitions and talks that ended up in State House courtesy of President Uhuru Kenyatta.
"We are now left with one community in Tana River and effective next month my team will embark on the assignment of getting them the documents," added Matiang'i.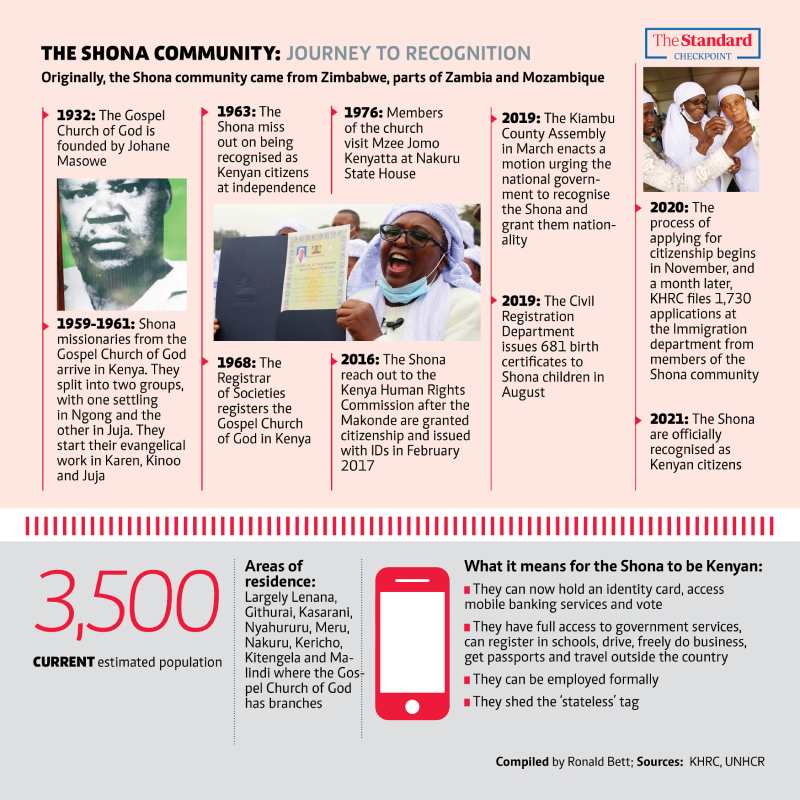 The community was told they should drop the Shona tag and become hardworking and law-abiding citizens since they would now access government services. At the same time, local leaders were urged to ensure that children from the community enroll in schools as required.
Matiang'i added that accepting the community was another way of respecting human rights. Among those who received citizenship certificates were Ghanaians and Asians in an event attended by Kiambu County Governor James Nyoro and various government officials.
Oliver Muregerera, the community secretary-general, said he was elated as they will now participate in the country's general elections for the first time.
"Because we were not recognised as Kenyans we do not have critical identification documents. As a result, we cannot even open our own businesses. We have to use the details of our Kenyan friends to register the businesses," said Muregerera. The Shona, who make up almost 4,000 members, had lived in the country for decades without papers. "Presently, scores are settled in Lenana, Githurai, Kasarani, Nyahururu, Meru, Nakuru, Kericho, Kitengela and Malindi," says a KHRC report.