Encounters with 'Macharia' and a look at crystal ball on 2022 poll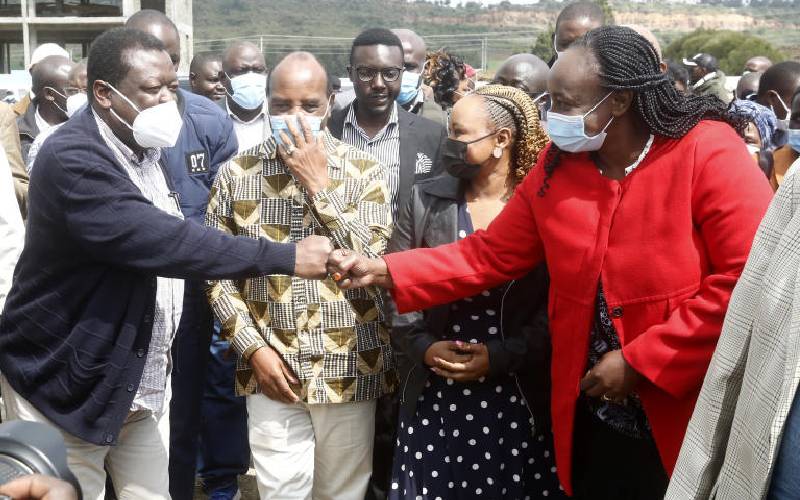 Last weekend, Musalia Mudavadi camped in Central Kenya to drum up support for his presidential bid. In the region he is known by the nickname 'Macharia', which means one who seeks. We look at his career and why he may hold the key to the grand opposition coalition that reportedly has State House blessings.
I first met Mudavadi in the early 1990s. Both of us were rather green in our respective careers-so much so that cows would have fed on us.
He was 31 and youngest member of the Cabinet. Our meeting was accidental. I was on assignment in Vihiga to write a feature on Paramount Chief Hudson Agoi, who was the only one to hold the title in the republic. Actually, the title is non-existent in the government hierarchy but Chief Agoi had been allowed to use it.
Chief Agoi happened to have been an age-mate and great friend of Mudavadi's father, Cabinet minister Moses Mudavadi, who had passed on two years earlier.
Like Chief Agoi, Mudavadi's father operated in his own lane and was the only politician besides the Head of State allowed to host national delegations at his private residence in those days when the country was a one-party State. For that, Moses had been nicknamed the 'King of Mululu', with Mululu being a village.
Youthful Mudavadi happened to be in Mululu when I went to interview Chief Agoi and he dropped by the old man's home. You hardly could tell he was a Cabinet minister. He drove himself in an old Land Cruiser, no convoy, and only two bodyguards in tow. He was much trimmer than today and looked unsure of himself. As you would expect, Chief Agoi addressed him as the 'Prince'.
This 'dynasty' thing began early!
My next and only other meeting would come a quarter century later in 2015. This time, I had sought an interview with him and went to meet him at his party headquarters in Lavington. He had come full circle. His girth was full, and he was superbly confident and in control unlike the youthful Cabinet minister I met earlier.
At instance, Mudavadi is a likeable person. He is soft-spoken and takes time to listen, a rare character for a politician. Ordinarily, politicians are in love with their own voice and will talk endlessly in that annoying I-know-it-all attitude.
He also struck me as a forthright man and didn't evade any of my questions, including one on his wealth and the infamous Goldenberg scandal. He said he played no role in the heist and referred me to a report of the Judicial Commission of Inquiry on the matter.
If anything, as Minister of Finance, he told me, he was one tasked with the unenviable role of cleaning up on the Goldenberg mess. Records bear him out that it is he and then Governor of Central Bank Micah Cheserem who helped restore relations with Kenya's development partners that had been severed by Goldenberg.
He also spilled the beans on how he was the sober mind in the moment of madness during the 2007/8 post-election violence. He told me how immediately the controversial results were announced, ODM presidential candidate Raila Odinga was torn between extreme forces who didn't mind destroying the country as long as they had it their way, and those who thought the country must remain and insisted on mediation.
ODM hawks
He disclosed that hawks in ODM, among them a 2022 presidential aspirant, wanted the party MPs who were the majority to disrupt the swearing-in of a new Parliament, which would have escalated the conflict.
Indeed, excitable rookie Ababu Namwaba, who was alphabetically listed as first to take the oath, unsuccessfully led the charge by insisting on reading "President" Raila Odinga and not President Mwai Kibaki as written in the oath script. Speaker Kenneth Marende demanded he must read the script as written.
Significantly, Mudavadi was the only ODM MP who had the courtesy to shake hands with President Kibaki during the swearing-in session in Parliament, which the latter attended as the MP for Othaya.
Mudavadi further disclosed to me that though he was in the ODM team during the Kofi Annan mediation talks, he secretly met with then Internal Security minister John Michuki with whom he agreed the country must not be allowed to sink, and that give-and-take had to come from both sides.
Obviously, I asked him about the elusive united western Kenya bloc vote, which is the second largest after the Mt Kenya bloc. He said much as he was a national leader, he regretted that the bloc's vote was always sacrificed at the altar of ego and selfish interests.
But of great concern, he told me, is that compared to other regions, voter registration and turn-out is low in western Kenya which denies the region chance to impact on national leadership despite the strength in numbers.
He quoted statistics from the 2013 election where western Kenya, with a population of 6.82 million, had 1.93 million registered voters or 28 per cent of the population. Those eligible to register were about 2.6 million, which means about 700,000 people did not.
Central Kenya, with a population of 8.14 million, had 3.9 million voters or 48 per cent of the population. Nyanza region with a population of about five million had 1.83 million voters or 37 per cent of the population, while Lower Eastern, with a population of 4.6 million, had 1.52 million voters or 33 per cent of the population. Voter turn-out in Mount Kenya strongholds hit 95 per cent, in Nyanza 85 per cent but 75 per cent for western Kenya.
Mudavadi, however, told me that his greater worry for western Kenya and the country at large was the economy. Making reference to Bill Clinton's 1992 campaign slogan: It is the economy, stupid! — meaning it is the economy before anything else that needed to be fixed — he passionately talked about youth unemployment and said it urgently needed to be fixed lest political demagogues take advantage to get into power and further muddy the waters.
Come to think of it, Mudavadi could have been talking of 2022 presidential campaigns where deceptive slogans have been crafted to take advantage of the youth.
So what is the game with the break-up from 2017 NASA coalition by Mudavadi, Kalonzo Musyoka, and Moses Wetang'ula, and formation of the One-Kenya Alliance (OKA) with Gideon Moi?
Insiders say it is a strategy to first isolate ODM, and return to the negotiating table as equals, not underdogs, which they are in NASA. Sources say the issue of sharing of State funds within NASA, and which has been left for Kalonzo to negotiate with Raila, is merely an excuse for the divorcees to force a re-negotiated union at a table where Jubilee will also be on board. The envisaged broader alliance reportedly has full backing from State House.
Prediction 2022: In journalism, we have room for facts, probabilities and possibilities. For possibilities, I foresee two main formations in 2022: The grand coalition made up of Jubilee, ODM and OKA, and whose leader and chair of coalition summit will remain President Uhuru Kenyatta even when he vacates State House, much the same way Julius Nyerere remained leader of Tanzania's CCM even in retirement.
On the other hand will be Deputy President William Ruto's UDA party. The grand coalition flag-bearer will be Raila Odinga but with a clear, written, and publicly declared agreement that he will go for only one-term, Nelson Mandela style.
From OKA will come the running-mate and the choice is very likely Mudavadi. Jubilee will come up with a prime minister and the likely name is Justin Muturi. Please don't rush to crucify me for my crystal ball predictions. You are free to draw up your own line-up. Ours is a democracy, remember? Bring it on!