Exit from EACC haunts Irene Keino's hunt for position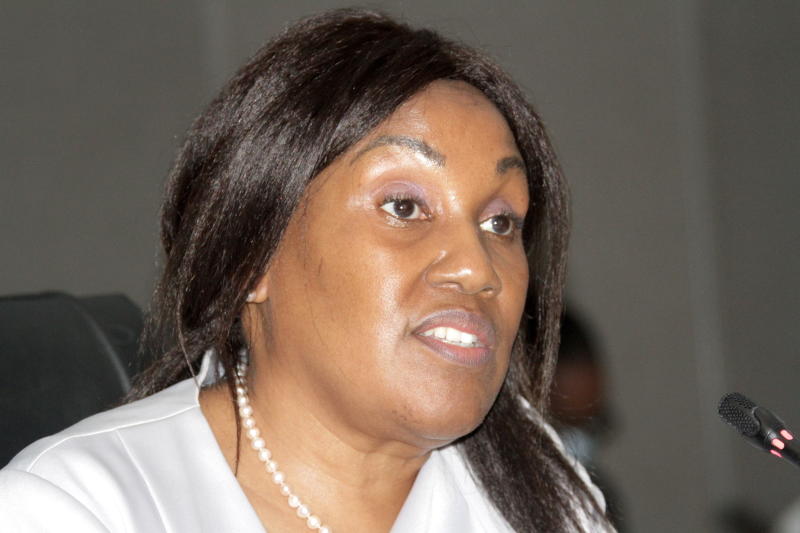 The panel selecting new electoral commissioners yesterday took former Ethics and Anti-Corruption Commission (EACC) vice-chairperson Irene Keino to task over her resignation six years ago.
Ms Keino, who is eyeing a comeback to the public service, is among the 36 shortlisted candidates for the four positions of commissioners at the Independent Electoral and Boundaries Commission (IEBC).
Panellist Morris Kimuli pressed Keino to explain why she would be interested to join another constitutional commission after she was hounded out of another over alleged improprieties in 2015.
"You were a member of the EACC how did you leave?" he posed.
In 2015, Ms Keino resigned hours after members of a tribunal made a decision to investigate her, and the then suspended chair Mumo Matemu, was sworn in.
In her resignation letter to President Uhuru Kenyatta, Keino said she did so to spare her family the anguish of a judicial process that would cause them unimaginable pain "and to lend support in the fight against corruption".
Tribunal
The tribunal resulted from a petition filed in Parliament for her ouster, with 130 MPs against 52 voting to send her home.
"At the time you rendered your resignation, Parliament had already tried you and there was a petition and it had recommended for your removal. They even recommended the president for the appointment of a tribunal to remove you and then at that stage you resigned," Kimuli asked.
She, however, defended herself stating that there was an agreement between her and the executive for her to resign instead of facing the tribunal after Parliament had accused her of unethical behaviour at the anti-graft commission.
"There was a behind the scene memorandum between the commission and the government to resign," she said, adding "I was guided by the Constitution and the law. It states that a body needs to have public confidence and by the time I was leaving, the public confidence had been eroded so I decided to resign."
Vice chair of the panel James Awori did not understand how she will navigate in another constitutional commission, which is also suffering from the same issue of lack of confidence of the public.
He also noted that he failed to understand why she opted to resign instead of taking up the opportunity to clear her name at the tribunal.
"You decided to avoid that route. How do Kenyans now believe that you have learned anything or changed? How will they gain the confidence in you?" he posed.
He added: "You were leading an institution that had lost integrity such that people had no confidence in, given your history how would you help the commission gain the confidence of the public since by the time you left the other commission it was virtually collapsing," he noted.
In her response, Keino said she believes in second chances. She said she had since grown up and learned her lessons.
Kimuli was still not convinced. He wondered whether someone who had been removed from one commission for ethical irregularities and ethical failures can still join another commission.
"In your application, you were required to indicate whether you have been dismissed or otherwise removed from any employment or board or any other engagement with the answer yes or no and you said no. Don't you think the recommendation by Parliament for your removal is constructive dismissal from office?" he posed
Keino said she was advised that unless the removal had been done until the conclusion, then it doesn't tie to the removal.
She said she would focus on sensitising the youth on the repercussion of taking handouts during elections.
She revealed that she backed out of the woman representative seat race in Elgeyo Marakwet in 2017 because she could not match the amounts of money her rivals had for campaigns.
Also interviewed was Prof Joseph Gitile.
Today, the panel will interview Julius Kiplagat, Dr Joseph Kangeth'e, and Juliana Whonge.