Caroline Kagongo's parents ask her to surrender to the police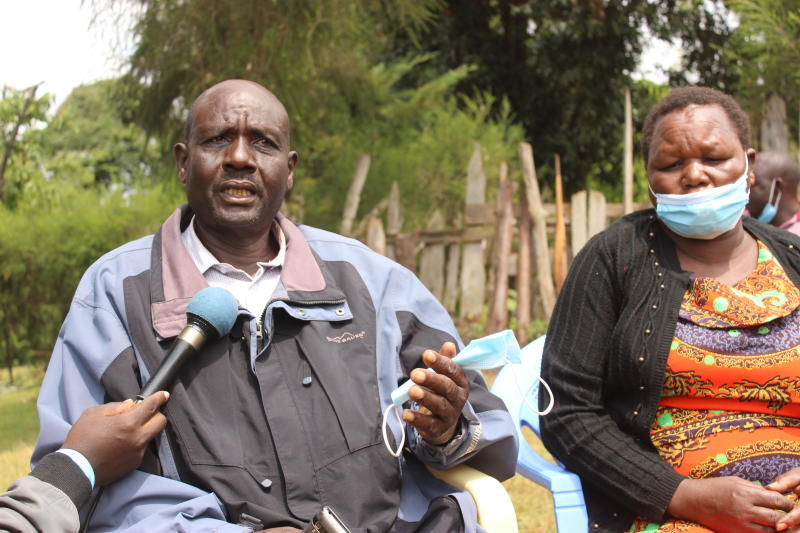 Distraught parents of runaway Nakuru police officer Caroline Kangogo were last evening pleading with their daughter to turn herself in.
Seeing their daughter make news, Kangogo's father Barnaba Korir and her mother Leah Kangogo pleaded with her to surrender to the authorities, and not to harm other people in the process.
Their pain was palpable in their fervent prayer that their daughter, whom they said had been kind to them would come out and confess her role in the two murders in Nakuru on Monday morning, and Kiambu on Tuesday.
Constable John Ogweno was found dead on Monday morning, inside his car. Later on Tuesday, Peter Ndwiga was found dead in a hotel in Kiambu. Kangogo was placed in both scenes by investigating authorities and has since been on the run.
"My daughter, you are a police officer who understands the law and under such circumstances you know why it is important for you to surrender. Wherever you are please turn in yourself even at a nearby chief's office. We all want to know what happened and to avoid more bloodshed," Korir, a retired police inspector pleaded with his daughter.
He said his daughter had been of good character, and it remains a mystery to him how she was caught up in such an ugly situation to warrant police to circulate her picture describing her as "rogue, armed and dangerous."
"She was brought up as a normal child, and we are still shocked by the chilling, sudden turn of events. We received the news with great grief, and we want to extend our message of comfort to the families of the slain men," Kibor said.
He was speaking at their Rorok home in Keiyo North sub-county when The Standard visited them yesterday. He wished his daughter could talk to someone if there was something bothering her. Korir, a father of eight, said the sooner she surrenders to the police, the better for everyone and even her own safety.
"I have asked myself endless questions. Why, and I am in great pain when I see mothers who have lost sons in the two incidents," said the tearful mother.
She said her daughter has been disciplined all her life and has been visiting them frequently, showering them with goodies.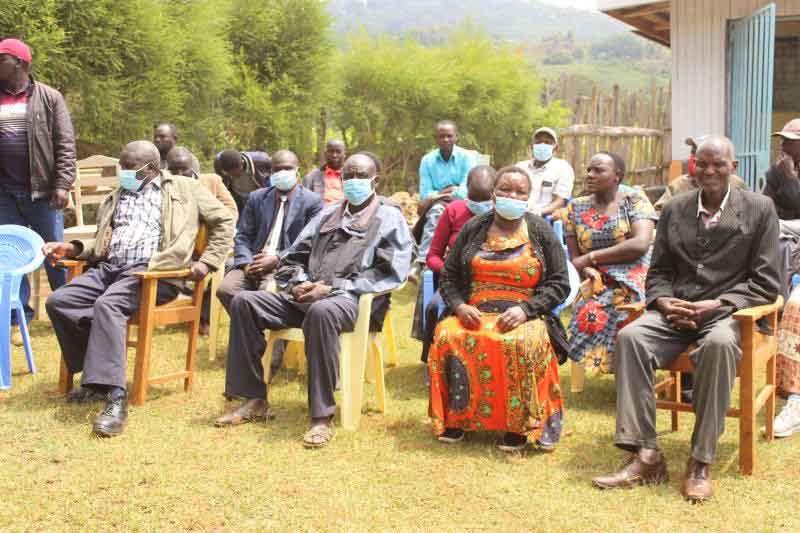 "Each time she visits, we enjoy her company. She is an amiable lady and her warmth radiates to the neighbours whenever she comes visiting. It will take a long time for us to comprehend these things," she narrated.
Kangogo's brother, Mark, said his sister may have been undergoing marital and job-related stress. Neighbours and relatives thronged their home as news of her crime filtered in, praying with and encouraging her parents.
Two armed police officers kept vigil at the homestead, just in case she showed up. Records at Nyawa Primary School, where Ms Kangogo schooled indicated she was a 'well-behaved and hard-working pupil'.
Yesterday, The Standard traced Kangogo's steps on the night it all began, when two men bumped into each other at her house, triggering a chain of events that would leave one of them dead, and Kangogo a fugitive.
A man whose identity has been protected narrated how he came to know Kangogo and their last moments at her house. He reported the incident to the Nakuru County Criminal Investigations Offices (CCIO).
"The man has come to the fore and given us details which we are using to establish what happened before the shooting of Police Constable John Ogweno on Monday morning," said Nakuru CCIO Anthony Sunguti.
Sunguti revealed that Kangogo's phone had been recovered at a trench near the police line, which had made it hard to trace her movement.
A senior police officer who is not authorised to speak to the press revealed that the man who presented himself at the CCIO met Kangogo while being taken to the Nakuru Law Courts for drink-driving last week.
"They exchanged contacts as she advised him on how to respond in court for a more lenient penalty. He was fined Sh15,000 and sent Sh1,000 to Kangogo's phone as a reward," said the officer.
The man claimed that after the encounter, Kangogo kept pestering him with calls requesting that they meet in Nakuru town for a drink.
"The man drove to town and Kangogo directed him to pick her at a club in Whitehouse along the Nakuru-Nyahururu Highway. There he found her with another man whom she said she had also met in court," said the officer.
Minutes past 8pm the club was closed but Kangogo, who was already intoxicated, insisted on having more drinks.
"Kangogo directed the man to drive her to the police mess at Dog Section in Section 58 area. She remained in the car as the man purchased a pack of canned beers," said the officer.
The man, who is married, objected to taking her home, but Kangogo insisted, assuring him that he was safe with her.
"On arrival at her house, Kangogo insisted that they drink together, only for Constable Ogweno to arrive 20 minutes later," said the officer.
Officers living at the Kasarani Police Line revealed that Ogweno, who was transferred to Nakuru from Kericho in February, has been living with Kangogo, her two children and a house help.
The officers said Ogweno had returned from drinking with his colleagues in town. He had left his gun, a Ceska pistol, in the house.
"She introduced the two men to each other... Ogweno as her lover and the other man as a taxi driver. The civilian man left...he felt uncomfortable after Ogweno declined to join them in drinking and appeared angry," said another officer.
The man further revealed that Kangogo called him again at around 1.30am requesting that he drives back to her house and take her to the Police Mess for more alcohol.
"The man declined her request and hang up since he was with his wife. He would later learn that Kangogo was the prime suspect in Ogweno's murder, which happened at approximately 2.30am," the officer revealed.
[Reporting by Fred Kibor, Kennedy Gachuhi and Bradley Sikolia]