Police hunt for female cop suspected of two murders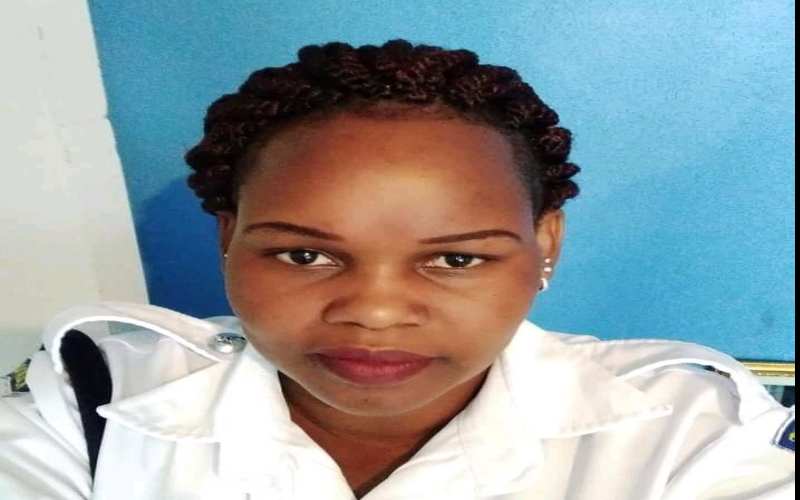 Police last night intesified the hunt for a runaway Nakuru cop after she was placed in yet another scene of the gruesome murder of a man in Kiambu County.
On Monday, Nakuru County Deputy Police Commander Joseph Tonui announced a manhunt for Corporal Caroline Kangogo following the fatal shooting of her fellow cop constable John Ogweno in an early morning incident.
Kangongo is said to have fled the scene only to be later placed in Kiambu yesterday, where the body of another young man was found in a hotel room with a bullet in his head.
According to a police brief, the deceased, Peter Ndwiga, had booked room number 107 at the hotel in Kimbo on Monday, July 5, at around 4:30pm. Hotel attendants who spoke to police said the man walked into their premises in the company of an unidentified woman.
"She later emerged from the room at around midnight and fled to an unknown destination, leaving the dead man's body sprawled on the bed," DCI said.
Officers who processed the scene said the body had a bullet wound on the head, and one spent cartridge 9mm cartridge was found in the room. Police recovered blood-stained pesapal ATM receipts in Kangogo's name, which she had used to clear an Sh3,020 bill at the hotel.
"The owner of the hotel, through a telephone call to the OCPP Murera police post reported that there was a dead body of a man lying dead in one of his hotel rooms," police said.
Surveillance footage obtained by police from the hotel shows the deceased, dressed in maroon khaki pants, walking in, in the company of a woman.
The female, dressed in a yellow hoodie, looks like Kangogo. The same has been confirmed by crime investigators who have asked the public to report when they spot her.
Last evening, police put all on notice of a "female police officer who has gone berserk and is on a killing spree." In a series of tweets, DCI claimed Kangogo was armed and dangerous.
We are cautioning members of the public especially men to be on the lookout for the rogue officer who is luring men to her trap before executing them in cold blood. Let nobody trust her since she is armed and dangerous," DCI Tweeted.
Kangogo is a mother of two and is based at Nakuru Police Station. Sources close to the investigations say she shared a troubled love life with Ndwiga. Until his demise, Ndwiga was running Superb Security Group in Ruiru, Kiambu County.
In the early Monday morning incident, Ogweno's body was found in his car, oozing blood and with a bullet wound on his head. Just like Ndwiga's, one empty cartridge of 9mm was recovered at the scene.
Officers living at the Kasarani Police Line said they did not hear of the shooting at the parking lot, which is a few metres from their houses.
Police are urging members of the public, especially men, to be on the lookout. They claimed she's moving around covering herself in Bui Bui.