Matiang'i docket faces Sh400m penalty over unpaid claims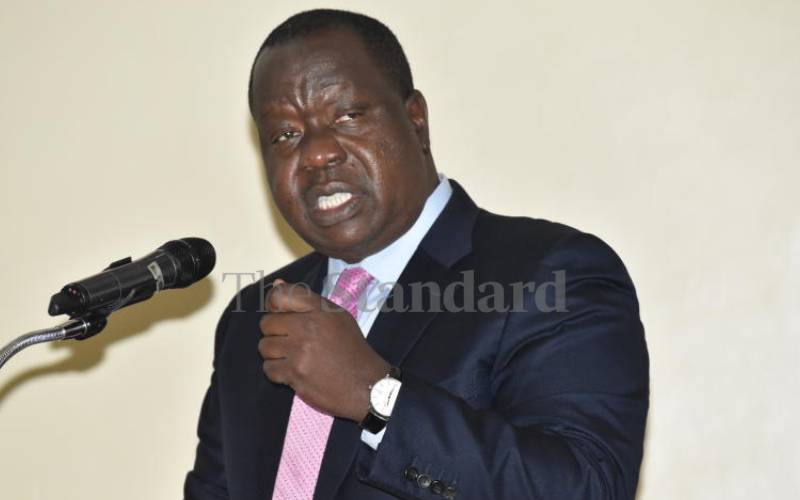 The Interior Ministry would have saved taxpayers close to Sh400 million had it paid claims resulting from court cases on time.
A report by the auditor general on the financial year 2019/2020 tabled in Parliament on Tuesday, states that the ministry led by Interior Cabinet Secretary Fred Matiang'i incurred the said the penalties for making late payments.
"The State Department incurred expenditure of Sh389,246,434 being penalties and interests imposed for failure to clear or pay court claims when awarded or due," Auditor General Nancy Gathungu said in her report, terming the penalties and interests "avoidable".
According to Ms Gathungu, the ministry was yet to pay some Sh2 billion in court awards and claims by close of the financial year 2019/2020.
"Further, a review of the legal documents revealed that claims amounting toSh1,919,858,883 had not been paid as of 30 June, 2020, despite the court awards having been decreed in earlier years. Failure to clear the legal dues on time has resulted in heavy penalties and accumulated interests," added Ms Gathungu, who said the ministry had attributed the delay to lack of adequate funds.
The audit report, however, did not reveal the cases whose settlements were pending.
The auditor general also questioned an over-payment of Sh420 million made by the department of correctional services through unsupported claims, a matter under investigation by the Ethics and Anti-Corruption Commission.
The department is also on the spot for unsupported payments worth Sh25 million issued as allowances for meetings, retreats, workshops, burials and court attendance.
Further, Ms Gathungu queried the accuracy of the ministry's bank balances of Sh1.7 billion owing to disparities between payments recorded in the cash books and the bank in statements.
"The management cited lack of documents to clear the outstanding items and that the State Department had written to The National Treasury requesting for approval to write off the long outstanding balances," reads the audit report in part.
Also flagged were variances between records in the ministry's financial statements and the Integrated Financial Management Information system (IFMIS) trial balance amounting to nearly Sh866 billion.
"According to the Management, the unreconciled variances was as a result of challenges in the IFMIS - bank auto reconciliation. However, no reconciliation was provided for the above variances. In the circumstances, the completeness and accuracy of the financial statements could not be ascertained," said Ms Gathungu.