Six soldiers who were part of British military exercise in Kenya face dismissal after failing drug tests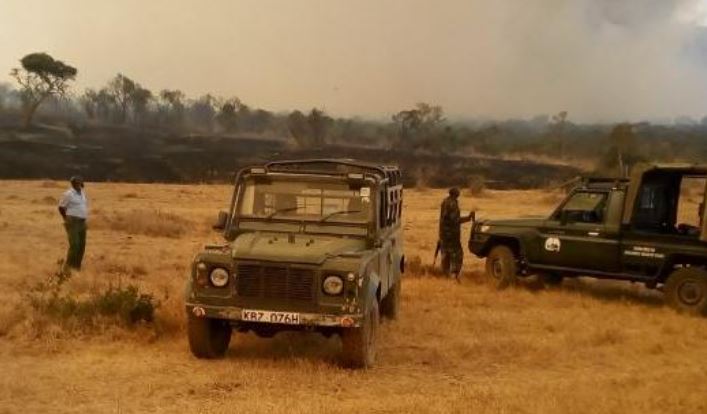 Six soldiers who were part of a group of British Army attached to a wildlife Conservancy in Laikipia, Kenya when a fire broke out could be dismissed from the service after failing drug tests.
UK publication The Times on June 9, 2021, reported that the six in question tested positive for cocaine.
The soldiers had just returned to the UK from Kenya in April this year, some five weeks after the exercise.
It was reported that there was suspicion that some had been taking drugs. They were tested at their Lancashire barracks upon return.
A spokesman for the British Army said in a statement: "A small number of soldiers from two MERCIAN recently failed a compulsory drug test conducted in the UK. The army does not condone drug abuse within its ranks as it is incompatible with military service and operational effectiveness. Army personnel caught taking drugs can expect to be discharged."
In a more detailed report seen in The Times, it revealed that "Six soldiers from C Company and D Company, 2nd Battalion, the Mercian Regiment (2 Mercs) tested positive for the class A drug at the end of last month, sources said. Results from another two soldiers came back 'sub-positive', which meant that traces of drugs were found but they did not automatically fail the compulsory test."
In an interview with NTV on Tuesday, new British Defence Advisor Brigadier Ronnie Westerman admitted that an investigation into the matter was underway.
She said: "We have done an investigation and shared our findings with the KDF. There is civil action going on but I cannot comment further. We will in due course."
Late March this year, more than 8,000 acres of pasture went up in flames in the expansive Loldaiga Conservancy in Laikipia.
The fire broke out near a venue where British soldiers were undergoing training.
There were claims that the inferno resulted in the deaths of wild animals, including five elephants and old lions that could not outrun the fire.
In a statement, the British High Commission acknowledged that among the issues being probed were the animal deaths.
"The welfare of the local community and its wildlife is of the utmost concern to the UK. Reports of dead elephants are being looked into as a matter of urgency by the British Army, Kenyan Authorities, and our Loldaiga Conservancy partners," read the statement.
The exercise would later be paused to contain the fire.