Ruto: Tweets that tell the story of a fall out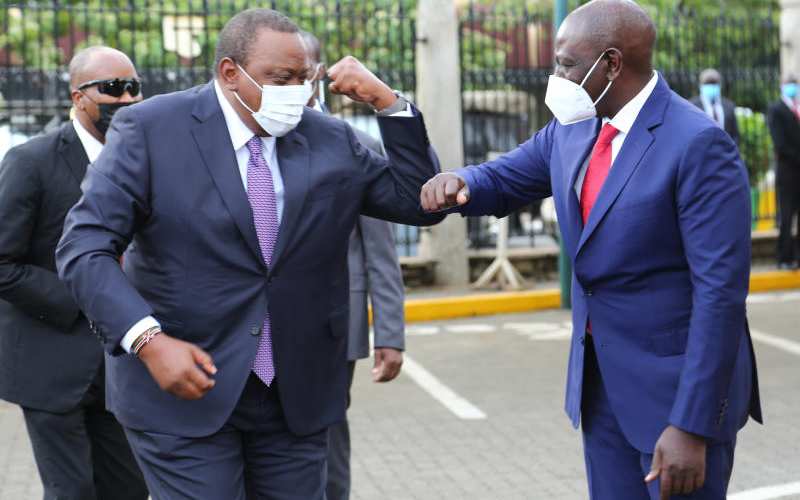 Deputy President William Ruto is increasingly relying on Twitter to get the word out.
When he took office in 2013, Ruto had only about 30,000 followers on the bird app, as Twitter is called by a section of Kenyans.
The DP was then only posting updates about his official engagements.
In those days of matching shirts and ties with his boss, President Uhuru Kenyatta, he kept his followers up to date with what he was doing.
Twitter was a platform that Ruto used to complete the personas of digital leaders that he and President Kenyatta adopted.
For instance, on September 7, 2013, Ruto tweeted that he was with President Kenyatta presenting cheques to Internally Displaced Persons (IDPs) of Naka IDP Camp in Eldoret.
That tone carries on until 2018, right around the time of the historic Handshake between President Kenyatta and ODM leader Raila Odinga that soured Ruto's relationship with his boss.
As the days progressed, Ruto's stature in government changed, as did the number of his followers, making him one of the most followed Kenyans on Twitter.
But this, too, has come with a change to his messaging.
Earlier, the DP's tweets put the country abreast with his every activity – who he had met, where they had met and what he had said.
It "brought the office of the DP to the people."
But nowadays, and especially since he was pushed to the fringes of government, he has changed how he communicates and Twitter is at the heart of his social media strategy.
peek into his mind
He uses Twitter in a Trumpian fashion, turning the microblogging app into an official means of communication.
A tweet posted by the DP is as vital as a statement from Harambee House Annex.
But often, the tweets require scrutiny and, especially if they are political, the skill to peel back the layers to reveal the hidden message.
To analyse Ruto's tweets is to peek into his mind
They are religious, sardonic, scathing, funny, encouraging, hopeful and introspective.
Bible passages drip political overtones below tweets that attack the credibility of the media and those which disparage the character of his challengers.
Threads of tweets lamenting about a biased war on corruption end with verse from the Bible.
"The lifestyle audit must be transparent," he says in one tweet.
In the other, he denounces the politics of debt – "We are not interested in the politics of debt. No community owes anyone anything."
In the tweet that follows, Ruto wanders back to Jubilee – "Jubilee is a strong outfit. The politics of 2022 will play itself out. We are confident of presenting a winning candidate."
Then finally – "The Lord has brought me this far. I am contented." All these on the same day.
Tweet storm
To an outsider, they are disjointed ramblings but the tweets are strung together by an invisible thread by a man intent on taking back power by crafting his own message.
As Ruto engages in battles within Jubilee Party and outside it, he has turned to Twitter to stage the counter-offensives.
He deploys Twitter to his defence
On March 3, 2019, Ruto, resorting to a common characterisation of Raila that he used during the 2017 campaigns, waved off claims that a car he donated to the Catholic Church was from proceeds of corruption as the ramblings of "magicians and the evil spirits they worship".
"The car gift was bought by Christian leaders, including UK and myself, at the request of the chair of Catholic MPs. Understandably, empowering the church offends magicians and the evil spirits they worship. Shetani ashindwe!" Ruto tweeted.
But the brazenness goes only as far as Raila and his allies.
Often, especially pertaining to President Kenyatta, the message is not what has been said as much as what has been left unsaid.
Ruto's recent tweet storm, however, was directed, with no inference required, at President Kenyatta.
"So, was the destruction/ dismembering of Jubilee, a national party, meant to pave way for support of regional/ tribal parties in NASA? Now, with the collapse of Jubilee, isn't it fair for those who can't fit in ethnic parties to build UDA as an alternative national party? Ama?" Ruto posed.
UDA is in reference to the United Democratic Alliance, a party the DP has publicly embraced and one many see as the vehicle he may use in his quest to seek the presidency in next year's General Election.
Before that, Ruto had wondered what would happen to the voters who had voted for them in 2017.
"So, what happens to the Thurakus, the kumìrà kùmèrà contingent, the 8 million of us?? None, no youth, no woman, no man of the 8M who woke up early and voted 3 times for UK/WsR ticket merit support? Sawa tu! Tutajipanga na support ya MUNGU," said Ruto, dropping all pretences that he was banking on the president's support for his ticket.
Dr Solomon Owuoche, a senior lecturer at University of Nairobi's Department of Political Science, believes that while the DP had taken the right approach by playing the victim to a scheme to dispossess him of Jubilee support, the about-turn to direct confrontation with President Kenyatta could be unsuccessful.
Owuoche says that using social media also helps politicians, the DP included, to engage directly with the people and escape the bandwagon effect.
"In this manner, you go to the people directly then you can either build or break yourself based on the kind of messaging," he said.
Political analyst Elias Mokua says Ruto went to the tool that was available and most useful to him.
"There is a lot of space for communication that was not there before and many of the politicians are finding it very important to move to this new space," says Mokua. He notes that social media, especially Twitter, enables the user to be raw.
"In mainstream media, there are editorial constraints.
But online, you write and send the message exactly as you want it," says Mokua.
Close to 10,000 tweets after he joined Twitter in 2011, Ruto's popularity on the blue app has grown exponentially.
By October 2013, his followers had crossed the 100,000 followers mark, now they are approaching 4 million.