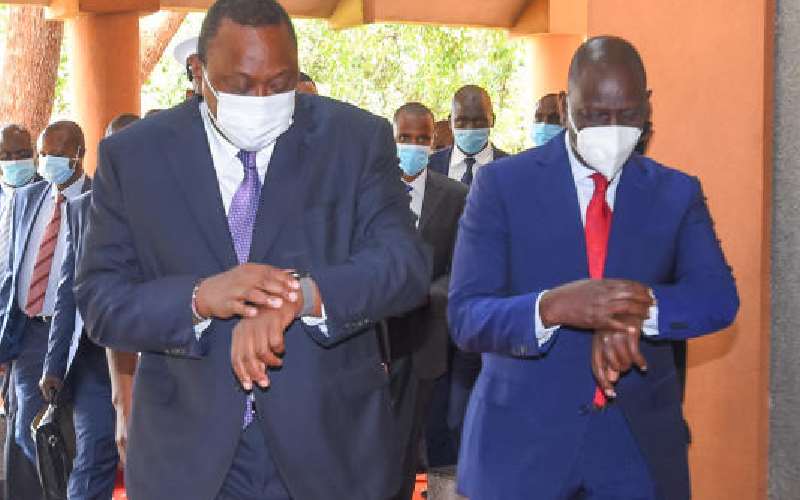 Deputy President William Ruto has questioned President Uhuru Kenyatta's political allegiance after the president declared that he will back a NASA candidate in the succession race.
In hard-hitting tweets crafted in Kikuyu, Kalenjin and English, Ruto accused the president of intentionally destroying the Jubilee Party to pave way for support of regional and tribal parties.
The DP used the opportunity to build a case for United Democratic Alliance (UDA) party that he is associated with.
Ruto's tweets capture the public showdown with Kenyatta over his 2022 presidential ambition.
In one of the tweets with an accompanying photo of yesterday's front page of a local daily, the DP protests a promise by the president to support a NASA candidate in next year's election.
"So, what happens to the Thurakus, the kumìrà kùmèrà contingent, the 8 million of us?? None, no youth, no woman, no man of the 8M who woke up early and voted 3 times for UK/WSR ticket merit support? Sawa tu! Tutajipanga na support ya MUNGU (sic)," tweeted the DP.
"So, was the destruction/dismembering of Jubilee, a national party, meant to pave way for support of regional/tribal parties in Nasa? Now, with the collapse of Jubilee, isn't it fair for those who can't fit in ethnic parties to build UDA as an alternative national party? Ama?" read another tweet.
The Head of State called on NASA principals to unite with the promise of backing one of them for the presidency when he met leaders from Ukambani on Monday.
Ruto's sarcastic tweets embodied the public spat that has characterised the frosty relationship in Jubilee.
Recently, the president challenged the DP to resign if he felt constrained within the government.
Ruto would respond by vowing to stay put. The president said Ruto's presidential ambition has made him to abandon their joint vision and "dart backwards for the baton in a relay race instead of waiting at Uhuru's finish line."
Lately the Jubilee leaders public spat has gone a notch higher. Last week, the DP blasted those clamouring for constitutional changes through the Bridges Initiative (BBI), a process jointly led by the president and ODM leader Raila Odinga.
"The law should not be changed to fit into their agenda," Ruto said at his Karen home during a meeting with religious leaders from Mt Kenya.
During Madaraka Day celebrations in Kisumu on June 1, the DP made a passionate case for respect of constitutionalism and the independence of the Judiciary. His remarks came amid protest from different quarters over the government's disregard for court orders.
At the time, President Kenyatta was yet to appoint the 34 of 41 judges recommended by the Judicial Service Commission despite court orders that required him to do so.
It was the second time in months the two had shared a public platform, days after they attended the national prayer breakfast in Parliament.
Prayer breakfast
Ruto used the prayer breakfast to seemingly gloat over the president's loss, after the High Court slammed breaks on BBI. "There is God in heaven who loves Kenya immeasurably. May God's name be praised forever," he posted on Twitter, after the High Court ruling.
Another Ruto ally, Gatundu South MP Moses Kuria said the president "was within his right to support a Nasa candidate". "It is not the first time that Uhuru is defecting. Even as the opposition leader in 2007 he defected as an opposition leader to the government," said Kuria.
He added: "Now that he has joined the opposition, what happens to his government?"
But Nyeri Town MP Ngunjiri Wambugu said Ruto should be told that Jubilee like ODM will not die because he left.
"Someone tell Ruto that his leaving #Jubilee doesn't mean it stopped existing. He also left #ODM and it's also much alive. In fact, both parties are doing better since he left."
"His unease is from the reality that in 2022 we in Jubilee Party will be presenting our 10-year score sheet, while he and his UDA party will be making promises of what they will do if they are voted in. Meanwhile - he keeps asking people to follow the constitution. Shouldn't he do the same and resign from Jubilee and go to UDA for once," said Wambugu.
Wambugu said Ruto asked for it. "Now can he stop complaining all the time. This guy has been fielding candidates against the president's (and his own) party just to undermine Uhuru; but is now acting all surprised when a paper says Uhuru might support someone else rather than him?"
The Jubilee leader's union was meant to last 20 years, ending in 2032, well beyond the president's retirement next year. Uhuru had promised as much atop several campaign podiums, "kumi yangu, kumi ya Ruto" assurance.
Their brainchild, the Jubilee Party, should have held on for 100 years, possibly outliving both erstwhile partners.
But Uhuru's handshake with Raila complicated matters. Ruto voiced his concerns but was careful not to come out openly against his boss, only attacking Raila's faction within the handshake.
e president delivered the first strike with his "Tangatanga" quip in reference to the DP's excursions across the country in May 2018.
Even then, Kenyatta steered clear from antagonising Ruto by saying they were working together. But that was before the two went out for each other in public.
The president sustained attacks on Ruto's allies, bashing them for castigating him. At the annual Akorino meeting in 2019, an enraged Kenyatta would go against them – and Ruto's – presence, asserting that the "son of Jomo was still in charge."