The nickname that stuck: How Chris Kirubi became DJ CK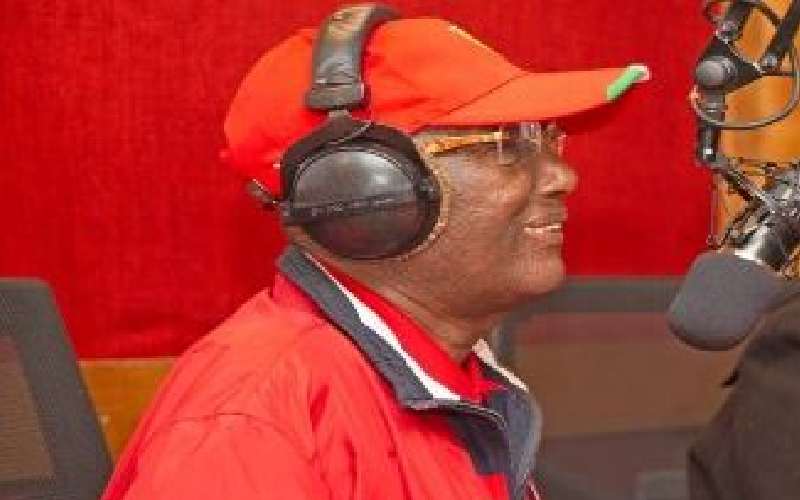 One day in 2004, a polished businessman in an Italian designer suit and spectacles, with a soft voice and oily baby-face, as smooth and suave as his financial maneuvers, stepped out of his International House building and took the brisk three-minute walk to Lonrho Towers.
He was on a mission – to take control of his latest acquisition, a radio station called Capital FM on the iconic 98.4 FM airwave.
Just eight years before, radio in Kenya had been a staid affair, with the KBC of yore having its programmes centred around the Head of State, though they did have educational gems like the Books Café, the perennial favourite Sundowner music show. The businessman was none other than Christopher Kirubi.
He had just bought Capital FM from a mzungu media pioneer called Linda Holt, who, starting in 1996, had forever disrupted the radio industry in the country by starting the radio station and bringing in a blast of fresh air to the audio-entertainment industry of the country.
For Capital FM was not only playing the latest international hits and doing countdowns on its FM that reached most towns in Kenya, it was also doing call-ins with its DJs as well as pop quizzes. I will never forget winning one and getting to take a campus siren called Julianna Mwaura to a restaurant in Unga House, Westlands, that we would never have afforded at the time. This is what Capital FM was doing for its listeners, at the time.
At a far more important scale, it was training the first-ever local Kenyans on radio, who would go on to become household names, starting in the late 1990s, before a few of them even assuming legendary status, thanks to Kenyans tuning into this first private radio station in Kenya.
There was Caroline Mutoko, who would go on to become the tsarina of all radio in later years at Radio Africa.
Then there was Maina Kageni, who is still giving Kenyans marital and relationship brew every morning.
Of course, there was Sean Cardovillis, the original sports radio jock in the country, and the multi-talented Eve D'Souza, who now plays outrageous over-the-top roles in TV comedies, in which she is the undisputed star. And Fareed Khimani, the greatest Rock deejay on radio that this country has ever known.
Collision course
It was this Rock music that businessman Kirubi planned to do away with as his first move as the new 100 per cent owner of Capital FM that would put him squarely on a collision course with a niche -- the fanatical base of the 98.4 FM audience – the ones that people called 'the Rockers...'
Because of Capital's British boss Phil Matthews and sidekicks like Jon Wilkins and Jo Tunis, though it had now expanded to all sorts of other tunes, the Rock that the station had been built on was Rock music. And in a country where Rhumba, Bongo, Soul, Rap, Genge, Gospel, Lingala – and every other genre of music other than Rock reigned supreme, Kirubi wanted it gone.
I think it was Capital FM radio hostess Pinky Ghelani who first leaked this information to Pulse.
The popular weekly pullout, then the mainstay of youth countrywide, swiftly launched an attack on the new owner of Capital FM for planning to take out a key tenet of 98.4 FM, Rock music, which was uniquely offered by the station daily between 10am and 1pm, with the Top 100 Rock countdown by Fareed Khimani weekends.
This writer dubbed the business assassin turned 'media mogul' Chris Kirubi 'DJ CK.' And the name stuck like glue, as all good nicknames are supposed to, like gum to a shoe!
Kirubi was not amused, which is how one sunny Friday in the mid-oh-ohs, then Pulse Editor Wayua Muli, Entertainment Writer Charles Otieno (who we later nicknamed CEO when he became editor) and myself as the offending columnist, found ourselves walking through the Hema House arch and Vedic House Arcade, and into International House, owned by none other than DJ CK.
Taking the lift right up to his penthouse office, which doubled up as the Ghanaian Consulate (how Kirubi convinced Accra to be their 'ambassador' here is a story for the ages), we found DJ CK, all silky and sulky and smelling of sultry cologne.
"Why are you people so passionate about this Karen housewife music," he asked, "that you keep attacking me in that magazine for teenagers?"
How to explain to Kirubi how Rock music had been a roar of poetic noise, like an audio-waterfall, in a mid-90s dominated by soft and sappy R&B and hardcore gangster rap?
How to tell this wealthy old man how, because of the Rock music on Capital FM, a new urban party class had been created from 1998 on that actually went out till 4am in the morning to Carnivore on Langata Road, to listen and dance to the Rock music played by the likes of DJ Ben.
Did he know that people of all ages and races rocked to Dolores O'Reardon's Zombie on a Wednesday night!
Somehow, sitting on those plush cocoa-coloured leather couches of that penthouse office, with the sky a cream of clear blue in that imported air, and several floors down below my old college-mate James Mworia working on the Centum deals that would add a billion or two to Kirubi's already impressive financial portfolio, we managed to convince Kirubi to spare Rock on his station.
And so 98.4 FM gave a new generation a taste of that 'Karen Housewife music' (at least until X-FM did its long run on 105.5 FM years later, exclusively playing Rock to Rockers).
Not only did Kirubi spare Rock, he even let me co-host the Rock show (only on Fridays) with Pinky Ghelani, the same show that one Esther Arunga would take over upon her return to Kenya from Australia a few years later, before joining KTN, then meeting the star-crossed Quincy Timberlake.
As for Kirubi, he not only embraced the name DJ CK, but also took the moniker when he began to co-host Rock alongside one Italia Masiero, who he said took mercy on him and "let me on board her show, when no other Capital presenter wanted me anywhere near their deck."