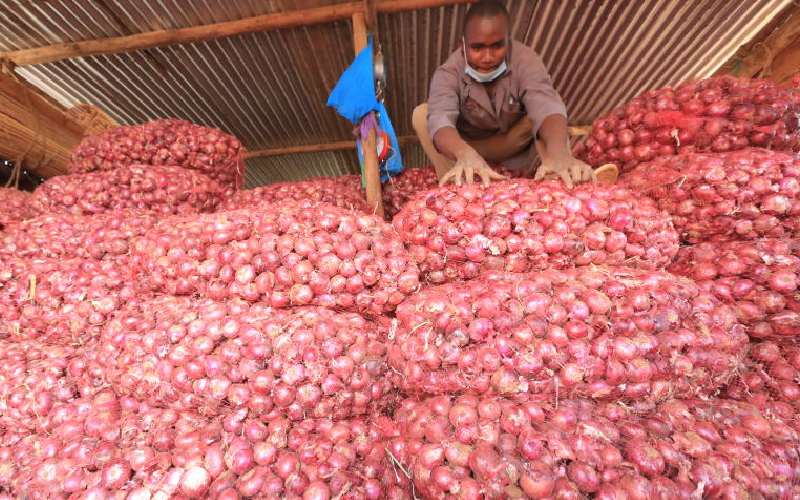 In 2019, for instance, 96 per cent of onions imported to Kenya came from China
There are high chances the last meal that you enjoyed, that African delicacy, had an ingredient that came from China.
And it could be as basic as the onion that made the kachumbari or the seasoning that gave the food its flavour.
The Asian giant is not only taking over the world, but the dinner tables as well.
China is selling everything from modern rails and 5G high-speed networks to garlic, cinnamon and liquor.
You must have heard stories of how the tilapia sold in Kisumu comes from China — but that barely scratches the surface of the story.
The garnish that adorns the fish, from the sliced lemons and onions to the seasoning and sauces, may have sailed in all the way from China to your plate.
And while local farmers often blame Tanzania for low onion prices, the data shows they are shedding tears over the wrong country.
Most of the imported onions in Kenya come from China, according to an analysis of data from the Observatory Economic Complexity (OEC), which is run by the MIT Media Lab.
Price battle
The numbers reveal that in the last seven years, China has been the leading exporter of onions to Kenya.
In 2019, for instance, Kenya used a chunk of its foreign currency reserves to import onions valued at $4.5 million (Sh524.3 million).
This made up 96 per cent of all the onions imported that year.
This means that the 707,182 Kenyan households that engage in growing onions, according to the 2019 census, are battling it out on price against Chinese farmers.
Tanzania brought in onions valued at only Sh5.6 million.
Dr Timothy Njagi, a research fellow at Tegemeo Institute, an agriculture and public policy think-tank affiliated to Egerton University, noted that while a lot of imported onions come from China, the figures might have been overstated as they were bundled together with their 'cousins', which also come from China.
According to Trend Economy, an international trade database, imports to Kenya under the category of 'onions, shallots, garlic, leeks and other alliaceous vegetables (meaning resembling garlic or onion in smell or taste)' increased by more than a third to $4.31 million (Sh469 million) last year.
Most of these items, the database shows, were imported from China (84 per cent), with Egypt a distant second at 6.3 per cent and India coming in third at 4.58 per cent.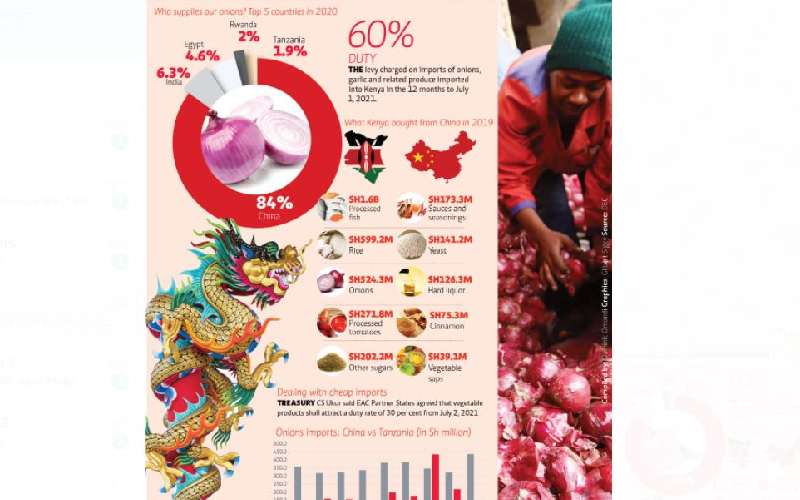 All these products fall in the onion family, with some food scientists noting that they can be used interchangeably as the only difference is in the flavour.
Perhaps, that explains why per capita consumption of onions over the years has been falling, according to data from the Kenya National Bureau of Statistics (KNBS). There has also been a dip in production as poor yields push farmers out.
The data show that 43,000 tonnes of onions were produced in 2019. This pales in comparison to production in 2009 of 63,000 tonnes — and there were no imports then.
The consumption of onions per capita has dropped from 1.6 kilos in 2009 to about 700 grammes in 2019.
China is among the leading producers of onions in the world. In 2019, the Asian giant controlled 35 per cent of this market.
Two years ago, its exports were valued at $2.54 billion (Sh259 billion), according to OEC.
Yet, unlike Tanzania whose onions get to Kenya duty free as a result of East African Community (EAC) agreements, Chinese onions attract a punitive import duty.
Between July 1 last year and July 1, 2021, according to a Gazette Notice released by the EAC Secretariat, 'onions, shallots, leeks … fresh or chilled' imported into Kenya will attract a duty of 60 per cent compared to an earlier tariff of 25 per cent.
Tomato paste
Nonetheless, the products still found their way to Kenya, indicating either a high cost of production locally or leakages at customs.
"Why are we not trying to encourage our farmers to grow these vegetables?" asked Dr Njagi, noting that the kind of support farmers need is not necessarily that of being given seeds, but access to water.
"The government could allow people to import irrigation pumps easily," he said.
Njagi added that Chinese onions and garlic tend to be whiter than local ones, milder in taste and make cooks tear less.
Henry Ng'ethe, a clinical nutritionist, said the high cost of agricultural inputs locally would explain how a vegetable could travel such a long distance, be slapped with higher tariffs at the Mombasa port, yet still find a market.
"We need to empower our farmers," he said, adding that this would help achieve food security, one of the pillars of the Big Four Agenda.
With July 1 approaching, EAC finance ministers have decided to maintain a high tariff.
"To protect these farmers and the sector from cheap imports, the EAC Partner States agreed that vegetable products, including potatoes, peas, tomatoes among others, shall attract a duty rate of 30 per cent for one year as we await the finalisation of the review of the EAC Common External Tariff," said Treasury Cabinet Secretary Ukur Yatani, when reading the Budget last week.
Other foods Kenya buys from China include processed fish, which was valued at $15.2 million (Sh1.6 billion) in 2019.
Speaking during the 2018 SMEs conference at Strathmore University, President Uhuru Kenyatta dove into the debate on these imports, threatening a trade and diplomatic spat.
"I have been told about the imported fish from China. It is not possible that we import Chinese fish when our local traders are here," he said.
And while Pakistan is still the leading exporter of rice to Kenya, China still brought in rice valued at $5.6 million (Sh571.2 million).
Tomato paste was hit with a higher duty of 35 per cent from 25 per cent, but this was after importers brought processed tomatoes valued at Sh259 million from China in 2019.
China is Kenya's leading trading partner after exporting goods valued at Sh361.1 billion to the country last year.