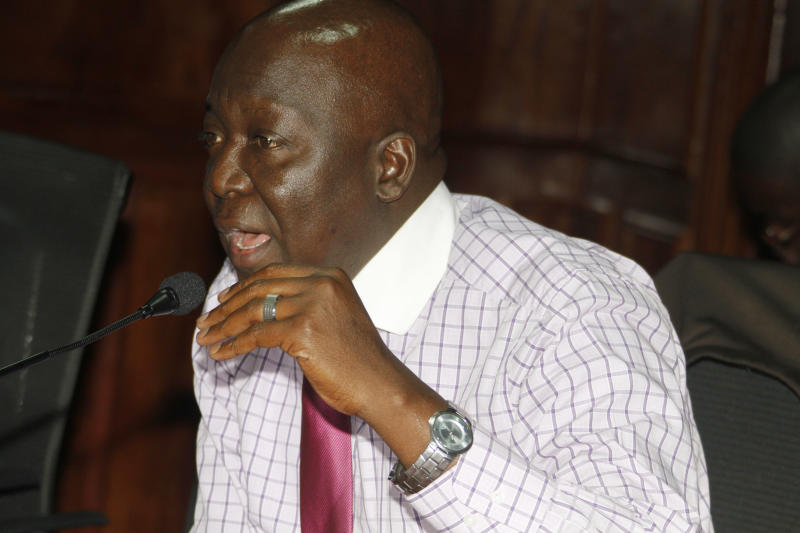 Former Gem MP Jakoyo Midiwo warned Orange Democratic Movement party leader Raila Odinga against attending funerals amid the Covid-19 pandemic.
Odinga's elder brother, Oburu Oginga, said when he spoke to Midiwo on Friday, he warned them against attending the burial of their uncle Peter Odima in Alego-Usonga.
Midiwo died yesterday while undergoing treatment at Nairobi Hospital.
Oburu, who eulogised him as a family man and one who was never afraid to speak his mind, said it has been a tough month for the family.
"We lost our grandmother, an uncle and now two cousins," said Oburu, adding that plans are under way for the burial of Jakoyo's sister Julia Opiyo.
Midiwo, he said, was like his son after his mother died leaving him when he was very young.
"I stayed with him and took him to school before conducting a fundraiser to enable him further his education abroad," said Oburu.
Leaders and friends continued to eulogise the three-term Member of Parliament as a courageous leader.
"I have received the sad news of the passing away of my friend, the Honourable Jakoyo Midiwo with shock and disbelief. I was with him during my recent working tour of Nyanza Region during which we opened several projects in his former constituency," recalled president Uhuru Kenyatta.
His successor, Elisha Odhiambo, described him as a resilient fighter who had the gravitas to say things as they were.
His former school mate at Usenge High School in the mid 1980s, Jackob Ochanda recalled how Midiwo engineered a physical battle against Maranda High School.

"We had a football match against Chianda High School and Maranda boys. Incidentally, the war broke," says Ochanda.
Siaya governor Cornel Rasanga also eulogised the late Midiwo as an astute, brave leader with unrivalled debating skills.
"Siaya County will dearly miss your counsel. Gem constituency will forever remember your leadership and development record," said Rasanga.
Oburu told The Standard that they introduced the late Midiwo to politics and even campaigned for him to win the Gem parliamentary seat.
"No one believed that Jakoyo would win the Gem MP's seat but he won and represented the people for three terms," said Oburu, revealing that he had plans to make a political comeback in the 2022 elections.
He added, "He had returned to ODM after contesting as an independent candidate in 2017. This is a very big blow to the people of Gem."
Jakoyo served as the MP for Gem constituency between 2002 and 2017.He was last seen in public when President Uhuru Kenyatta and Raila launched a water project and a road project in Gem.
His death is however an enormous loss for the ODM team that had already lured him back to the fold and had been pegging their hopes on him to help consolidate support.
Jakoyo was also one of the leading champions of the Building Bridges Initiative and had been hoping to use the platform to launch his comeback to politics.
During his term in parliament, Midiwo served in various house committees including; the departmental Committee of Finance and Trade, Joint Committee on Parliamentary Broadcasting and Library.
He also served in the House Business Committee, Departmental Committee on Defence and Foreign Relations and the Catering and Health Club Committee.
Midiwo also served as the ODM Chief Whip and later on served as the Deputy Minority leader in the 11th parliament.
"He was very ambitious and at one time wanted to be the Minority leader in the National Parliament," said Oburu.