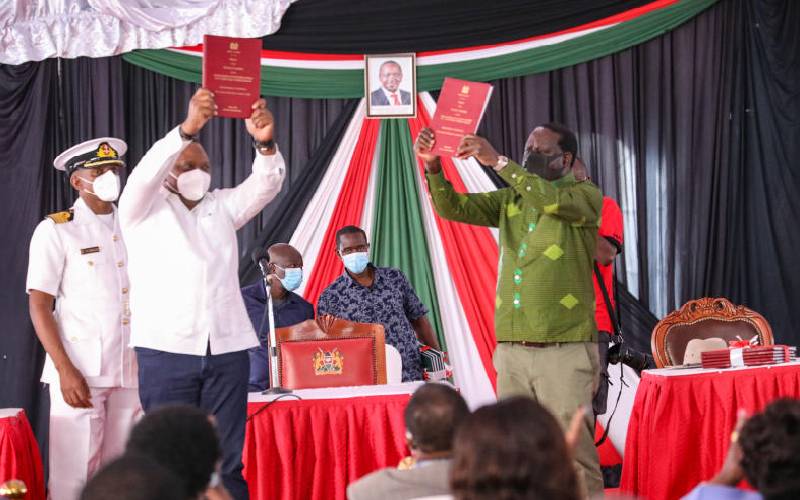 The Sh14.5 billion allocated to the electoral board, IEBC, for the financial year 2021/2022 will not fund any possible referendum activities, The Standard has learnt.
Should the superior court (s) overturn the High Court's decision, which halted the referendum-bound BBI process, then the National Treasury would have to look for money from the contingency kitty to finance the drive.
Hussein Marjan, the Acting Chief Executive Officer of the Independent Electoral and Boundaries Commission (IEBC), told The Standard that the money allocated to the agency will be used in administration, daily running of the Commission and preparation for the 2022 general election.
"Referendum costs were not factored in when the Treasury Cabinet Secretary announced allocations to the IEBC," he said.
Marjan, however, said the Commission had already prepared a budget for a referendum should it be held.
"We handed over the spending plan to the Treasury [before the courts stopped the BBI constitutional change push]," he said.
"There is no cause for alarm. Should a referendum be scheduled, we will handle it just like we do with by-elections. Normally, there are no budgets for mini-polls," added Marjan.
The Commission was given Sh14.5 billion in the Sh3.6 trillion budget, months after the agency requested Sh14 billion to hold a referendum.
In October 2020, the CEO told the Public Accounts Committee (PAC) that a referendum would cost the taxpayer Sh14 billion.
According to him, the figure was arrived at based on the 19.6 million voters who registered for the 2017 general election.
"The budget could go up because of the number of registered voters. It is the voters who determine the number of polling stations, polling staff to be hired and other logistics," he told PAC Chairperson Opiyo Wandayi.
A five-judge bench on May 13 ruled that President Uhuru Kenyatta violated the Constitution when he pushed for a Constitutional change through the popular initiative route.
Kenyatta has since appealed the decision, saying the court erred in questioning his role in initiating changes to the Constitution.
In his Madaraka Day speech on June 1, the President hit out at the Judiciary for stopping the BBI process.
"We must endeavour to pursue political stabilisation by any means necessary. I say so because stability is the life-blood of our Republic. What we have built for 58 years, can be destroyed in one day of political instability. But we cannot engage in political stabilisation if we live in political denial," stated the Head of State.
"They oppose BBI not because of its substance, which even its harshest critics concede is good, but because, unlike our founding fathers, they cannot dare imagine a better Kenya for all," he said.