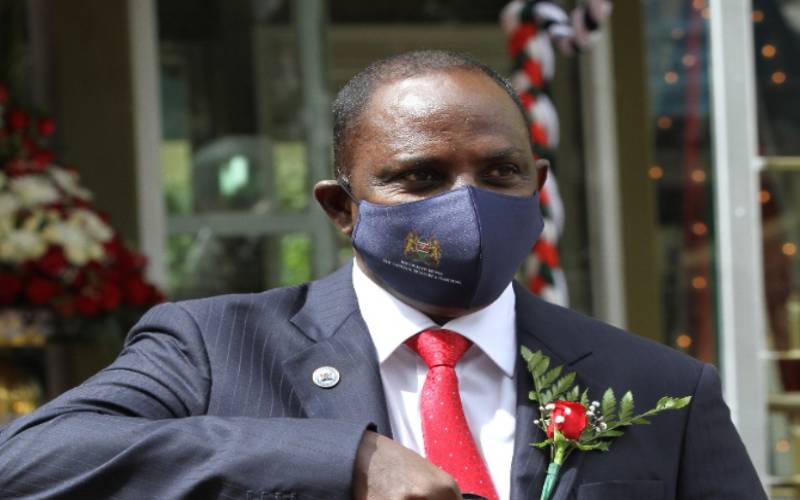 The National Treasury Cabinet Secretary (CS) Ukur Yatani has told Members of Parliament he will soon be seeking their permission to raise Kenya's debt ceiling from Sh9 trillion to a higher figure.
Yatani, who read the 2021/22 financial year budget set at Sh3.6 trillion, said raising the ceiling would allow the country to manage its debt operations and finance a Sh930 billion deficit in the new budget.
The public debt crossed Sh7.28 billion in December 2020, an equivalent of 65.6 per cent of gross domestic product (GDP), from Sh6.01 trillion or 58.0 percent of GDP a year earlier, the Treasury data shows.
Despite facing criticism that Kenya's appetite for borrowing has been insatiable, the minister said the country's debt "remains sustainable though its carrying capacity continues to decline".
Kenya is only Sh1.7 trillion away from hitting the debt ceiling, and the nearly Sh1 trillion deficit in the 2021/2022 means, if successfully procured, then the country would be a few billions of shillings away from shattering the ceiling, hence plunging the country into a financial crisis, if no law exists to allow more borrowing.
The Treasury said it will be tabling changes to the Public Finance Management law for approval by MPs in the near future to raise the cap on debt, without disclosing the fresh limit it is looking at.
The Treasury had earlier projected that the total public debt would hit Sh7.66 trillion by end of the 2020/21 financial year, from Sh6.69 trillion in 2019, but rise to Sh8.59 trillion in June 2022 and Sh9.37 trillion in the year that follows.
In his mega-money budget unveiled on Thursday, June 10, the CS allocated Sh121.1 billion to Health ministry; Sh60 billion to Agriculture, Sh182.5 billion to Transport and Sh294.5 billion to Defence and Interior ministries.
The Education ministry was given Sh202.8 billion; Sh12 billion channelled to free primary education programme and Sh62.2 billion to free day secondary education.
Teachers' employer, TSC, was allocated Sh281.7 billion.
The ICT ministry will receive Sh20.9 billion in the 2021/22 financial year, Yatani announced.
More soon.