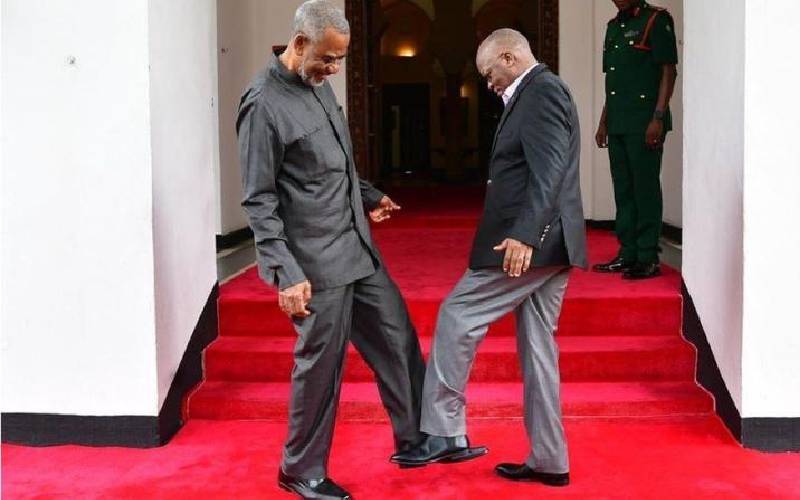 With Tanzanian President Samia Suluhu's visit to Kenya still fresh in our minds, we recall a visit to her home island of Zanzibar and an encounter with a politician who was the exact opposite of the late President John Magufuli.
On March 17, Tanzania Vice President Samia Suluhu announced the death of Tanzania President John Magufuli after weeks of speculation on his whereabouts and his state of health
A much-talked about aspect of Magufuli's presidency was his attitude to the Covid-19 pandemic, which was characterised by denials and indifference.
Less noted is that on February 17, exactly a month before Magufuli's death, Zanzibar First Vice President Seif Sharif Hamad had died in hospital days after he publicly announced he had contracted Covid-19.
It was typical of the Zanzibari politician to be forthright and tell it as he saw it; an attitude that led him to often clash with authorities. At one time he was imprisoned because of his political activities.
Since 2000, Hamad has contested but narrowly lost elections for presidency of Zanzibar, amid allegations of massive rigging and violence in the islands.
Hide and seek
For instance, in 2005, he lost by polling 49.62 per cent of the vote against the winner's 50.38 per cent. There were widespread violent protests in Zanzibar and Pemba leading to tens of deaths in confrontations with police.
I visited the islands in the immediate aftermath and played hide and seek with Tanzania's police as I sought an interview with the opposition leader who was in hiding fearing arrest.
I flew out to Dar es Salaam on the morning of April 1, 2016. My first task was to seek out local journalists to brief me on what was happening in the islands before I proceeded. They were also to give me the contacts of key political players. My old colleague and friend, Julius Maina, then managing editor of the Citizen Daily, introduced me to a couple of journalists. The good thing about our profession is that we have an unwritten creed to be helpful to one another even if working for competing media houses.
I got a lot of the information, but felt I would not have enough until I spoke to the opposition presidential candidate, Mr Hamad, to hear his side of the story. I was given the contacts of a local journalist to get in touch with once in Stone Town, the Zanzibari capital, who would hook me up with the opposition leader. The contact proved useful. She secured an appointment the same day I arrived. Little did I know it would turn into a cat and mouse game.
On the first day, the leader was to meet me at an agreed venue. We waited until past 9pm when his aide arrived. He excused himself for keeping us waiting but told us his boss wouldn't be coming after all. Reason? He was being trailed by police wherever he went and there was no use getting himself and me in trouble. But on a positive note, he advised that I hang around for two to three days as they worked out how to dodge the police. He also advised me not to make my mission open lest I attract police attention.
I suggested I could as well take a day or two to see the fabled beaches in the islands. Luckily, I had a good budget to tangatanga around like a tourist, even as I met with other key contacts in 'camouflage'. In the meantime, I gave his aide a list of issues and questions.
It was on the fourth day when the opposition leader felt sufficiently safe to meet with me. His aide was to pick me up from the hotel where I was staying. Come the appointed hour, the aide drove me to another hotel not too far away. He ordered for refreshments and told me there was a cab waiting at the back of the hotel that would take me to where the boss was. He passed me a note under the table with the number plate of the cab.
I went through the motions by munching on snacks, then suddenly excused myself and vanished through the back door.
I found the opposition leader well prepared for me. He had documentary evidence on how the elections in the islands were stolen. He claimed the same had happened in 2001 and 1995.
I asked him why he wouldn't go to court given the massive evidence he had assembled. He laughed and loudly mused if a goat could file a case where a leopard would be judge.
So what next? He told me rigging of elections was meant to deny the islanders their right to self-determination. Should the trend continue, he said, the Zanzibaris would collect signatures and file a case at the UN headquarters in New York to challenge the articles of the agreement that brought about the union of the islands and the mainland, then known as Tanganyika, in 1964. He claimed Zanzibaris were never consulted on the matter.
And there lies a story. Not long after Zanzibar's independence from the British in 1964, a Soviet-backed, self-styled Field Marshal John Okello staged a coup in the islands. On the same day, the army mutinied at Kenya's Lanet Barracks causing panic that had the British military intervene to suppress a Zanzibar-like coup.
The US charge d'affaires in Zanzibar, Frank Carlucci, cabled Washington to say there was a real danger that "Zanzibar was fast becoming the 'African Cuba'" and that something must urgently be done to stop it.
Kenya roped in
Hotheads in the US intelligence in the CIA proposed military intervention to neutralise the revolutionaries. But the US State Department was hesitant and advised that a diplomatic option first be given chance. US Secretary of State Dean Rusk instructed the US embassies in Nairobi, Dar and Kampala to personally lobby presidents Jomo Kenyatta, Julius Nyerere and Milton Obote to find what he called "an African solution to an African problem."
The first option on the table was to form an East African Federative state with Zanzibar on board, and which would effectively cripple the radicals in the islands and stop the spread of communism in the region.
But when that couldn't work, especially when Kenya and Uganda proved not keen to cede individual sovereignty, an idea was quickly cobbled to create a union of Zanzibar and the mainland Tanzania.
That worked and Nyerere, though himself a socialist of his own version, was able to effectively contain and vanquish the revolutionaries in the islands.
Back to my mission in Zanzibar, at the conclusion of the interview, the opposition leader advised me on the "safe passage" he'd worked out for me to get back to my hotel undetected, and without causing problems to him or to myself. In two days, I was back in Nairobi and filed my report.
Happily, the situation in the beautiful islands calmed and as many Kenyans find, it's a worthy holiday destination.
After many years being in the opposition, when Hamad narrowly lost yet again in last year's Tanzania election, he entered into a 'handshake', Kenyan style, with the winner, President Hussein Mwinyi, and was appointed first vice president in a government of national unity.
When results came out he had Covid-19 early in January, he reportedly objected to suggestions by aides that they announce it was "acute pneumonia" and insisted it be made clear he had coronavirus.