Be patient, Nairobi will no longer be 'Green City in the Slime'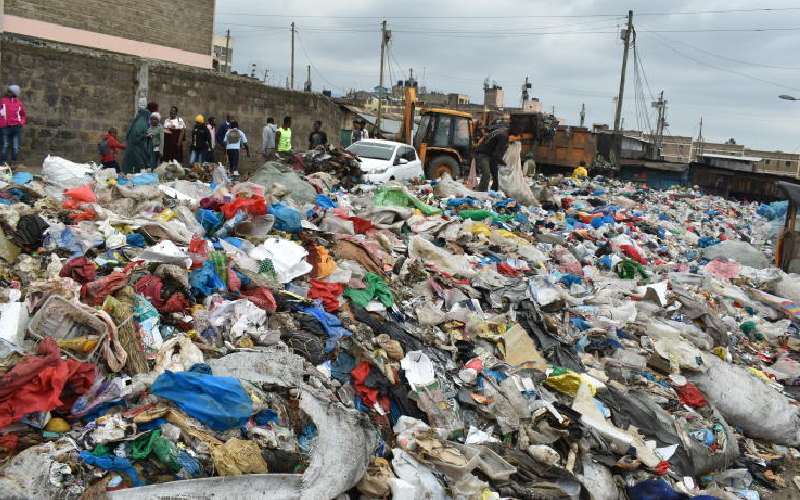 Nairobi, the one-time 'Green City in the Sun' has for decades struggled with the garbage menace now affecting over four million residents. One of them is Karim Mugamba, a matatu operator along Mfangano Street in the Central Business District.
For the last four years he has been managing vehicles plying various routes, but behind his workstation, lies a piling heap of garbage.
"This is a parking lot, which should be occupied by about four buses," Karim observes. "But due to this garbage, it can only hold two buses." The garbage behind him is a heap of a bigger problem yet "it is important for us to have customer care services, such as a clean bus station. However due to the dirt and dampness who will board our buses?" poses Mugamba.
At every turn in the CBD, there is garbage everywhere and even further a field a few kilometers in Kawangware, the situation is the same: There is no designated dumping site, and one side of the road lies a big heap of garbage now encroaching on the road.
The populous Eastleigh estate welcomes visitors with its eyesore heaps of garbage sitting on major roads and within residential areas, like Eastleigh Section Three where on one corner of the garbage heap, a trader goes about her business, selling vegetables and groceries.
John Joseph, a resident laments that "this garbage has been lying uncollected since January this year. It's only after it reaches the road section that the trucks come to ferry just a small portion."
Newton Njue, another resident hisses: "People just spill litter here. This is a residential area, and the tenants have complained about the garbage problem, but we have no option."
The garbage is a health hazard and Mary Mwangi cries that "our houses have been invaded by worms and other insects coming out of the dumpsite" while Mama Njeri, a landlady has been counting losses as "tenants have moved out thanks to this garbage. They have always complained that they have to step on an overflow of litter before getting to their houses yet they pay monthly rent."
Garbage is not restricted to Eastlands as its also found behind the newly constructed Kenya National Library in Upperhill area and in Imara Daima area residents use a different gate to access the premises as one main gate is flooded with garbage leading to a private property, flies galore.
Eric Owino, a resident of Imara Daima notes that "the authorities need to create a designated place so that people do not dump here. There should be a way where those people who dump in the evenings are arrested and prosecuted."
The same scenario is replicated at the Manyanja road roundabout in Umoja estate wherein the place of a flower garden is a small dumpsite.
The Director for Environment, Water & Sanitation at the Nairobi Metropolitan Services warns that those caught disposing of waste in undesignated areas will be arrested and charged. The Nairobi Solid Waste Management Act provides for a penalty of up to Sh200, 000 or a jail term of two years, just so you know.
"We would wish to seek the support of Nairobians in terms of ensuring that the waste is disposed of in the right receptor bins, that they are handing over their waste to the right group of people who are licensed to collect the waste says the director.
Then there is even more garbage menace along Nairobi's rivers and streams; sources of water chocked with litter along with the water ways.
At Kawangware the drainage flows, but one cannot miss the stinking stench emanating from the discoloured water. At Imara Daima, it is the same script, different cast. A heap of garbage has chocked the drainage system and the raw sewage "is a health hazard, and there are many people with children here, many families around, and they all use this road a lot," says Eric Owino.
The drainage system is also clogged at Umoja area where plastics and stagnant water accompanied by a stench of sewage smell lie in one area.
The same is replicated in Eastleigh where Josephine Wanjiru, a mother of two, says "some of us are wary of going to hospital due to Covid-19. We can only hope that our children do not contract any disease caused by the poor drainage."
The recent heavy rains only exposed the city's soft drainage system underbelly, but Maureen Njeri, the Director of Environment, Water and Sanitation says that the Nairobi Metropolitan Services is working towards cleaning up the mess for a clean environment.
Roads make a crucial contribution to economic development and growth, and bring important social benefits, but the journey to Pipeline area in Eastlands, is a rocky one.
"I have to repair my motorbike every now and then due to the frequent breakdown," complains Dennis Samba, a boda boda operator.
The dilapidated state of roads which extend to Umoja area, where motorists of Tena estate and its environs have to contend with poor roads that get worse during heavy rains, notes Stephen Gikonyo, a resident.
The situation is different in the upper Central Business District, what with cabro pavements everywhere and endless repairs ongoing and "we have put the appropriate measures to improve the infrastructure of the city, to just ensure that residents easily move around," says Njeri adding that the Nairobi Metropolitan Services is keen on extending this to other parts of the county.
The theme for this year's World Environment Day is Ecosystem Restoration in relation with nature and the face of Nairobi needs to change to reflect 'Ecosystem Restoration.'