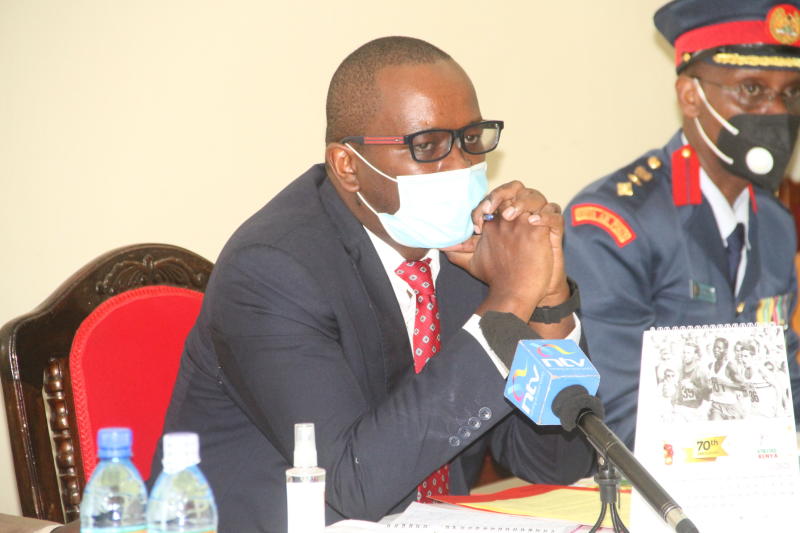 Two Kenya Defense Forces soldiers were yesterday court-martialed for allegedly soliciting bribes to influence recruitment of cadets.
Colonel Thomas Kiptum, who is attached to the Kenya Defense Forces College, and gunner Anthony Kimeiwa were arraigned before the court at Kahawa Barracks to face 13 charges.
The two appeared before Principal Magistrate Hosea Ng'ang'a and a martial of eight senior military officers, who will assist the magistrate in determine the case.
The suspects were in full military uniform and were escorted to court by the Military Police.
Three other military officers, Major Muriuki, Major Kenyakisa, Corporal Machanga are also scheduled to responded to similar charges.
The charges included soliciting Sh10,000 from Kiptoo Bwaley to facilitate him to get shortlisted as a specialist cadet in this year's KDF recruitment.
Kiptum faced five charges, including failing to report Kimeiwa to the commanding officer of 75 artillery battalion, for appropriate disciplinary action.
He is accused to have received academic qualifications and a national identification number belonging to Maroon Musa via a WhatsApp message on February 8 this year from Kimeiwa, and failed to report to the Commanding Officer.
It is alleged on same day, he also received other documents belonging to Caleb Lemaiyan, who was seeking to be recruited to KDF.
He is also accused of receiving documents belonging to Rebecca Makonjo on February 6, who sought to be a tradeswoman with KDF.
And Kimeiwa was accused of accessing the military recruitment site at Lemek in Narok on February 12, without express orders from headquarter of Kenya Army and was not part of the recruiting team.
The two officers, who were represented by John Were, denied all the charges.
The session was characterised by military procedures, where all persons invoiced took an oath that they would be impartial and not interfere with the vote on whether the two officers are innocent or guilty.
The first witness in the case will appear on June 21.