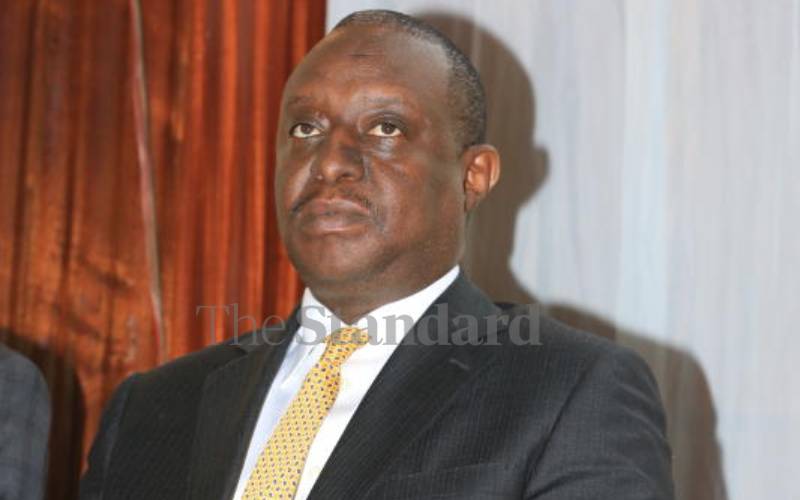 Former Treasury Cabinet Secretary Henry Rotich has been charged afresh with conspiracy to defraud the government more than Sh63 billion in the Arror and Kimwarer dams scandal.
The decision to charge the former CS afresh was occasioned by the Director of Public Prosecutions Noordin Haji withdrawal of charges against some of the accused persons including former Treasury Principal Secretary Kamau Thugge who will now be a State witness.
Rotich was charged afresh alongside former Kerio Valley Development Authority (KVDA) boss David Kimosop, former Chief Economist Kennedy Nyakundi, Jackson Kinyanjui and Titus Muriithi.
They faced a total of 21 charges ranging from conspiracy to defraud the government, willful failure to comply with procurement rules, abuse of office, engaging in projects without prior planning, failing to comply with laws on managing public funds and financial misconduct.
The first count stated that Rotich, Kimosop, Nyakundi, Kinyanjui and Muriithi conspired to defraud the government USD501,829,769 (Sh54 billion) by entering into a contract for construction of the Arror and Kimwarer multi-purpose dams without approval.
"Between December 17, 2014 and January 2019 you jointly conspired to defraud the government of Kenya USD501,829,769 (Sh54 billion) by entering into the construction of the two dams when you knew the project was not approved and failed to comply with applicable laws," read the charges.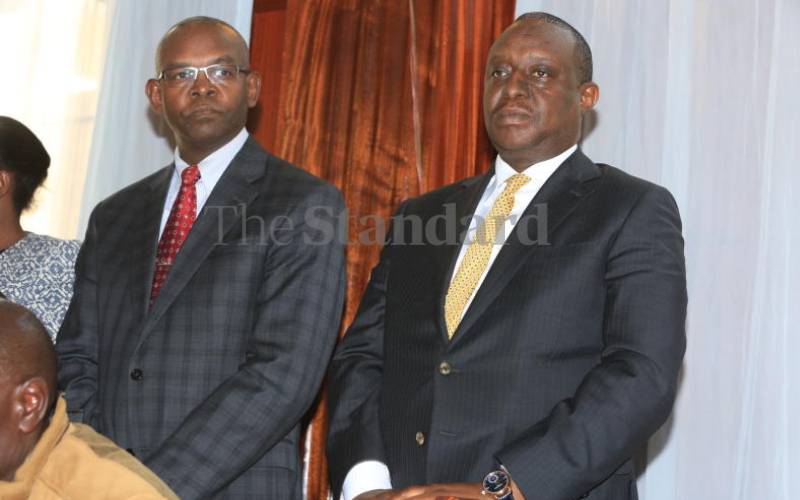 Other charges stated that as persons who were entrusted to manage public funds, they failed to comply with the Public Procurement and Asset Disposal Act by directly procuring loans from Italian financiers for the development of Arror and Kimwarer dams.
Rotich and Kimosop faced the additional charges of engaging in the project without prior planning where the prosecution alleged that they commenced the contract to construct the two dams in violation of public procurement laws.
In another count, the former CS was charged with abuse of office where it was alleged that he used his office to improperly confer contractual rights and benefits to CMC di Ravena totalling Sh34 billion being the contractual sum for constructing the Kimwarer Dam.
"Between April 2017 and November 2018 being the CS Treasury, you used your office to improperly confer a benefit to SACE SPA Insurance by agreeing and promising to pay insurance fee totaling Sh5.5 billion in respect to the construction of Kimwarer Dam," read another count.
The prosecution alleged further that the accused persons unlawfully entered into a commercial loan agreement with Italian companies that exceeded the national public debt limit and placing Kenya business with an insurer that is not registered.
Lawyers Philip Nyachoti and Katwa Kigen who were representing the accused asked the magistrate to release them on the previous cash bail which they had been granted when they were first charged in July 2019.
They also asked the court to order the prosecution to be disclosing their witnesses and statements at least seven days before each hearing date.
"We were supplied with cartons of evidence that will require a pick-up to bring to court if we were to carry them each time we have a hearing. That is why we are asking that they tell us the evidence they will be relying on each day to enable us prepare," said Nyachoti.
Anti-Corruption Court Chief Magistrate Douglas Ogoti agreed with the application and directed the prosecution to disclose in advance the evidence they will be relying on for each witness. He also released them on the previous cash bail of Sh2 million.