CJ Martha Koome sets a deadline for case determination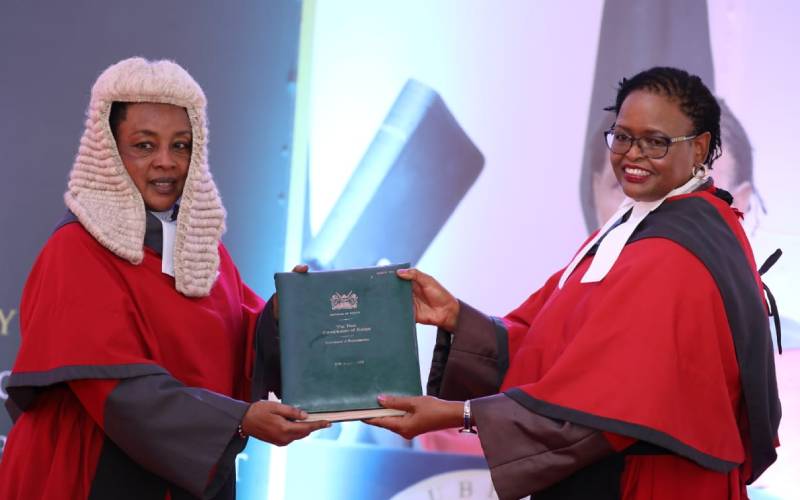 Chief Justice Martha Koome on Monday received the Judiciary's instruments of power from the acting CJ and Deputy Chief Justice Philomena Mwilu.
The newly sworn-in Chief Justice said that she will ensure that no cases are in the courts for more than three years.
In her speech, she confirmed that the courts were still battling with the backlog of cases despite efforts made since the adoption of the 2010 Constitution.
"My predecessors made efforts to improve the judiciary that wants us to embrace the case management system," she explained.
Besides the backlog of cases, CJ Koome took the platform to steadfastly point out the need for justice accessibility for the court users.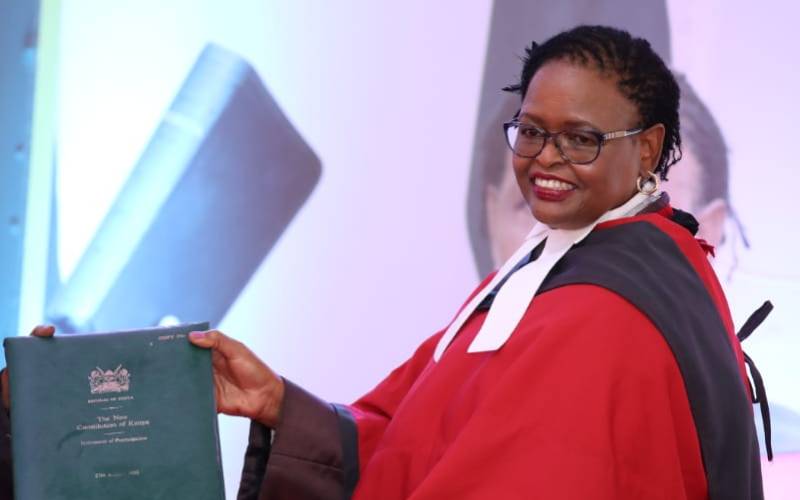 She said that through her leadership, more High courts will be set up countrywide, following in the footsteps of the former Chief Justice David Maraga who upgraded the courts during his tenure.
"I understand that some court users sell valuable things to file a case, pay an advocate or even raise bus fare to the courts," she went on.
According to the legal mind, the Judiciary Fund was yet to be effected and she promised to champion for more resources that will enable her to revamp the justice system and put up more structures in the courts.
She was quick to point out that she was aware of external forces that were an active threat to the independence of the Judiciary, promising the justice dispensation team that she will not waver.
While taking over, she was given the Instruments of Power which include the Constitution of Kenya, Judiciary flag, Status reports of the Judiciary as of January 11, 2021, when Maraga left office and May 24 when she takes over.
Chief Justice Martha Koome was sworn in on May 21, at StateHouse witnessed by President Uhuru Kenyatta after her appointment was gazetted.
Prior to that, the Judicial Service Commission (JSC) conducted interviews for 10 applicants and nominated CJ Martha Koome as their preferred candidate for the position.
CJ Koome was vetted by the members of the National Assembly and approved after they found her a suitable candidate for the position.
She succeeds Retired Chief Justice David Maraga who handed over on January 11, 2021, after clocking the 70 years mark as is provided for in the Constitution.
CJ Koome becomes the 15th Chief Justice of Kenya, the third under the new constitution and the first female to Head an Arm of the Government.