Bunge Chronicles: Where is our Speaker? What are the elders doing to him?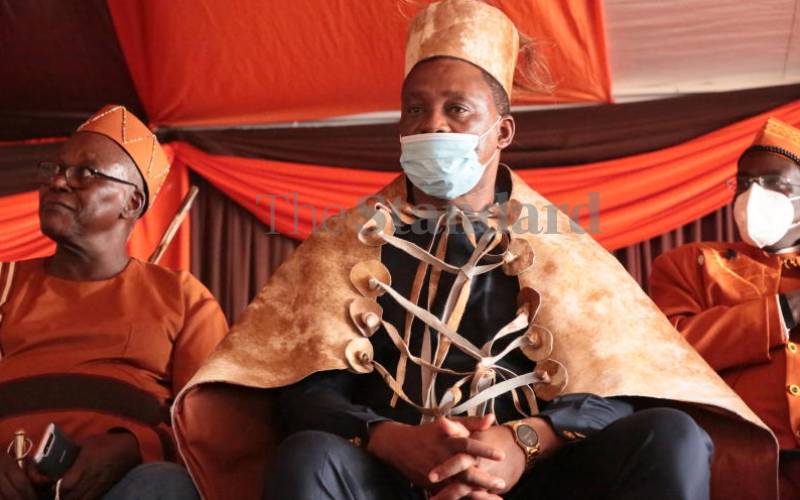 When William Kamket sought to know if Speaker Justin Muturi was safe in the hands of Mt Kenya elders on Wednesday, he voiced concerns many of his colleagues had bottled.
Like the rest of the country, the waheshimiwa had learnt through the press of the strict cultural regimen their beloved speaker would undergo in solitude for more than a week.
Muturi would be subject to rituals that would give him wings to scale one or two pay grades up next year, meaning he could soon be bidding 'deuces' to the place that made him famous.
And while the wahesh would not fancy letting go of a man who has shepherded them for eight years, the Tiaty mhesh was seemingly more concerned.
"We have been reading in the media that our speaker is in some kind of spell… how safe is our speaker?" he posed. Given his hearty laughter, as he raised the issue, Kamket was perhaps worried that the speaker would not cope with some rituals that required him to be different from his usual self.
Muturi is not the philosopher his predecessor, Kenneth Marende, was. Neither is he an emotional father-figure like former career speaker Francis ole Kaparo. But among the three, he can perhaps boast a sense of humour.
Doubtlessly, the new Mt Kenya spokesman would stand no chance against Bunge's life of the party, Junet Mohamed, on who could crack the funnier jokes. But that does not take away the fact that Muturi is wittier than he looks. Perhaps the main difference between the two is that Junet appeals to the masses with easily discernible quips.
Muturi prefers sarcasm. The kind that only comes naturally to equally sarcastic colleagues. He is a master on this. His match in Bunge would perhaps be mhesh for Rarieda, Otiende Amollo, who recently chided minority leader John Mbadi to be a "professor of law". Like Otiende, Muturi is witty. The harder one racks their brain to understand his jokes, the more they miss it.
The two-time speaker never runs out of punchlines, and he, seemingly, has one for every occasion. During debate over the BBI Bill earlier this month, nominee 001, David ole Sankok, earned himself one of the speaker's famous quips. Amid a heated debate among lawyers on constitutionality of some BBI Bill's proposals and whether or not MPs could amend it, Sankok sought the chance to add his voice. "Sankok, you also want to weigh in on this?" the speaker asked.
Like many of the speaker's victims, the nominated mhesh had no idea that he had just been the subject of ridicule and that the question was rhetorical. "Yes," he responded exuberantly. On that occasion, the speaker did not egg him on with a series of rhetorical questions as he occasionally does to other waheshimiwa when they make fools of themselves.
Knowing that old habits die hard, Kamket was perhaps concerned that Muturi would let out a sally to the men in whose care he was and that they would be offended and deal with him spiritually.