Worry not, Judiciary in safe hands, Justice Koome tells Kenyans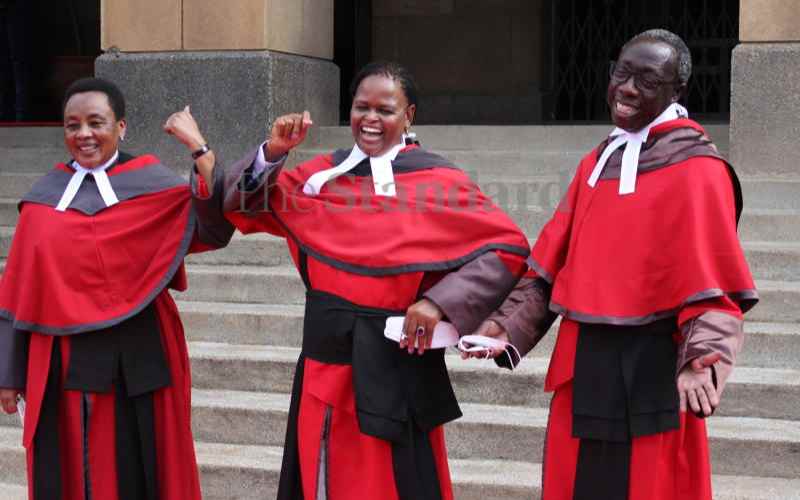 At 61 years, newly-appointed Chief Justice Martha Koome is a person of many firsts and she has now broken the glass ceiling in the Judiciary by being the first female Chief Justice.
Owing to her relatively young age, she is poised to serve longer than her post-2010 predecessors Dr Willy Mutunga and David Maraga.
Maraga and Mutunga were in office for five and four years, respectively.
Her story, in the end, will be told and measured through a document she has crafted which meticulously details what she wants to do as Kenya's 15th head of the Judiciary.
Lady Justice Koome not only promised to change the Judiciary, she put her promises, her yardstick, on paper.
She told Parliament during her vetting that as a good lawyer, she had prepared submissions on what her term will look like.
The document is also a first as her predecessors wrote their blueprints after assuming office.
Her biggest test will be ironing out the frosty relationship between the Judiciary and the other two arms of government.
Justices Mutunga and Maraga had rather stormy tenures characterised by salvos and budget cuts.
Immediately Mutunga left, he claimed that mafias, led by politicians and corrupt businesspersons, lead Kenya.
Mutunga who handed the mantle to Maraga and after his four-year stint at the helm of the Judiciary, later said that the president could not answer his calls.
The term of Kenya's second CJ under the 2010 Constitution had more thorns than roses as he left with 41 judges in a waiting list, unsworn.
Lady Justice Koome now promises to mend fences between the three arms of government. She however, vows to defend Judiciary's independence.
"In service delivery, we require the support of Parliament for allocation of resources to the Judiciary and the Executive for enforcing and implementing some of our decisions," she said.
The litmus test is whether she will convince President Kenyatta to swear in the 40 judges who are still waiting to assume office.
Her predecessor pleaded, cases were filed to compel the president to act, but nothing come of it.
Justice Maraga had a blueprint centered on improving access to justice, handling corruption in and out of the Judiciary, improving ICT, reducing case backlogs, digitisation, and leadership and governance.
Frosty relations
And for all that, he needed money and manpower.
But there were obstacles, as the Executive hit the Judiciary with budget cuts undermining its ability to effectively run courts and employ more staff, something which led to a frosty relations between him and President Kenyatta.
Justice Maraga's hope was to get at least Sh90 billion to keep the wheels of justice oiled.
In 2016/ 2017, he asked for Sh23.3 billion while in the subsequent year, he needed Sh35.9 billion. Last year, he had sought Sh31.1 billion.
He asked to be given at least Sh75 billion, which is 25 percent of the Sh3 trillion budget. He even proposed that, the funding can be gradual, from 1.5 percent.
He also projected that each county will have a court house in 10 years if Treasury allocated Judiciary Sh5 billion for development.
"Even though the Judiciary is an arm of government, it is not demanding much. Out of a budget of about Sh3 trillion, give us just 2.5 percent and we will dispose of cases within two years of their filing.
"Give us a development vote of about Sh5 billion a year and we will construct courts all over the country in 10 years," pleaded Maraga.
But he got a paltry Sh47 billion to work with for the three years.
Koome has a different approach. She promises to lobby for more money from Parliament, at the same time, has other development partners to chip in.
In her to-do list, she also promises to first ensure the Judiciary clears the backlog of cases. She acknowledges the number of undetermined cases in courts across the country is an incessant problem.
The judge is an insider, having risen from a magistrate to a Court of Appeal judge. She has been in the Judiciary for 18 years and she says human capital and funding will also be among the issues she is expecting to sort out.
"Human capital is at 56 percent and we have a deficit of 44 percent. We also have budgetary constraints as the judiciary received 0.86 percent of the national budget," she said.
She also wants to escalate Judiciary's digitisation process and ensure that those courts, which had not been connected during Maraga's tenure, are done in a short time.
On Judiciary's independence, she says the third arm of government is in safe hands.