Smooth trade expected to dominate Tanzania President Suluhu Kenya visit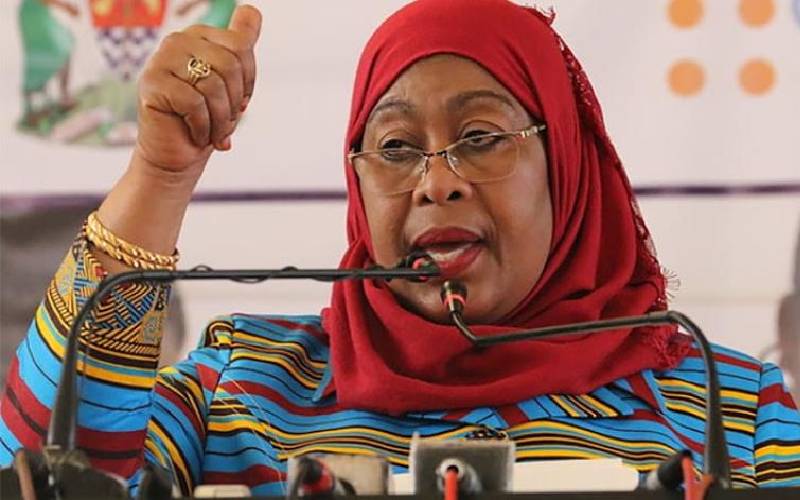 Tanzania President Samia Suluhu Hassan (pictured) is expected in Kenya today on a two-day visit.
President Suluhu was invited by President Uhuru Kenyatta to Kenya in April in a move to improve frosty relations between the two countries.
The rivalry between the two neighbours has been there since the 1967 Arusha Declaration in which Tanzania adopted socialism, putting it on a collision path with Kenya's capitalist ideals.
President Uhuru had invited President Suluhu to Nairobi to amend frosty relations between the two countries that escalated under the reign of former President John Magufuli, now deceased.
On April 10 Uhuru sent Sports CS Amina Mohamed to Tanzania to formally deliver Kenya's invite to President Suluhu.
However, while Tanzania is economically poorer, a 2017 analysis showed Kenya as the biggest loser whenever there is a dispute between the regional economic giants.
Kenya loses more money in terms of exports. The balance of trade between the two countries stood at Sh22 billion at the end of 2015 in favour of Kenya. In 2016, Kenya exported goods worth Sh34.8 billion to her neighbour while it imported Sh12.8 billion worth of products.
Take a quick survey and help us improve our website!
Take a survey
Because of the escalation of tensions between the two countries, Kenya's exports to Tanzania fell by a staggering 60 per cent from Sh12.5 billion to a paltry Sh5 billion in the first six months of 2017.
It is also worth noting that Kenya usually gives in to more of her neighbour's demands than what it receives in return whenever there is a disagreement.
For instance, in 2017, despite finally allowing her northern neighbour's goods to its markets after a two-month standoff, Tanzania still retained the duty it had imposed on Kenyan products - which was part of what created the tiff in the first place.
In 2018, Kenya reached out to the East African Community (EAC) Secretariat to solve escalating trade disputes with some member states.
EAC and Regional Development Cabinet Secretary Adan Mohamed then said the executive arm of the trade bloc should come in where countries are unable to solve non-tariff barrier issues amicably.
Kenya Association of Manufacturers Chairman at the time, Sachen Gudka, said despite efforts to solve a trade spat where Uganda and Tanzania slapped a duty on Kenyan confectionery and sweets, some products were still being blocked from the two markets.
Kenyan manufacturers are also frustrated by Tanzania's push-back over duty-free sugar imports after the country slapped the commodity with a 25 per cent duty.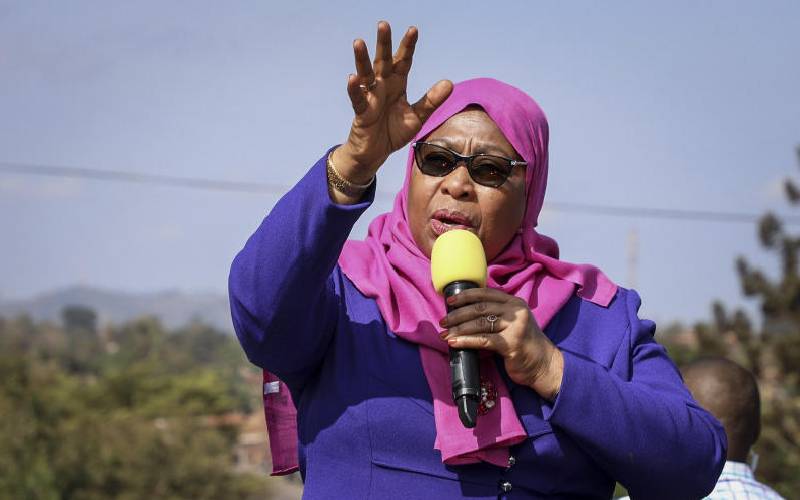 Kenya invited the two countries to inspect companies using industrial sugars to produce sweets, cakes and ice cream, also known as confectioneries, to ascertain that what was being used was not brought under the duty-free window.
Right the wrongs of Magufuli
The late Tanzania President John Magufuli had what can be described as a complicated relationship with Kenya that dates back to when he was first elected president of Tanzania.
When he assumed office in 2015, there was little in his inauguration speech that would indicate just how frosty this relationship would be.
And in the years that underlined his presidency, Magufuli made it clear that Kenya was no longer an important trading partner for the region's biggest country.
The biggest tiff between the neighboring countries was experienced in the early days of the coronavirus. In May last year, just two months after Kenya recorded her first case of the virus, Nairobi closed its border with Tanzania in an attempt to control the spread of the virus.
"There will be a cessation of movement of persons and any passenger-ferrying automobiles and vehicles into and out of the territory of Kenya through the Kenya-Tanzania international border," President Kenyatta said in a May 16 address to Kenyans.
Tanzania was soon to return the favour by announcing a ban on Kenyan flights into Tanzania in August of that year.
President Suluhu said her Government was ready to resolve all the differences – perceived or real – that Tanzania has with Kenya.
The Tanzanian leader said the two countries share a rich history, and that the ties should not end over issues that can be resolved.
President Suluhu said Tanzania and Kenya should revive the Joint Permanent Commission (JPC), which she suggested would play a crucial role in strengthening bilateral ties.
Specifically, President Suluhu assured President Kenyatta that her government is ready to continue all the good work done by her predecessor, the late John Magufuli, to solve the challenges between Tanzania and Kenya because East African Community States are historically relatives, neighbours and friends.
Biden lifts refugee cap to 62,500
Biden formally reversed himself two weeks after his administration announced it would keep the cap at 15,000 level set by his Republican predecessor.