Why it is easy to get a job in the Gulf
With reports of Kenyan job seekers being mistreated by their employers in Middle East being on the rise, questions are being raised on why so many are still seeking these jobs.
The answer, as we discovered, may lie in the low cost - which, most of the times is zero -- and ease of securing such jobs.
While many employers in Kenya require that job seekers meet the cost of training and the hassle of securing documents -- such as a Certificate of Good Conduct -- agents recruiting for jobs in Gulf countries require little apart from basic identification documents and the willingness to travel.
That the recruiting agency meets the cost of training and processing of travel documents is a major attraction that later turns into a trap for those who would not have been able to meet the cost themselves; those who change their minds about taking up the job once the training is done are asked to refund the money that has been spent on them.
Let's take the example of Annet Andeyo, then aged 31, and Slaida Vugutsa, 24, who were recruited, trained, and shipped off to a foreign country by Tripple Kardan Limited, a job recruitment agency.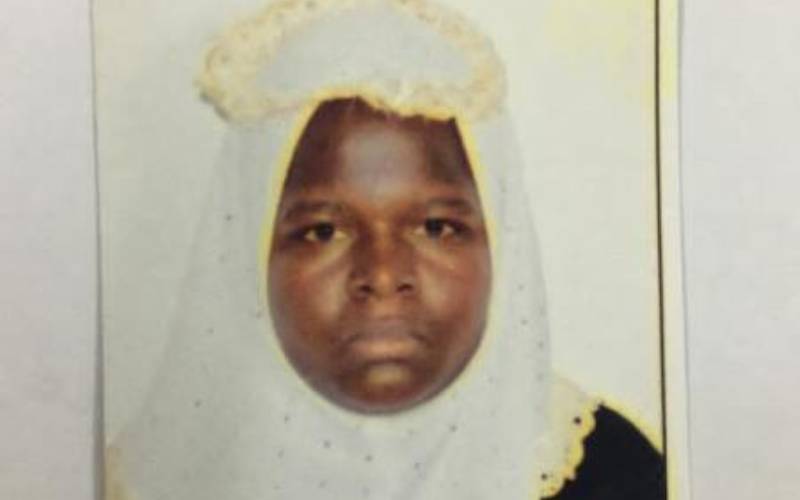 When the sisters left their home in the village of Lumakanda, in Turbo Constituency, towards the end of December 2019, their mother Robai Seyangwa thought they were only going to Nairobi.
In February 2020, the mother was shocked when she received a call from the girls telling her that they had cleared training and were to travel to Dubai, in the UAE, for work.
"They had kept me in the dark regarding their plans," Seyangwa says. Vugutsa had just sat KCSE the same year. "It seems when they left here they went directly to that place where they were training," the distraught mother says.
According to Seyangwa, when her daughters informed her of their plans, she immediately protested. "I told them they will not be taking any of my girls anywhere. I also told the girls that I was not in support of their plans.
"I have heard of the atrocities that girls go through while in those countries and I did not want them to face the same fate," she says.
But then came the threat: if her daughters did not take up the jobs they had trained for, they would have to pay up money the agency had already spent on them.
Unable to raise the money, and with her daughters insisting that they want to go and start earning a living, she bid the two sisters goodbye and they left Kenya on February 17, 2020.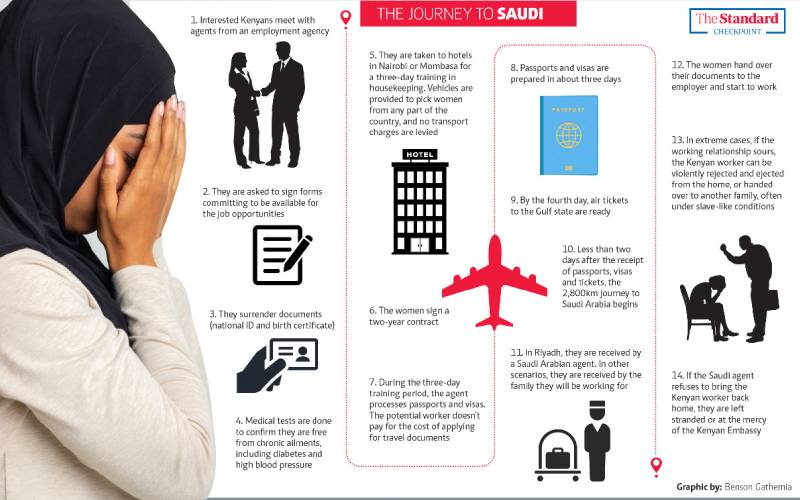 In order to establish the process of securing a job through Tripple Kardan agency, we asked a random girl to call a number advertised on Facebook by the agency, seeking a job.
Right off the bat, a woman on the other end asked if our girl wanted a job in Saudi Arabia.
She then went on to ask for documentation like passport, IDs and birth certificates.
"There is a one-month training done at a hotel called Linda's bird (our spelling might be incorrect).
"We cater for your fees as well as your passport. Call me towards the end of April. The next class will be starting early May," she said.
We were startled when, before hanging up, the woman asked: "Do you have other friends who want to go [to Saudi Arabia] too?" Our girl responded in the affirmative. "Come with them," she said.
"Who will pay for my air ticket," our girl asked. "It is us: we cater for all costs," the woman responded.
We prodded further, asking how the agency will recoup its money – the money they would be using to train the girl, pay for food and accommodation for her as she trained, costs involved in passport application, and so on.
"Will you get it from my salary once I am in Saudi Arabia working," our girl asked.
"No. The money we are using for all these things is government money. So, it is not our money," came the answer. In other words, the agency was overzealously offering philanthropic services. It left us with lots of questions. "And will you confiscate my passport?" our girl kept the inquiry going.
"That only happens when, after the training, and the trouble of getting you a passport, you say you no longer want to travel," the voice from the other side said. The woman went on: "In case you withdraw (from travelling) you will be required to pay all the money that has been spent on you."