Judicial commission now begins search for Supreme Court judge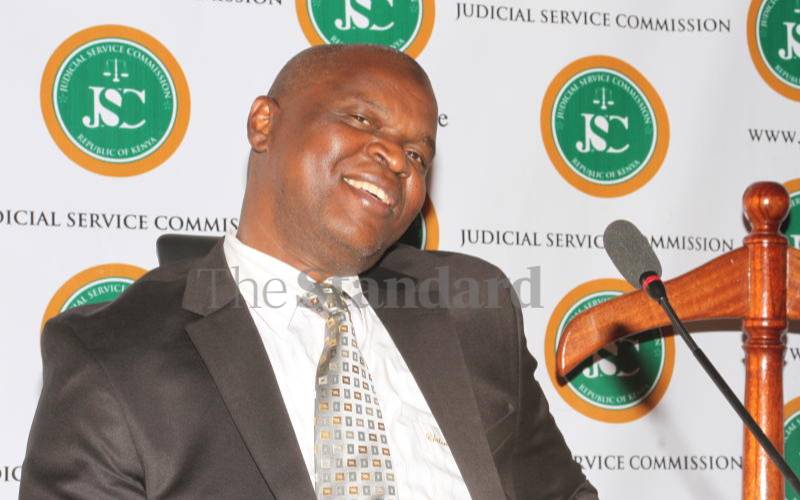 The Judicial Service Commission (JSC) began the search for a new Supreme Court judge, with Justice Said Chitembwe being the first candidate to face the panel.
Justice Chitembwe, who was trying his luck a second time after losing to Court of Appeal Judge Martha Koome for the Chief Justice position, yesterday told the commission corruption in the Judiciary was so high that it would not be an easy task to get rid of it.
"I don't think Kenya will ever say there is zero corruption in the Judiciary. It is because we deal with people and public expectation is high. We can't eliminate perception of corruption, but we can reduce it," he said.
The judge said corruption in Judiciary starts when cases delay, and clearing any case filed at the Supreme Court within a reasonable time with good reasoning helps.
Justice Chitembwe said it was wrong for Judiciary to deny the claims of corruption when there are so many reports that have found out the vice exists and that the only way to avoid such claims is to stop issuing predictable decision that even a lay man would think the judge was bribed.
"I am not saying corruption will be in the Judiciary until Jesus comes. I am saying the perception will always be there. It is very unlikely that there will come a time when a research will be done and we find that there is no corruption in the Judiciary," he said.
The High Court judge said he was not looking for a job, since he is already employed by the Judiciary, but an opportunity to serve the people. He said he was like the extra cog that is needed at the top court to reignite the engine.
Chitembwe said if appointed to the Supreme Court, he would not join as a visitor and impose his views on the other judges but listen to all of them before making any decision. He said his objective if appointed will be to enhance jurisprudence and gain trust of Kenyans and ensure constitution is obeyed. If I am to join the court, that is what I will be doing.
"I will join hands and do what they have been doing. With the wealth of experience, I have acquired in my 29 years of legal practice, I will be very resourceful to the Supreme Court and will work hard to ensure we hear cases expeditiously and ensure there is no backlog. Asked of decisions by Supreme Court he disagreed with, Chitembwe cited nullification of the presidential election in 2017 and upholding the election of Wajir governor despite concerns raised.