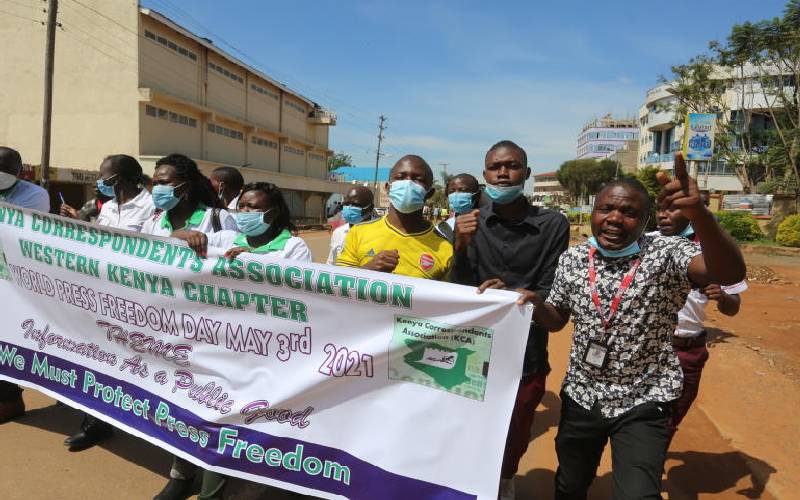 National Assembly Speaker Justin Muturi has challenged media owners to pay journalists, and correspondents well to enhance media standards and integrity.
Speaking on Monday, May 4, 2021, at Nairobi's Serena Hotel during this year's World Press Freedom Day, Muturi said it is only through better remuneration that journalists will execute their duties with integrity.
He said before media houses demand integrity from journalists, they must lead by paying them well to shield them from being easily compromised by their sources.
"Today is my day to ask media owners to pay our children, reporters and correspondents very well; pay them well first and then demand integrity, otherwise we risk making them captives of government and news sources," he said.
Muturi's remarks come when journalists face hard times because of poor remunerations a situation that has been worsened by the Covid-19 pandemic.
The most affected group are the correspondents who have no salaries but depend on the number of stories they write which only earn them a few shillings if published on the newspapers or online platforms.
"It is hard on us, the rates per stories have been reduced, because of the Covid-19 but still our stories cannot find their way into the newspapers so we have become village beggars," a correspondent based in Migori told Standard Digital.
Correspondents' suffering
Digital editor Edwin Anjago said the correspondents issue is dire and should be looked into.
"It's tough being a correspondent in the current media terrain. These are university graduates yet some of them take home Ksh4000 per month for a ton of work. Media owners must give them at least a retainer and then make the payments regular..."
Anjago said the trend if not addressed, will water down the quality of stories being published in various newspapers and online platforms in the country.
"Sources will compromise these journalists in the street and only unworthy news will find itself in the newsroom," he added.
Kenya Correspondents Association (KCA) Chairman William Oloo Janak challenged journalists to work together in advocating for their rights.
"Lack of unity among journalists is a major problem. You can do it alone. Journalists also don't want to join association's and unions," he said.
It was in the year 1993 when the United Nations General Assembly declared May 3 as the World Press Freedom Day.
This declaration came after a recommendation made in 1991 at the twenty-sixth General Conference session of UNESCO.
It also came because of the 1991 Windhoek Declaration; a statement which was produced by African journalists about press freedom, presented at a seminar held by UNESCO, which concluded on May 3.
The day is meant to celebrate reporters, editors and photographers who always risked their reputations and lives for the truth behind events.