DP William Ruto calls for establishment of state department for Kenyans in diaspora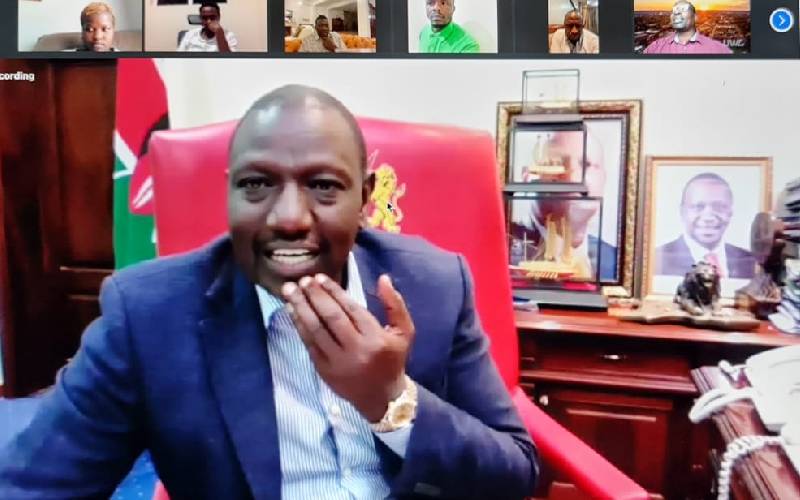 Deputy President William Ruto has called for the creation of a State Department in charge of Kenyans in the Diaspora.
Ruto said the department will deal with the affairs of Kenyans abroad owing to their huge and integral contribution to the development of the country.
The DP said Central Bank of Kenya statistics show that Kenyans in foreign lands send back home an estimated Sh330 billion a year.
Ruto spoke during a virtual meeting with Kenyans in the Diaspora drawn from across the world.
"We have began a clear, inclusive and structured engagement with Kenyans abroad to involve them in the transformation of Kenya," he said.
He said the move will make Kenyans abroad to concretise and prosecute the government's broad and solid plans to make Kenya a better and fairer country for everyone.
To exploit their potential, Ruto said in the near future, a platform for everyone in the diaspora to join the conversation will be opened.
"We will advance the deliberation to configure our politics to issues, policies and programmes," he argued.
The Diaspora while demanding to be involved in the decision-making of the country's political, social and economic issues, they asked for the creation of a special investment diaspora bond, friendly and speedy acquisition of passports, protection of their investments, among others.
This comes as the Central Bank in its latest bulletin indicated that Kenyans abroad sent home Sh31.15 billion in March, the highest inflows since December last year.
This represented a 27.1 per cent increase compared to a similar period last year.
The growth also surpassed that of February where Sh28.6 billion was sent back to the country.
CBK said remittance inflows continue to provide a stable source of foreign exchange for Kenya and key support for many households, totaling Sh330.6 billion for the year 2020.
The US remains the largest source of these inflows, accounting for 55.9 per cent of remittances in March 2021.
Kenyans in the North American region sent home $177.4 million last month compared to $160.8 million in February.
The other top source countries were UK with 11.2 per cent, Saudi Arabia with 4 per cent, Canada with 2.9 per cent and Australia 2.9 per cent.