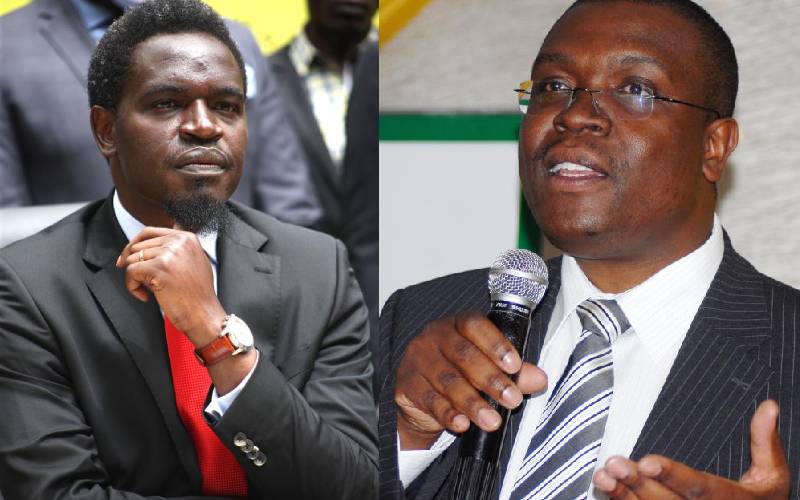 A tough contest for the Westlands constituency parliamentary seat is expected between Orange Democratic Party (ODM) and United Democratic Alliance (UDA) candidates.
The constituency has always been among the most contested seats in Nairobi, apart from the 20-year period it was held by Fred Gumo, whose Jeshi la Mzee group was known for terrorising opponents.
Former Nairobi Town Clerk and CEO Philip Kisia is heavily tipped by analysts to win the ODM ticket, while lawyer Nelson Havi is the pundits favourite in UDA.
Kisia will contest for the ODM ticket against Mike Gumo, the son of former MP Fred Gumo, and nominated MP Sonia Birdi, who has thrown her hat into elective politics.
"They are all campaigning hard but people in Westlands will most likely look at the candidate's track record during the party primaries and that is why Kisia stands a higher chance," said local ODM official and former aspirant Charles Nandwa.
The winner will take on either former Law Society of Kenya president Nelson Havi or Millicent Githinji, both of whom are seeking the UDA ticket.
Havi agrees that the race is likely to be between ODM and UDA, but differs with pundits who argue that the Luhya community bloc will decide who becomes the next area MP.
But Nandwa, who has voted in Westlands since 1983 when former Electoral Commission of Kenya chairman Samuel Kivuitu was elected area MP, says Kisia is the man to watch.
He says the younger Gumo has mounted a very strong campaign but people associate him with the record of his father, who served as Westlands MP for about 20 years.
"Westlands constituency is currently ranked as one of the best performing in terms of infrastructure and development, a stark contrast to what it was many years ago," says Nandwa.
Having been involved in Westlands politics for over 30 years now, the former Nairobi Liquor Board member says whoever becomes MP will work really hard to reach the standards set by current MP Tim Wanyonyi.
Kisia, however, says he comes in with a wealth of experience, because he ran Nairobi City Council very effectively when he was Town Clerk and ensured that staff received their salaries on time.
"Staff never went to the streets to demand salaries and we also improved security, provided necessary social amenities and ensured that all accounts were properly audited," says Kisia.
Westlands has a mixture of high-end voters and low income groups, with Kangemi ward having 41 per cent of the vote, Parklands 28.83 per cent, Kitisuru 15.98 per cent, Mountain View 8.67 per cent and Karura 7.88 per cent.
The approach to Westlands politics is two dimensional because the needs of high-end areas such as Muthaiga, Kitisuru, Loresho and Parklands are different from those of residents of the sprawling Kangemi slums.
In UDA, Nandwa says Havi will most likely be the front-runner because he will be more appealing to voters in places such as Kangemi, largely because of the ethnicity card.
The former LSK boss, however, says it is wrong to argue that he is running for Westlands because he is a Luhya.
"The Luhya vote is about 55,000, the Kikuyu vote is about 45,000 and so the difference is 10,000 which is very minimal," says Havi.
There are 30,000 voters in the urban areas of Parklands, Highridge and Westlands which consists of Asian, Muslim, Somali and other communities.
But the fact that Mountain View and Kangemi is only 20 per cent of the area of Westlands constituency and yet carry almost 60 per cent of voters is telling.
In Westlands, it has been argued that people residing in slums are more inclined to vote than the middle and upper classes.
Havi, however, argues that the rich will have a motivation to vote because areas such as Parklands have been left unattended to, with spiralling uncontrolled development.
"The proliferation of buildings that ought not to be in certain zoned areas and clearly not well planned for national development projects have interfered with livelihoods and business work environment," he says.
He further argues that the entire area around Westlands does not have water, sewerage is destroyed, the road network is bad, lighting is poor fundamentally because of construction of the Nairobi expressway road.
That, he argues, is what can propel someone in a suit and a tie to go out and vote, especially in areas such as Lion Place where lighting is poor.
Kisia points out that he has successfully run big organisations unlike his competitors both in ODM and UDA who have no track record.