Sh17b Western bypass to cut Ruaka-Gitaru travel by 20 minutes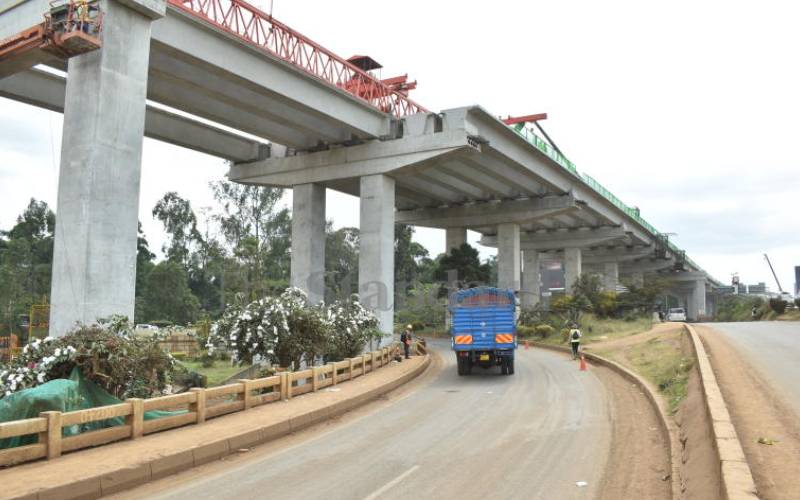 Time spent travelling between Gitaru and Ruaka will reduce by 20 minutes once the Western Bypass is completed.
The Sh17 billion road project that covers 34km is now 86 per cent done, the Kenya National Highways Authority (KeNHA) said.
The project is also aimed at reducing road congestion by diverting vehicles away from the Nairobi city centre.
"Completion of the project will lead to increased vehicular speed limit from 50km per hour to 80km per hour," said KeNHA.
The road links Nairobi's Northern Bypass at Ruaka and the Southern Bypass at Gitaru town.
The Western Bypass project, which includes the construction of seven interchanges at Gitaru, Lower Kabete, Wangige, Kihara, Ndenderu, Rumenye and Ruaka, was launched in July 2019 and is set to be completed in September 2022.
Once the third ring-road bypass is launched, the authority is optimistic that road users will enjoy much-needed comfort, apart from cutting commute time, vehicle maintenance costs as well as increasing the value of land and commercial activities along the bypass.
In July this year, Transport and Infrastructure Cabinet Secretary James Macharia said the government was doing a circular road around the city to enable motorists to avoid unnecessary traffic snarl-ups in Nairobi city centre.
The project is expected to have directly employed 1,500 locals by the time of completion, and another 5,000 indirectly.
The Southern Bypass has been lauded for reducing helping ease congestion caused by long-distance trucks that used to pass through the city centre.