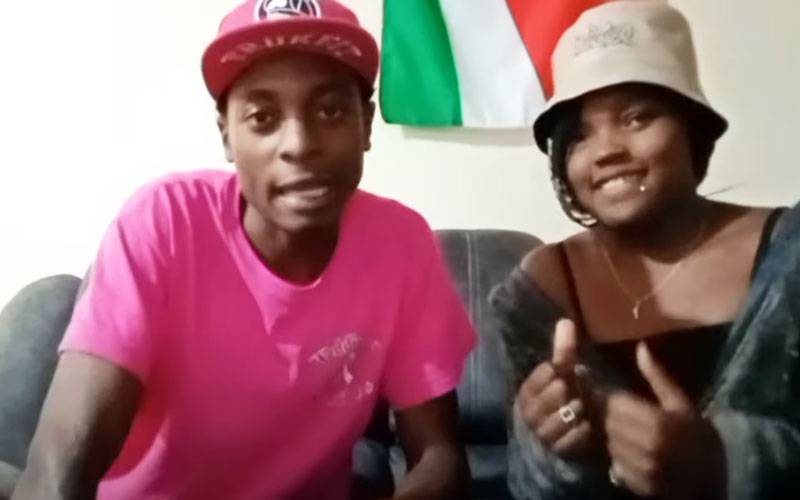 Police are investigating two possible reasons for the murder of a young couple from Umoja, Nairobi on Saturday, November 6.
Eric Maina Njeri and Leila Truphena were found with stab wounds in different parts of their bodies in their two-bedroom apartment in Zone Eight estate. The partners also had their hands tied at the back.
It remains unclear why the couple was killed, but The Standard understands that police have zeroed in on two possible theories – robbery and business rivalry.
Directorate of Criminal Investigations (DCI) detectives have established that Maina and Leila arrived home at 9pm on Saturday in the company of two men.
It remains unclear whether the couple's visitors are responsible for their deaths.
Police are investigating whether Maina and Leila were killed during a robbery incident, in which the couple's 43-inch TV set, two laptops, a home theatre system and two mobile phones were stolen.
Authorities are also probing whether business rivalry led to the couple's killing. It is reported that the two had started a car wash business in the area, which was doing fairly well.
Police suspect the couple's business rivals, who were unimpressed by the partners' fast-rising venture, might have organised their killing. The carwash and parking area business is lucrative in Umoja.
Maina and Leila were last seen alive on Saturday night. Neighbours said they heard brief distress screams emanating from the couple's house, but did not suspect that the two were under attack.
The fairly comfortable lifestyle of the young couple – Maina in his early twenties and Leila aged 18 – was the envy of their peers. It is reported that Maina's guardian, a native of Seychelles, was sponsoring the partners' lifestyle.
On Monday, November 8, police arrived at the couple's house and broke down their door after neighbours reported that a foul smell was emanating from Maina and Leila's house.
Leila was found in the toilet, with several stab wounds and her hands tied at the back.
The body of Maina, on the other hand, was in the bedroom, with stab wounds in the shoulder, chest, back, abdomen and neck.
Police said signs indicated that the young lovers struggled with their killers before being subdued.
The couple's bodies were taken to City Mortuary on Monday afternoon.
A postmortem initially scheduled for this week was postponed on Friday, November 12, after the families of Maina and Leila disagreed on a date for the autopsy.
Buruburu Sub-County Police Commander Francis Kamau told The Standard that the postmortem will, consequently, be conducted next week after the families reach a consensus.
Police have recorded statements from the caretaker of Maina's apartment, neighbours and family members.
Maina, an aspiring musician, and Leila started a YouTube channel called the Mlepos recently, which had slightly over 200 subscribers by the time of their deaths.
Maina had uploaded three videos with his girlfriend on the YouTube page, although the views were still low.