City Hall workers to strike over delayed CBA and medical cover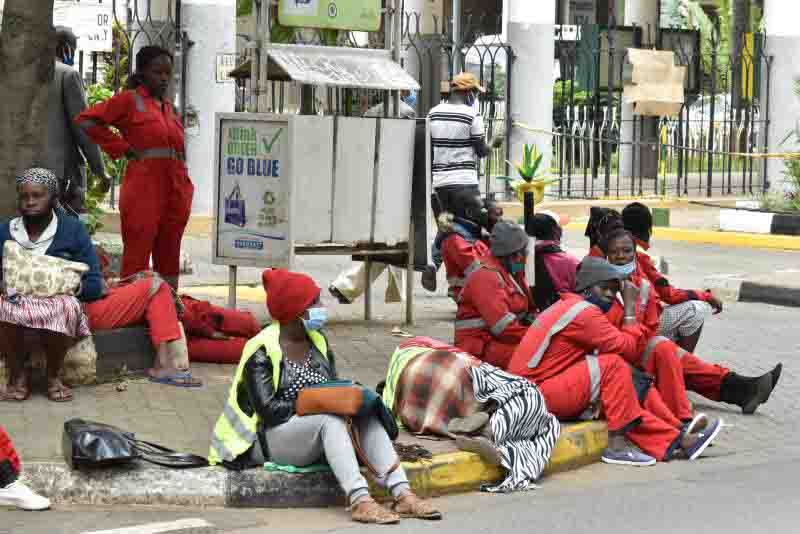 Nairobi county workers have threatened to go on strike over the failure to implement the 2013 Collective Bargaining Agreement (CBA).
The workers have vowed to paralyse services from Wednesday next week if City Hall fails to address their grievances.
The Kenya County Government Workers Union (KCGWU) yesterday cited lack of medical scheme, failure to effect promotions, perennial delay in salaries and non-remittance of statutory deductions.
Nairobi branch secretary, Benson Olianga, said the more than 12,496 workers have been without a medical cover since July.
This, Mr Olianga said, goes against the Employment Act 2007 and the registered 2013 CBA.
"Due to non-compliance and willful failure on your part to address these grievances, the union hereby Invokes Section 18 of the Employment Act 2007 to parade members of City Hall beginning Wednesday, October 13, at 8am," read the strike notice.
Olianga also noted the failure to pay overtime and uniform allowances, and other dues for retiring employees, failure to provide personal protective equipment and uniforms for deserving staff as well as lack of harmonised staff benefits.
The union also wants security officers paid cumulative off days.
"The above matter was agreed upon following a joint branch executive committee (BEC) meeting of the Kenya County Government Workers Union Nairobi staff branch and Nairobi city branch held on September 28, where the BEC unanimously agreed to hold a parade on the stated grounds," added Olianga.
In May, insurance firm AAR suspended medical cover for more than 12,000 workers following failure by the Ann Kananu-led county government to clear an outstanding premium of Sh259.9 million.
In July, health workers in Kisumu also issued a one-month strike notice to the county government over delayed salaries, among other grievances.
The workers also cited failure by the county government to remit statutory deductions, effect promotions and lack of PPEs.
The medics, through the Kenya Union of Clinical, Kenya National Union of Nurses, Kenya National Union of Medical Laboratory Officers and Kenya Union of Pharmaceutical Technologies, accused the county government of withholding salaries.
"The county government has declined to pay the January and February salaries for 400 members illegally. Two union officials have been denied salaries from December last year to date," said Odhiambo.
In August, lecturers issued a strike notice to demand implementation of Sh8.8 billion salary deal. They cited failure by the public universities to negotiate, sign and implement the CBA for 2017-2021. But the Employment and Labour Court suspended the planned strike.