Over 2,000 Pakistanis seized in Nairobi headed to Saudi Arabia, officials say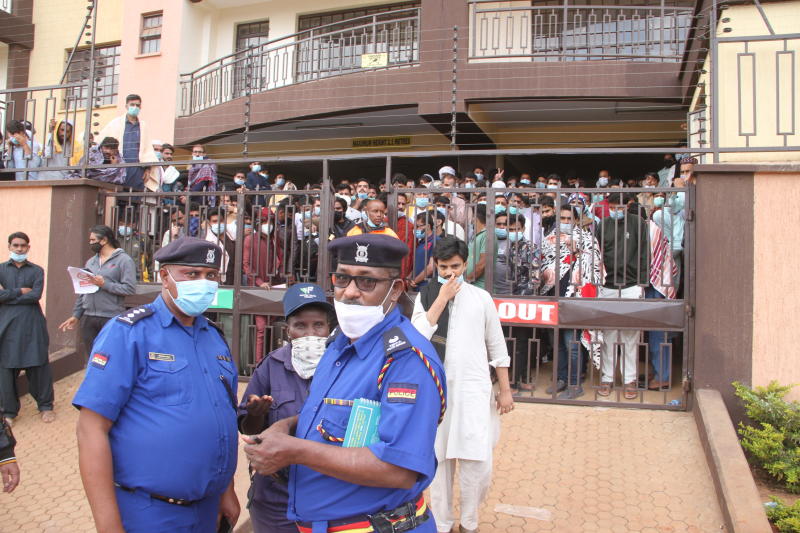 An operation to rid the city of more than 2,000 foreigners generated more questions after it emerged that they had genuine immigration papers.
The Wednesday night operation saw about 2,000 Pakistan nationals flushed out from different hotels and estates, where they were living in Nairobi.
The crackdown came hours after the Interior ministry issued a statement about their presence in the country.
In the statement, the government ordered an immediate crackdown on foreigners in the country illegally.
This came after a public uproar over an influx of Pakistani nationals roaming the city centre. Following the orders by the Interior Principal Secretary Karanja Kibicho, the Pakistan nationals were flushed out and kept at a recently completed building named Waiyaki Real Gardens.
For the better part of Thursday, some immigration officers, police and agents were busy scrutinising their documents to see if some of them were in the country illegally.
"The police and some officials arrived around 8pm and whisked the foreigners away without revealing their intentions. It was until midnight that we learned they had been taken to Waiyaki Way," said a staff of the hotel on Muindi-Mbigu Street, where the Pakistanis were residing.
The source revealed that a local agent approached the hotel in early September and inked a deal with them and they were charged Sh20,000 each for the 14 days they had been told to stay on quarantine.
After the verification of the documents, the foreigners were directed to board school buses and hired public service vehicles to be transported back to the hotels. One of the hoteliers - Paranay Patel who spoke to The Standard, said he was hosting around 100 Pakistanis.
"They genuinely came through the airport and were so happy until last night when the government announced the crackdown," stated Paranay.
He added: "I have met some senior officials and explained to them that they are not illegal immigrants because we vetted their travel documents. They have now been told not to loiter around the estates because that was their mistake."
Some of the Pakistanis who spoke to The Standard said they were traveling back to Saudi where they were working before, but their country was listed as a Covid-19 red zone, forcing them to pass through Kenya before proceeding there.
Hassan explained that most of the foreigners were casual labourers, among them painters, plumbers and machine operators who have secured jobs in Saudi Arabia.
A senior police officer said their documents had been verified and found to be genuine.