Two arrested in Mathare for kidnapping six-year-old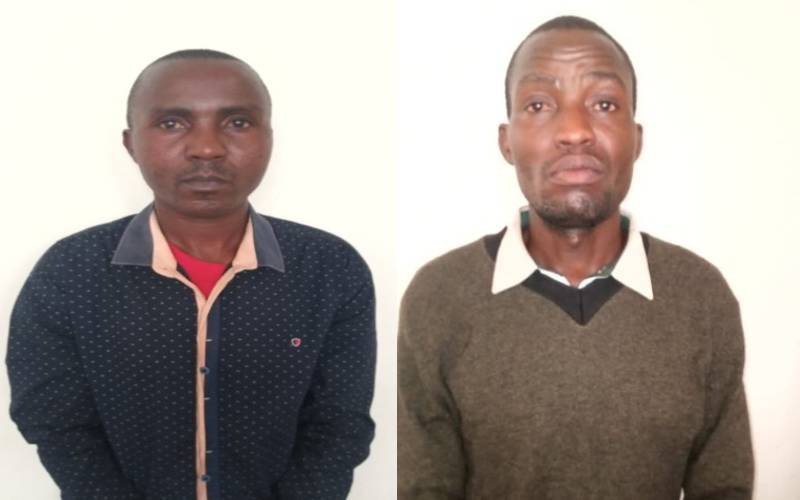 Detectives at the Directorate of Criminal Investigations (DCI) have arrested two kidnapping suspects in Mathare, and rescued a six-year-old boy who allegedly went missing on Saturday, September 18.
The two, Ezekiel Nyamawi Nyakundi and James Bundi Mabeya, were arrested at Mashimoni, Mathare Area 10 where detectives found the missing boy on Monday afternoon.
Reports indicate that the minor went missing during a church service at Kware Central SDA Church when he was lured by a man while playing at church grounds with another friend.
"The kidnapper posed as a congregant, approached the boys and promised to buy them a plate of chips, if they accompanied him. However, one of the boys returned to the church after he was given five shillings," DCI says.
This prompted the mother of the missing child, Regina Bayani, 25, to make a formal report at Embakasi Police Station which led to the rescue of her son when police stormed the suspect's hideout.
"The minor had been left alone in the kidnapper's house which can only be accessed through built alleys. The minor had strayed and found other children playing and joined them, before being found by our agents," detectives say.
Preliminary investigations indicate that the two suspects could be part of a kidnapping syndicate behind child kidnappings that have rocked the Pipeline area within the city, in recent days.
The two are in police custody awaiting arraignment on preferred charges.