Contractor set to open closed sections under construction on Mombasa Road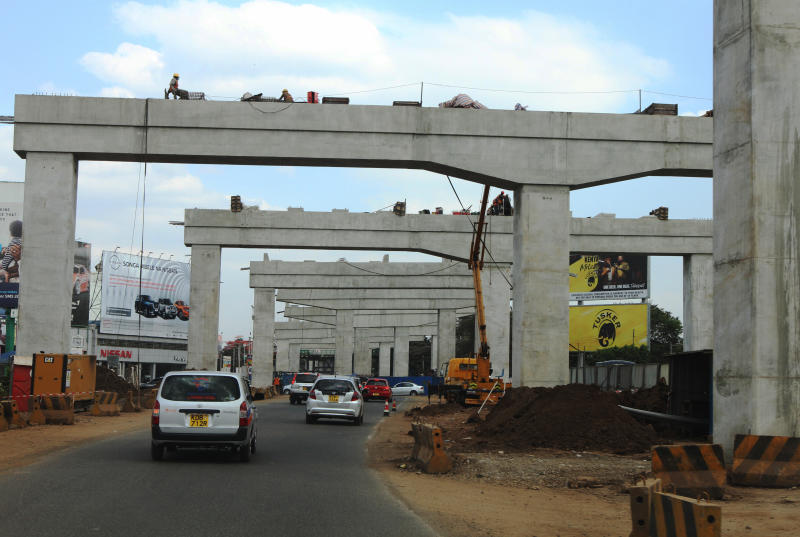 Traffic is expected to ease after the contractor opens sections under construction on Mombasa Road and Waiyaki Way to motorists in the next ten days.
Kenya National Highways Authority (KeNHA) Acting Director-General David Muchillwa said interventions that have been put in place to ensure relative ease of movement and safety for motorists include the opening up various completed sections of the Nairobi Expressway to traffic to give way for works on the existing highway (A104).
Sections to be open to motorists include the road between Jomo Kenyatta International Aiport and Mlolongo town which will be fully opened and between Westlands and James Gichuru road along Waiyaki Way.
Eng Muchilwa noted that other sections to opened to motorists are along Imara Daima, Airtel and lanes that were closed at Syokimau and Mlolongo.
The improvement of two directional U-turns at various points such as Mlolongo (Alfpack) and blocking illegal U-turns that caused congestion and the continuous watering of the construction sites to reduce the rise of dust will also continue.
"Widening the angles at diversion points at Allpack area to ease vehicle movement," said Eng Muchilwa in a statement.
Notably, the sections of the road where traffic congestion could still be experienced, include General Motors (GM) where a new footbridge is being installed and Bunyala round about and Uhuru highway where hoisting of bax girders is still ongoing.
KeNHA boss said the section between Haile Silassie and University of Nairobi roundabout will be complete by October 15. Transport Cabinet Secretary James Machari said completion of the expressway, will be in February six months ahead of schedule on September 2022. Macharia said the Sh63 billion road was 60 per cent complete and China Roads and Bridges Company was working 24 hours daily.
"We requested the Ministry of Interior to offer security to the contractor to ensure smooth operations on a 24-hour basis. We are glad they are working in shifts that will see the road completed before schedule," he said.
The project started in June 2020, but delayed due to Covid-19 restrictions. The contractor will however cut the construction time to 19 and 20, months, as opposed to two and half years. The most affected sections are General Motors, Bunyala, Capital Centre and the Nyayo Stadium roundabout.
Due to the narrowed lanes on Mombasa Road, Uhuru Highway, and Waiyaki way, motorists have resorted to use alternative routes in Industrial Area, Jogoo Road and South B.