Expressway to be ready in February, says CS Macharia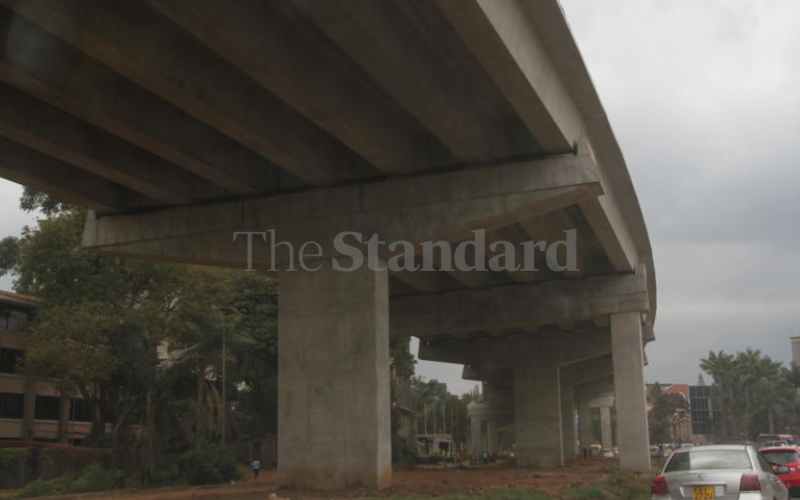 Kenyans will begin using the Nairobi expressway by February next year, Transport and Infrastructure Cabinet Secretary (CS) James Macharia has said.
The completion of the expressway, six months ahead of schedule, is expected to change the capital city's skyline.
The initial completion date of the 27km road was September 2022, but the Government has pushed the contractor to deliver it early to ease traffic snarl-up on the busy highway.
Macharia said the Sh63 billion road was 60 per cent complete, noting that the China Roads and Bridges Company (CRBC) was working 24 hours daily.
Acknowledging that traffic snarl-ups have seen motorists and road users on Mombasa Road, Waiyaki Way and roads cutting across the two highways suffer, sometimes spending the night on the road, the CS promised to work with the Interior Ministry to tame the mess.
"We requested the Ministry of Interior to offer security to the contractor to ensure smooth operations on a 24-hour basis. We are glad they are working in shifts that will see the road completed before schedule," he said.
The project started in June 2020, but delayed due to Covid-19 restrictions. The contractor will however cut the construction time to 19 and 20, months, as opposed to two and half years.
Two weeks ago, Kenya National Highways Authority (KeNHA) said they will create a diversion at the General Motors (GM) section to ease traffic snarl-up for motorists who transit through Mombasa Road through Waiyaki Way.
The most affected sections are General Motors, Bunyala, Capital Centre and the Nyayo Stadium roundabout.
Due to the narrowed lanes at the Mombasa Road, Uhuru Highway, and Waiyaki way, motorists have resorted to using the Industrial Area, Jogoo Road, or South B as alternative routes into and out of town.
Macharia asked the contractor to implement a better traffic management system to ease traffic flow.
He said once completed, Kenya's first road to be tolled under a Public-Private Partnership will see motorists take 20 minutes to drive from Mlolongo to Rironi near Limuru, through Westlands.
The expressway begins at Mlolongo via the Central Business District to Waiyaki Way. It has 11 inter-changes to ease exit and entry.