Nairobi residents in fear as muggers turn city centre into gangsters' haven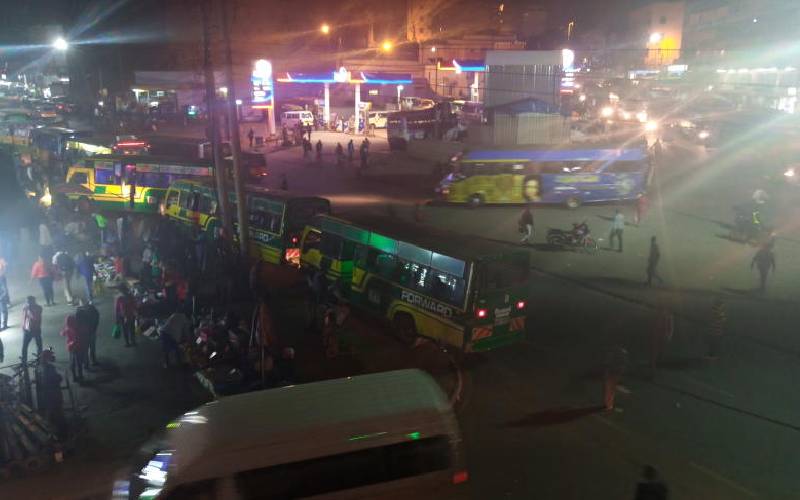 On June 17 at around 6.50pm, Agnes Mumbi was walking along Simba Street at the junction of City Hall Way and Aga Khan Walk, her usual route home.
On the other side of the road, a group of young men was approaching her while yelling at each other. Mumbi says they appeared drunk.
But as they got close, they sandwiched Mumbi and stole her belongings in split seconds before running off towards Aga Khan Walk. This happened as passers-by watched and Mumbi shouted for help in vain.
"The attackers were six in number. At first I thought they were drunk and tried giving them way since they were arguing. I was left with torn clothes," says Mumbi, who is currently tracing her lost items.
This is the latest trick used by muggers who have now taken over the city centre leaving many in fear. This is a game they started perfecting downtown before moving to the heart of the city.
Last month, a popular actor was attacked by two thugs who attempted to rob him of his jewellery outside a shop along Moi Avenue.
But the armed actor pulled out his gun, firing in their direction. The thugs managed to escape unhurt in the afternoon incident which was captured on CCTV.
This is among many cases that are reported daily, prompting a public uproar with Nairobi residents accusing the police and county government of laxity.
In a similar incident last week, three young men armed with daggers accosted a journalist at Bus Station and robbed him of his mobile phone and Sh14,000 in cash. The victim was heading to a nearby chemist to buy medicine for his ailing kin at around 6pm.
Such incidents on how criminal gangs operating in groups of three to six have now taken over the city have sparked concerns among residents. Some cases even occur in areas with active CCTV cameras but this does not deter the gangs.
Some of the identified hotspots include National Archives, Khoja stage, Kencom, outside GPO smoking zone, Kenyatta Avenue, City Market parking area, Mama Ngina and Ronald Ngala streets, 680 Hotel, Fire Station and Standard Street.
"The DCI urges members of the public who may fall or have fallen victim of mugging within the Nairobi Central Business District to make formal reports at the Nairobi Central DCI offices whenever such unfortunate incidences happen," said a post on June 21.
The post added that while many victims take to social media to narrate their ordeals in the hands of gangs, the DCI urged them to formalise those complaints to facilitate the prosecution process once arrests are effected.
Many are the instances when suspected muggers go Scot free even after they have been arrested, as the few who report to the police fail to pursue their cases or never turn up for hearings.
According to security expert Richard Tuta, while police cannot provide security for all, citizens can be vigilant to protect themselves from the muggers.
Kenya Ferry Services dissolved
The move was ratified by the National Government on Wednesday, June 23 in a ceremony presided over by Transport Principal Secretary Solomon Kitungu.