Yano: I'll assess the President's mood through First Lady before engaging him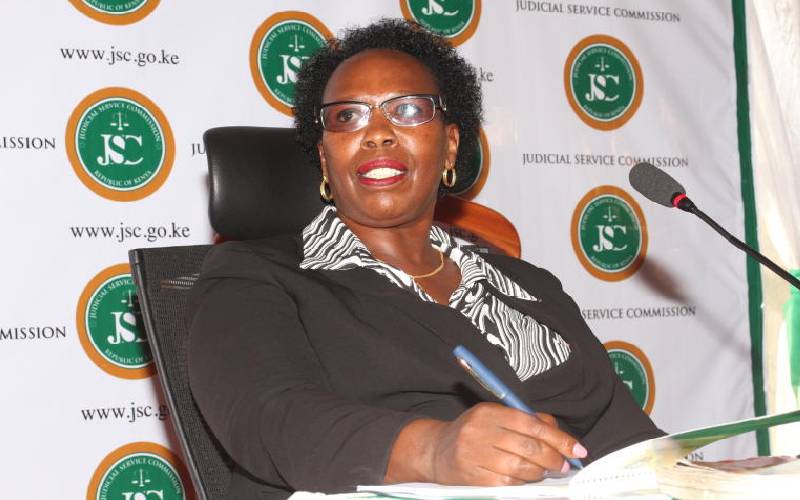 Chief Justice candidate Alice Yano told the JSC interviewing panel on Friday, April 23 that should a protracted dispute arise between the Judiciary and the Executive, she would consult the President's spouse to know how and when to approach him for a resolution.
Yano, 53, said she would seek a delicate balance that won't jeopardise the relationship between the two Arms of Government.
"If I am the Chief Justice, I would call Mama Margaret [Kenyatta] for a cup of tea so that she informs me about the President's mood. Once I am sure the President is in a good mood, I would book an appointment with him, and ask my fellow JSC members to accompany me to the meeting. It is during the deliberations that we'll get lasting solutions to the supposed stalemate," she told the panel.
After realising that her response elicited laughter during the interview, Yano said she was "just joking".
"My analogy was a joke and just a random example I picked to demonstrate how consultative I will be as a CJ, she said.
Her response was met with criticism online, with a section of Kenyans claiming the Executive would have an easy task to manipulate the CJ.
Yano was responding to one of the Commissioners' questions regarding how she would treat the impasse arising from President Kenyatta's failure to appoint 41 judges.
The row widened the rift between the Judiciary and the Executive, to an extent former Chief Justice David Maraga called a press conference to voice his disappointment.
In his defense, the Head of State, through the Attorney General's office, said some of the judges listed for appointment had questionable professional backgrounds.
The courts, however, ruled that Kenyatta overstepped his mandate in refusing to formally appoint the judges.
She was the final interviewee in the two-week long interviews that ended on Friday.