Senior police officer injured in accident while manning a roadblock during curfew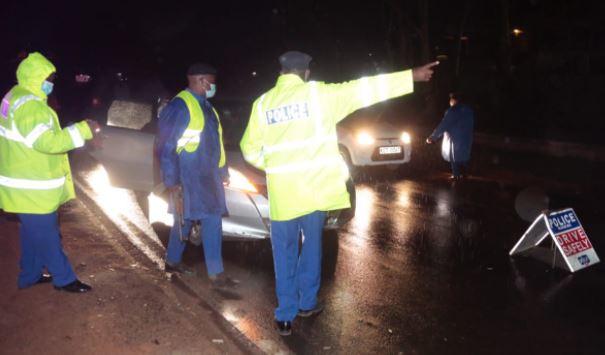 A senior police officer was Sunday night injured when a motorcycle hit him at a roadblock in Pangani area, Nairobi.
The Pangani Officer Commanding Station (OCS) Samir Yunus was manning the roadblock along Dr Griffins Road when a speeding motorcycle ran over him.
Officials said Chief Inspector Yunus sustained head injuries after he fell out of a heavy knock he got from the rider.
He was rushed to a nearby hospital where he was admitted. Police authorities said the cyclist was arrested and the motorcycle detained.
The cyclist told officials he lost control as he sped home to beat the curfew rule. The accident happened at around 8.30 pm.
Yunus was among officers manning the roadblock to implement the Covid-19 curfew regulations.
Police mounted roadblocks on various roads in the city.
For the third day (yesterday), some motorists were detained at various sites for flouting the rules. Police on Sunday, along Thika Road lit a bornfire to warm those detained. The motorists were however allowed to proceed with their trips but after being held for more than an hour.
Take a quick survey and help us improve our website!
Take a survey
On Saturday night, it took two hours before police finally allowed motorists using the routes to drive through the blockages past 11pm.
Citing the 8pm curfew rule, security officers were adamant that residents would not be let through.
Hundreds of Nairobi residents were stuck on busy routes.
Those stranded took to social media to share their predicament, saying they had been informed they would stay on the road until 4 am.
Ambulances were however allowed to pass through the roadblocks.
Officials said the move was necessitated after it emerged there was no compliance to Covid rules.
Nairobi Regional Commissioner James Kianda said a routine review and assessment of implementation of the COVID-19 containment measures showed compliance with the said guidelines within the Nairobi metropolitan area is below 50 percent.
"We note with concern that there is willful violation of these protocols in estates, especially prohibition of large in-person gatherings and compliance with curfew restrictions and other health protocols," he said.
Kianda reminded Kenyans that each life matters, and they must all take part in breaking the chain of transmission of the virus.
"However stringent these rules may appear; they are imperative for our survival. As such, civic responsibility is a more potent weapon in this war than enforcement of the guidelines by the police."
Kianda said Saturday's traffic snarl-up along Thika Road was occasioned by efforts of police officers to strictly enforce the curfew restrictions.