Murgor banks on his integrity, courage to clinch Judiciary post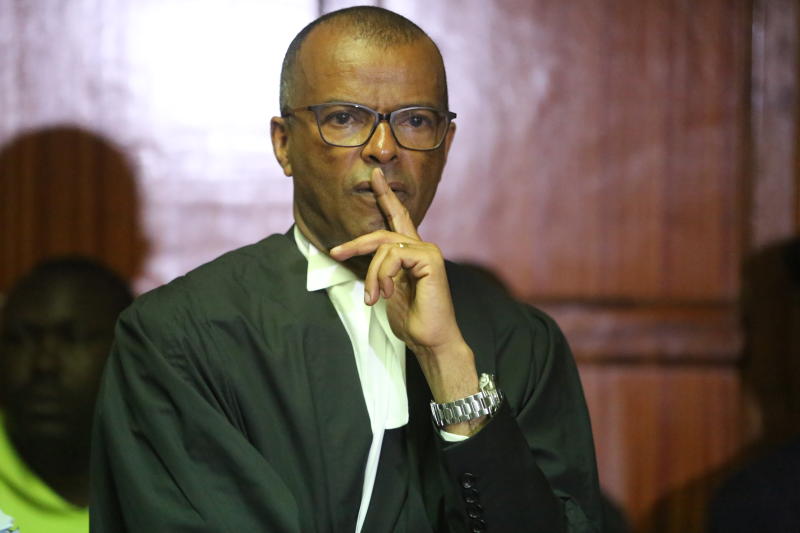 There is no doubt Senior Counsel Philip Murgor has handled several high profile cases both as a prosecutor and a defence lawyer.
There is also no doubt that he is a man who will not shy away from chasing his dream. In 2017, he declared he would vie for the presidency on a United Democratic Movement Party, but dropped out of the race before the final nominations.
Having served as the country's Director of Public Prosecutions (DPP), Murgor hopes to become the third Chief Justice and president of the Supreme Court to be competitively recruited since the promulgation of the 2010 Constitution.
Murgor is remembered for gallantly defending the Central Bank of Kenya during the infamous commission of inquiry into the Goldenberg scandal in 2006 and other high profile criminal cases.
In his own words, Murgor believes he is the best candidate to succeed Justice David Maraga. He says his courage, integrity, independence and principles make him the best candidate for the seat. Murgor says it is these same traits that saw him become the shortest serving DPP after he was sacked.
"I have a successful history in public service, having been tried and tested. My quest to become the CJ is not an opportunistic commercial venture, but a call to serve the public once again by bringing my legal experience as an all-round practitioner and managerial expertise to the Judiciary," said Murgor.
This will, however, await the outcome of his interview by the Judicial Service Commission scheduled for Friday next week.
With an aggregate 34 years experience in the legal profession, the 60-year-old started off as a State Counsel at the Attorney General's office in 1986 after his post-graduate diploma from the Kenya School of Law.
Take a quick survey and help us improve our website!
Take a survey
He served at the AG's chambers for six years before venturing into private law practice when he started Murgor and Murgor Advocates in 1992.
Murgor was plucked from private practice to public service when he was appointed the DPP in 2003, but became the shortest ever serving DPP when he was sacked in less than two years.
"It was pressure from some cartels that pushed me out of office as DPP. They could not stand my independence and non-compromising nature and pushed for me to be sacked," said Murgor.
While at the DPP's office, Murgor is credited with bringing professionalism in the office. He motivated the State prosecutors and led from the front by drafting new anti-corruption laws used to fight graft.
After being ejected from the DPP's office, he rejoined his law firm in 2005 where he is the current managing partner.
His private practice involves substantial cases in civil and commercial litigation, domestic and international commercial arbitration, criminal litigation including private prosecutions, corruption cases, and commercial fraud.
Murgor was admitted to the prestigious roll of Senior Counsel in 2020 for his exemplary work as an advocate, integrity, unquestionable professional conduct, community service and contribution to scholarly writings within the legal profession.
He has a Master of Law in International Trade and Investments from the University of Nairobi (2011), a Bachelor of Law from the same university, which he acquired in 1985, and a post-graduate diploma from Kenya School of Law obtained in 1986.
Despite being one of the five candidates shortlisted from outside the Judiciary with no experience in writing judgements, Murgor maintains that the position of CJ does not require a jurisprudential giant, but a managerial expert with great skills.
He has cited the case where he represented CBK against 39,000 individuals who lost substantial amount of money through different fraudulent pyramid schemes as one of his five major writings.
In his second cited piece of writing, Murgor submitted the case where he represented two women who had sued for being discriminated against by the Limuru County Golf Club because of their gender.
His third example of writings involves a case where he represented a property development company against a bank that wanted to auction some of its investments, and another where he represented Laser Eye Centre Limited against being evicted from the Sarit Centre Mall.