Omar ordered to testify in inquest into Tecra's death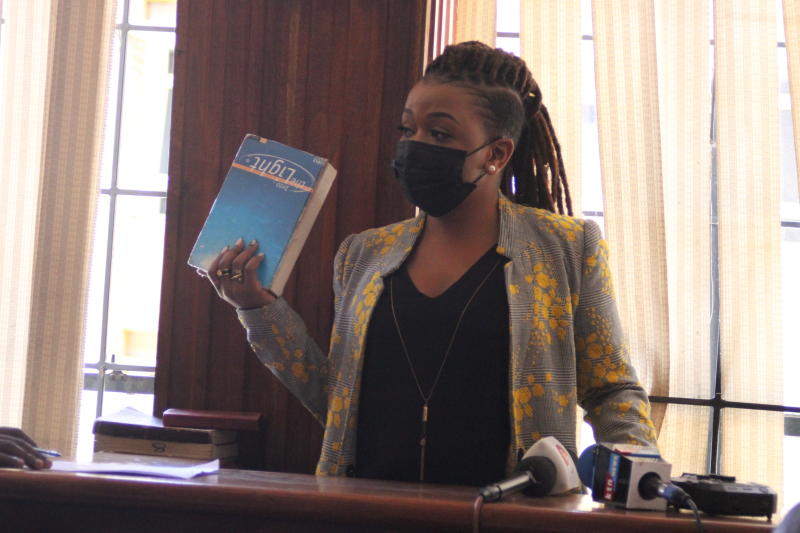 A magistrate has summoned the boyfriend of Keroche Breweries heiress to testify over her death.
Principal Magistrate Zainab Abdul yesterday ruled that Omar Lali had been adversely mentioned by witnesses in the inquest into the death of Tecra Mugai, noting that he must appear either in person or through his lawyers during the next hearing.
"It is important that he participates in the proceedings. The summons is for him to appear in court and will also be required at some point to testify in person," ruled Abdul.
Omar was the last person believed to have been in the company of Tecra before the alleged fatal fall that cost her life in Lamu in May last year.
The magistrate also summoned six other people — Kusai Lali, Ali Bakari, Abdul Hakina, Yahya Salim, Ahmed Ali and Omar Ali, who are said to have been the first people at the scene where Tecra got the injuries that caused her death.
According to Tecra's family lawyer Elisha Ongoya, the six have crucial information on the circumstances that led to Tecra's injuries and which might help the court in reaching a just conclusion in the inquest.
The magistrate made the orders as three witnesses testified how turbulent Tecra and Omar's relationship was and how the family tried to dissuade her from dating an 'old man' but she refused.
First on the dock was Tecra's elder brother James Karanja, who said he was shocked when the sister introduced Omar as her boyfriend, and that she would always become upset whenever the family tried to take her away from him.
"I knew Tecra's taste for friends and was shocked when she introduced Omar since I knew her past relationships and kind of people she liked. Omar was not her type of man because of the age gap and the different lifestyles," said Karanja.
He said he first met Omar in Dar es Salaam in September 2019 during a birthday party and that he noticed that the man from Lamu was very unfriendly and didn't want to sit with them.
He testified that the second time he met Omar was in November 2019 when his parents dispatched him and his girlfriend Victoria Marsella to Lamu to talk to her sister to return home after she eloped with the man.
While in Lamu, Karanja testified that he met another woman who knew Omar very well and confided in them to advice Tecra to leave him because of his past.
"The lady called Yvonne was familiar with Omar because they had been together in Lamu for long. She advised us to tell Tecra to leave Omar because of his past where he had dated so many women but when we talked to my sister she became very upset," said Karanja.
According to him, Omar caused Tecra to change her lifestyle and became difficult with the family and would tell them that her relationship with Omar was not only about love but also spiritual.
"Omar tried to keep her away from us as a family. She started being aggressive and shouting without any reason. She changed her lifestyle and became a person we did not know," said Karanja.
Karanja's girlfriend Marsella in her testimony, said she first thought Omar was just a person Tecra had met on the way when they met in Tanzania because he was too old.
According to Marsella, Omar had an I-don't-care attitude and would keep to himself. "It seemed strange in a typical relationship because he did not care about Tecra. I even disagreed with him and told him he was an old man who was not fit for Tecra," said Marsella.
Tecra's house help, Anne Waithera, testified that Omar was always violent and used her money to entertain his family and friends.
She said that when Tecra invited her parents to come and meet Omar at their residence, the man escaped and went to the bush near Lake Naivasha where he hid until sunset.
According to the house help, Omar was domineering and would even decide who Tecra meets.
"Omar used to bring his daughter, brothers and sisters to Naivasha where Tecra paid all their expenses including booking for them flights," said Waithera.
She testified that Omar brought another woman of European origin and took her to an expensive hotel in Naivasha where Tecra footed the bill.
She stated that Omar paid her Sh40,000 to quit work and brought a boy from Lamu as her replacement. The inquest was adjourned to May 4.