Rains to remain below average despite floods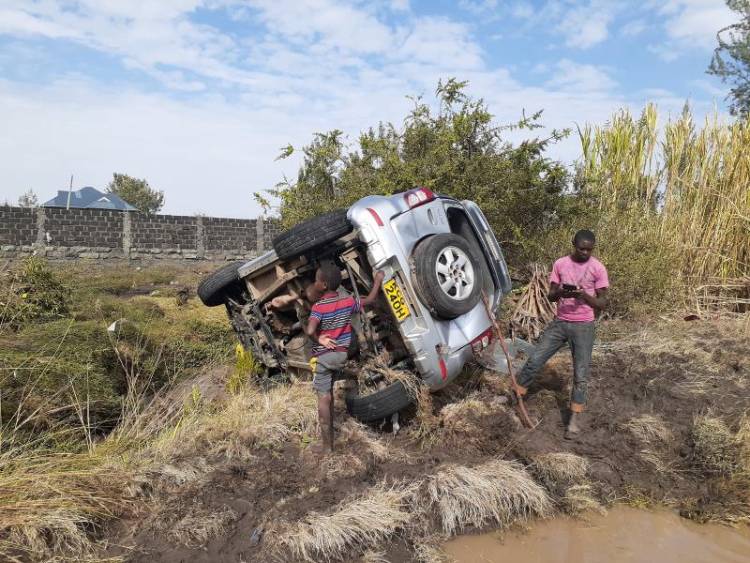 The heavy rainfall that hit parts of Nairobi on Saturday left death and destruction in its wake.
Four people were reported dead in Makongeni, a settlement in Ruai. The four, a couple and their two children, were killed when the roof of their house caved in.
In another incident, three people escaped death narrowly by jumping out of a vehicle that had been trapped by floodwater and swept towards a river.
In several other locations, families were forced to spend the night in the cold after the heavy downpour damaged their houses.
A rental block that was home to some 15 families had its roof blown off. Power lines were also cut when poles fell, forcing residents to go without electricity for the night.
Yesterday, city residents were busy fixing what they could after the destruction of the night before, while others were trying to salvage furniture and electronics from flooded rooms.
And in Ruai, the rains devastated huge portions of the area. Electricity poles leaned precariously, with wires lying on the ground alongside lifeless chicken and damaged iron sheets.
Yet it was not the first time that some were experiencing the destruction.
Paul Mwihia pleaded with the government to find a solution to what he said had become a regular nightmare whenever it rains.
"Ruai needs action from our leaders, even if it is digging trenches, because this is not the first time we are experiencing this. We now have a problem because our houses are flooded, electricity transformers have fallen on houses and our livestock have drowned," he said.
Despite the weekend downpour, the Meteorological Department's general forecasts for the country in February is sunny and dry conditions in most parts, with occasional light rainfall in a few areas.
Director of Meteorological Services Stella Aura said in the monthly forecast for February released last week that rainfall in Kenya this month would be below average.
A few areas in the highlands west of the Rift Valley, the Lake Victoria basin and Southern Rift Valley are, however, likely to experience occasional rainfall.
Although the department's forecast for Nairobi and parts of the Central highlands suggested that there would be a chance of rain, the heavy pounding witnessed in the city left people scratching their heads, especially since other parts of capital city were dry.
Further, most parts of the city were yesterday overcast, a phenomenon common during the long rains season that starts in April. ?