I did not travel to ICC to fix Ruto, says Gicheru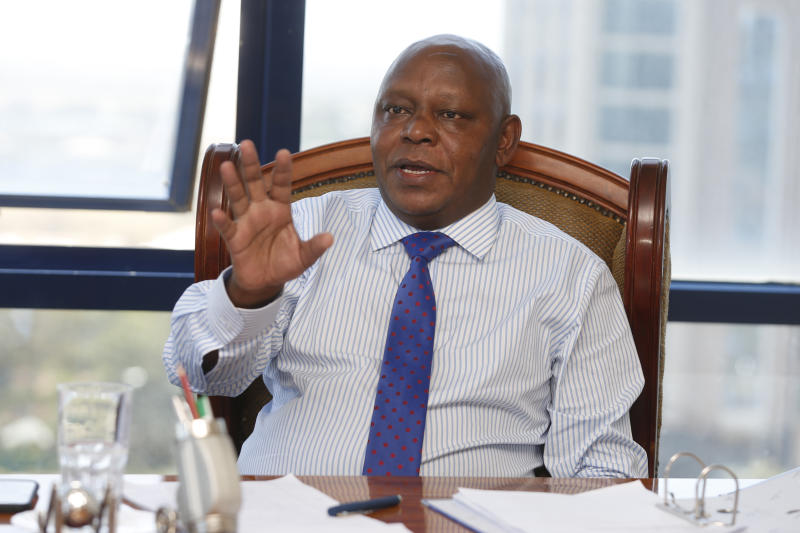 After, three months of brushing shoulders with the world's most dangerous convicts and indictees, lawyer Paul Gicheru quietly got back on Tuesday.
In his own words, it was not all that bad at The Hague-based International Criminal Court detention centre.
On November 1, 2020, Gicheru slithered out of the country, taking himself to the ICC and leaving behind a cloud of confusion, mistrust and suspicion as to what his actual mission in The Netherlands was.
He had been a wanted man for years; wanted over claims of interfering with court's witnesses as they regarded earlier cases involving President Uhuru Kenyatta and his deputy William Ruto. The cases crumbled over lack of evidence.
Sitting in his office for the first time after three months at the ICC detention centre in The Hague, Gicheru, in a jovial mood like a man who has had a burden lifted off his shoulders, said he is a happy man.
From the setting of his magnificent office, Gicheru explained his lonely sojourn to The Hague despite having a court order slamming brakes on the ICC. He said life at the detention centre was good and comfortable as he was given good treatment by both the Netherlands government and the court and had access to what he wanted.
"I was given my own room at the detention centre. The rooms are good, with a television and a personal computer connected to the internet. I could also eat whatever I wanted but could buy food at times if what I wanted was not in the menu," Gicheru said.
Take a quick survey and help us improve our website!
Take a survey
While not attending court, Gicheru said they were allowed to roam freely within the detention centre and meet other detainees. He said he met with Uganda's rebel leader and commander of the Lord's Resistance Army Dominic Ongwen.
Ongwen was yesterday convicted of crimes against humanity and war crimes in northern Uganda. Gicheru also met with Bosco Ntaganda who was jailed for 30 years for war crimes committed in DR Congo.
Gicheru said detainees were also allowed limited access to phones, and that their families were allowed to visit them anytime they wished without restrictions.
In the exclusive interview, Gicheru told The Standard that he did not go to The Hague to fix Ruto.
He said surrendering to the ICC was a personal decision to honour a warrant of arrest issued against him by the court in 2015 over claims of interfering with witnesses and not to fix anyone.
"Owing to the nature of the matter, I was entirely a voluntary and personal decision in strict and exclusive consultation with my family without the participation of any third party. Any speculation on any third party involvement was entirely wrong and should be ignored," Gicheru said.
Gicheru was wanted by the ICC to answer allegations of corruptly influencing witnesses who had been lined to testify against Ruto and radio journalist Joshua Arap Sang in the crimes against humanity charges they faced at The Hague.
The High Court issued the warrant of arrest against Gicheru alongside Philip Kipkoech Bett in March 2015 and unsealed in September 2015 but they did not surrender after the warrants were suspended. At the time of issuing the warrants, ICC prosecutor Fatou Bensouda claimed the two had attempted to bribe six prosecution witnesses to withdraw their statements against Dr Ruto and Sang.
Although the case against Ruto and Sang was subsequently withdrawn in April 2016, ICC judges had indicated that they would still allow the prosecution to bring a new case against the two in future if new evidence is discovered.
It is the rider left by the judges while discharging Ruto and Sang that brought speculation, after Gicheru surrendered to the ICC, that the plan was to revive the case against the deputy president.
Gicheru said he heard about the rumours while in confinement at The Hague, which he said were all lies as he did not surrender to implicate the DP.
"I did not go to ICC to fix anyone. It was a personal decision. My conscience could not be at peace forever knowing there was a warrant from ICC hanging over my head. I wanted to clear this thing to enable me be at peace," he said.
Gicheru's lawyers and government officials said they were not aware of his surrender to ICC given a High Court order that suspended the warrant or arrest against him was still in force.
But Gicheru, who is also the chairman of the Export Processing Zone Authority, yesterday said he deliberately chose to make his travel a secret so as not to trouble anyone, "since the warrant of arrest against me as an individual."
"It reaches a point where one has to make a decision. I chose to make the decision to go to ICC purely on personal terms," the lawyer said.
"A warrant of arrest is a personal thing. It affects you as individual and while I left the country to honour the warrant, I am now back without the burden on my shoulder and I have since resumed my public, professional and personal duties."
He however said he would not comment on the case facing him since it was a condition given by the ICC judges that he should not comment about it in public or anywhere else.
"In line with the court's decision and the law on sub-judice, I wish to inform everyone that I will not be available for any comments or interviews relating to the matter pending in court or any other matter touching on the court generally," Gicheru said.
With the ICC experience, Gicheru's message to Kenyans is that they should endeavour to keep peace and harmony, and live together as brothers and sisters irrespective of their differences.
He added that with the warrant of arrest that hanged over his head now behind him, his mission now is to resume his personal and professional duties from where he left before going to The Hague on November 1 last year.