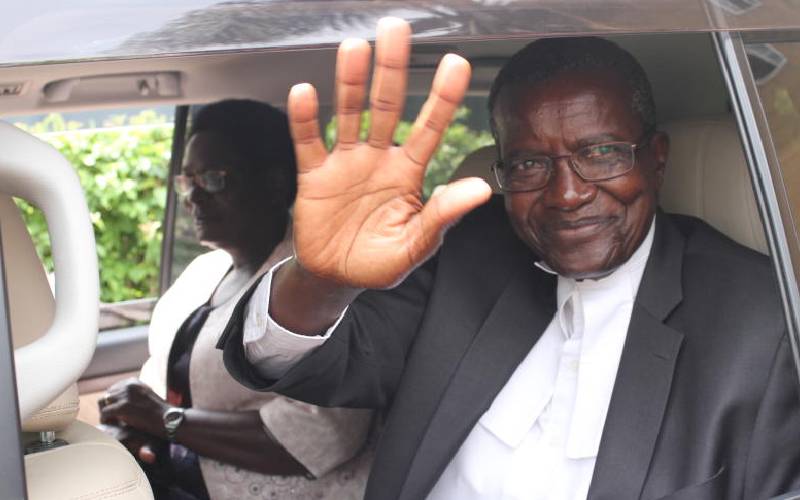 Retired Chief Justice David Maraga has joined the club of top senior citizens enjoying a hefty send-off package worth more than Sh15 million for serving the country.
He will receive a lump-sum payment for his 18 years of service in the Judiciary and a monthly pension accompanied by other benefits befitting the title of Chief Justice.
Other beneficiaries of this retirement scheme include former premier Raila Odinga, former vice presidents Moody Awori, Kalonzo Musyoka and Musalia Mudavadi and former Chief Justice Willy Mutunga.
Mr Maraga, who attained the age of 70 on January 12, is to be paid based on the Retirement Benefits (Deputy President and Designated State Officers) Act, 2015, that commenced on July 9, 2015.
He was appointed High Court judge in October 2003 by former President Mwai Kibaki.
The former CJ, who in November last year claimed he could not access the VIP lounge at the Jomo Kenyatta International Airport despite being a constitutional office holder, is entitled in his retirement to access the facilities in the country's airports and continue holding a diplomatic passport together with his wife.
Section 8(2) of the Act provides that Maraga may be requested by the Government to perform, subject to agreement, specific official functions for which he shall be paid a reasonable allowance.
The law allows Maraga the use of two saloon cars each with a capacity that does not exceed 2,000cc, which shall be replaceable once every four years.
For long-distance travel or driving in rough terrain, he will be given a four-wheel drive vehicle that does not exceed 3,000cc, which shall also be replaced once every four years.
FUEL ALLOWANCE
To ensure that the vehicles are not grounded, Maraga will be paid a fuel allowance equivalent to 15 per cent of the current monthly salary of the office holder.
In August 2017, the Salaries and Remuneration Commission capped the CJ's salary at a minimum of Sh990,000 and maximum of Sh1,327,888 in a letter that was written to the Judiciary by commission secretary Anne Gitau.
If Maraga, who was appointed CJ by President Uhuru Kenyatta in October 2016, retired earning Sh1,327,888, he is to get a lump-sum payment calculated as a sum equal to one year's salary paid for each term served in office, which totals to Sh15,934,656.
Having been appointed the second CJ after the promulgation of the Constitution on August 27, 2010, he will get a monthly pension equal to 80 per cent of his last monthly salary.
Also included in the retirement package is Sh10 million and Sh300,000 for inpatient and outpatient treatment, respectively. He will get Sh75,000 for dental cover and a similar amount for optical.
This will also cover his spouse's overseas treatment, with a reputable insurance company as laid out in the law.
Maraga, who served as a resident judge in Nakuru and a presiding judge of the Family Division in Nairobi and the Court of Appeal in Kisumu, is to be provided with two armed bodyguards on making a request to the Interior ministry.
Additional benefits include two drivers, one personal assistant, one secretary, a house-keeper, gardener, cleaner and a fully equipped office.
Maraga and his wife shall, at least five months before the commencement of each financial year, submit estimates of all the expenditure required in respect of the benefits to which he is entitled for that year to the Cabinet secretary responsible for finance for approval.
When Mutunga retired on February 7, 2017, he sought to have his pension recalculated and backdated to July 17, 2016. He received the benefits on lodging another claim after the law was amended.
Mutunga had been paid a lump-sum pension gratuity under the Pensions Act Chapter 189 and under the Widows and Children's Pension Scheme Chapter 195.