Five family members die in 'jiko' poisoning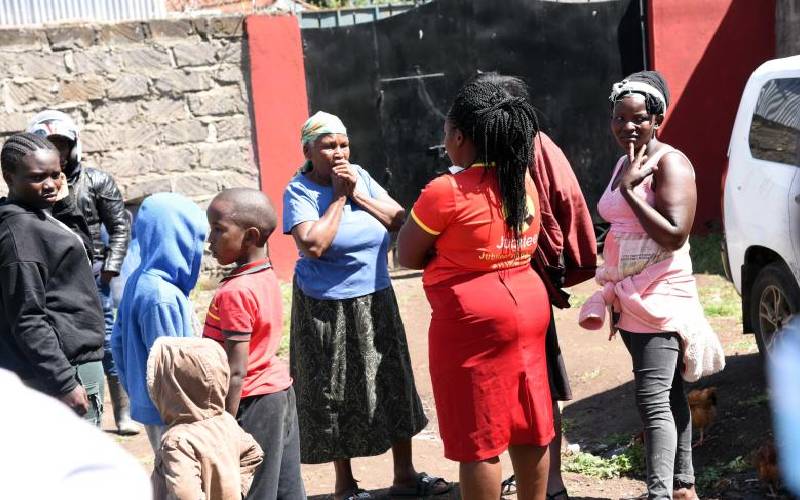 What a way to start the year! The embers in the jiko (charcoal-burning stove) were slowly dying when police arrived at the scene where five family members were found dead on Friday evening.
A sufuria of boiled maize remained abandoned on the corner of the room. Police suspect carbon monoxide poisoning as the cause of death of Jacob Karumba, 32, his wife Doris and three children, aged between six years and three months.
Karumba was a caretaker at a house in Nairobi's Githurai Kimbo Estate and he also sold boiled maize on the side. His wife was a stay-at-home mother who did small businesses. They stayed in a single room house.
Loved his family
Neighbours said Karumba always boiled maize on the verandah a few metres from his house, but on Friday, when it started drizzling in the morning, he took the jiko indoors. They remember seeing him quite jolly in the morning. He exchanged pleasantries and New Year wishes with neighbours, and that was the last they saw him and his young family.
"They were a close-knit family. He cared deeply for his children, and the eldest who was about eight years old would sometimes help him sell the maize," said Mary Njeri, one of the neighbours.
Ruiru police boss Phineas Ringera said they got a call on Friday night that Karumba's family had not been seen morning. When he sent his team, they found the bodies in the house. The man was still on the chair, the baby on the floor, while the wife and two other children were found in bed.
Take a quick survey and help us improve our website!
Take a survey
Police warned against using jiko inside a poorly ventilated house, especially during the rainy season when people use it as a source of warmth.
Silent killer
Carbon monoxide poisoning, always referred to as 'the silent killer' happens when the toxic odourless gases emitted from burning wood or charcoal mixes with blood and affects oxygen circulation in the body.
"When you breathe in carbon monoxide, it enters the blood, mixes with the red blood cells haemoglobin to form poisonous carboxyhaemoglobin that prevents blood from transporting oxygen," reads a report from WHO.
The signs of carbon monoxide poisoning include headache, dizziness, shortness of breath, abdominal pain, stomach upset, vomiting, chest pain, blocked nose, running nose, red eyes and confusion. Carbon monoxide poisoning is more likely to occur when people are asleep.
This was the second tragedy to hit Githurai. A day earlier, the area lost five children in a freak accident. The children died after they slipped into a disused septic tank.
Witnesses narrated the horror of hearing screams from the children who were trapped inside the 20-feet water filled hole.
Neighbours recount how they helplessly threw ropes and rods inside the hole, hoping the children would clutch onto them and climb out.