Former Chief Justice Evan Gicheru is dead, Chief Justice David Maraga has announced.
He was aged 79.
He was Kenya's Chief Justice for eight years having been appointed by former President Mwai Kibaki in 2003.
Maraga eulogised him as a steadfast public servant, a selfless professional and humble human being.
Read More
"Justice Gicheru will forever be remembered for his role in entrenching judicial service independence in Kenya ending the time when Judiciary took instructions from the Executive," he said in a statement.
Maraga added; "He brought honour to the office of the Chief Justice by ensuring that it became the indisputable custodian of integrity within the judiciary."
Gicheru was the longest serving Chief Justice in Kenya.
Upon his retirement, Gicheru declared he had no regrets for whatever transpired during his tenure. "I have no regrets… I am now a free man. I can now go die peacefully," he said, as he walked to his car.
Gicheru kicked up a huge controversy when he swore in President Kibaki at dusk in the wake of the highly contested 2007 presidential election as violence erupted in parts of Kenya, mainly the Rift Valley and the Nyanza regions.
President Kibaki was sworn in State House for his second term after chairman of defunct Electoral Commission of Kenya (ECK) Samuel Kivuitu controversially declared him the winner. Justice Gicheru presided over the hurriedly convened ceremony attended by a few aides and senior government officials.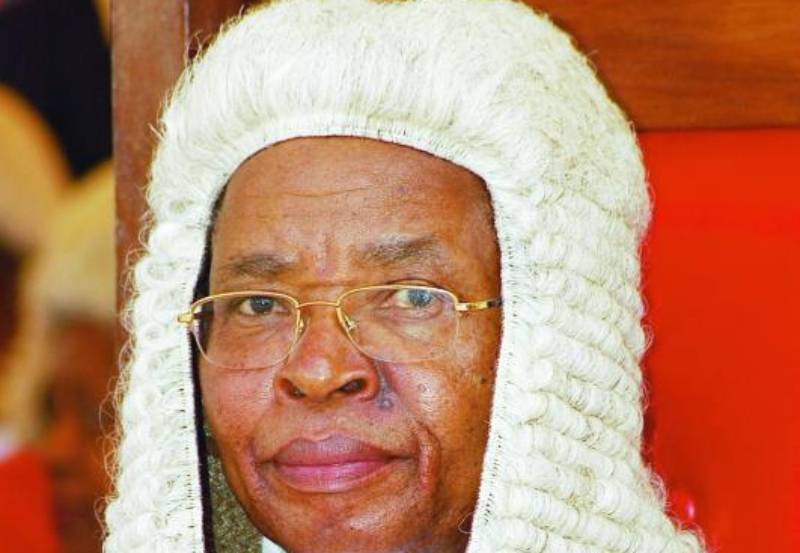 In 2014, the former chief justice hit the headlines again after he went missing while on holiday at the Aberdare Country Club in Nyeri County.
He was at the resort with his family when he went for a stroll in the expansive game reserve.
Police mounted an overnight search and found him in a thicket in the club.
Police and the family said the former CJ was diabetic and he fell in a thicket as he wandered in there and slept.
Gicheru's career
According to Maraga, Gicheru had a lengthy career in the public service, which started when he was appointed a District Officer in Wajir.
He later worked as a senior State Counsel in the office of the Attorney General and as an administrative officer in the Office of the president, before joining the Judiciary as a Judge of the High Court in 1982.
In 1988, he was then appointed a judge of the court of appeal and then the Chief Justice in 2003. He had took over from former Chief Justice Bernard Chunga.
"Justice Gicheru rendered his services in many other capacities. Perhaps the most famous and for what he will forever be remembered , was his role as the chairperson of the Judicial Commission of Inquiry into the disappearance and subsequent death of Foreign Affairs minister Robert Ouko," Marag said.
Gicheru left office in 2011 in changes that saw Justice Willy Mutunga take over.