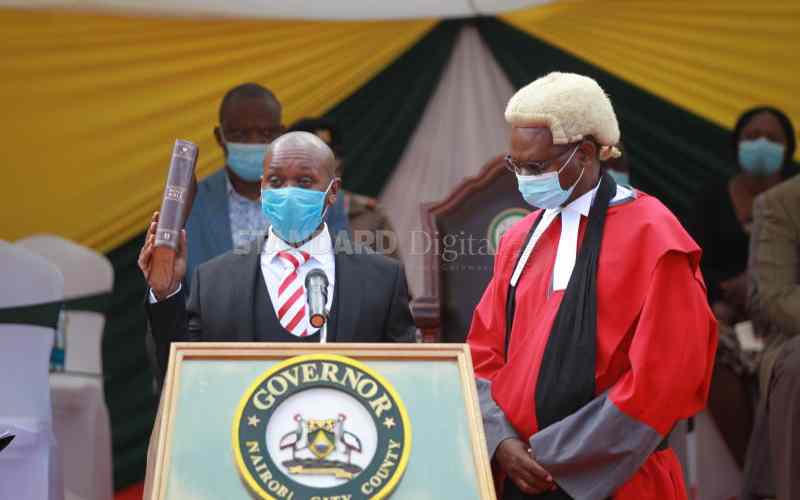 Nairobi's acting Governor Benson Mutura started his job at City Hall by unlocking the stalled budget approval that had jammed operations of Nairobi Metropolitan Services (NMS).
Immediately after his swearing-in, Mutura signed the governor's warrant that in effect gave The Treasury the greenlight to release Sh37.5 billion to the county, paving the way for the implementation of the 2020/2021 budget.
As he took the instruments of power, his predecessor Mike Sonko was distributing foodstuff to city residents.
Mutura's move brought to an end a two-month budget stalemate pitting Sonko against NMS boss Mohammed Badi.
The budget, which was approved in October by the city assembly, had allocated Sh27.1 billion to NMS, Sh8.4 billion to City Hall and Sh2 billion to the county assembly.
Read More
Sonko had refused to assent to the Bill, claiming "illegal" allocations to the NMS, forcing the county to operate on vote on account, meaning that it could access only 25 per cent of its annual budget.
Following the lapse of 14 days since the budget was passed by the assembly, it was gazetted but could not be implemented until the governor's warrant was signed.
Mutura says that once the funds have been deposited in the County Revenue Fund, City Hall will manage to pay delayed staff salaries.
"This is to ensure that we receive funds from the Treasury so that we can pay salaries.
"Our staff will then pay for their insurance scheme and we will also have funds channeled to various sectors so that we can revive stalled county projects," said Mutura shortly after he was sworn-in.
Oath of office
Judge Jairus Ngaah administered the oath of office at the ceremony held at Kenyatta International Convention Centre's Comesa Grounds.
In attendance were General Badi, nominated MP Maina Kamanda, Makadara MP George Aladwa, Nairobi Woman Representative Esther Passaris, Nairobi County Assembly leadership led by majority leader Abdi Guyo and minority leader Michael Ogada, whips, deputies and MCAs.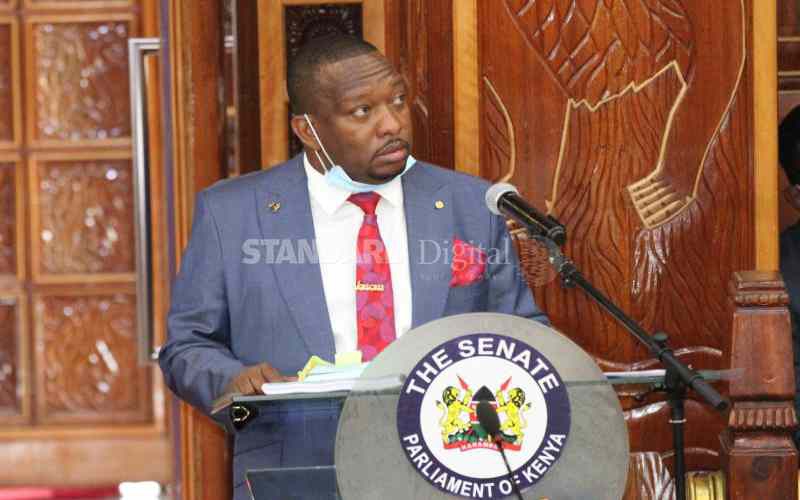 County executive committee members, chief officers and county staff were also present.
Shortly after the swearing-in, Mutura walked to City Hall where he was handed the symbols of power that include the county flag and seal and a document with the national and county plans.
His decision to sign the warrant was premised on his resolve to ensure a smooth transfer from the Sonko-led administration to the incoming governor after the 60-day transition period.
"It was just recently when I was elected Speaker of the Nairobi County Assembly. I thank the Almighty God for making this possible.
"The fact that I am acting as the Governor of Nairobi is testament that things are not working well and we must fix them," Mutura said.
He said that his first order of business would be to sort out the budgetary issue so as to restore service delivery in the capital. He asked NMS to support him.
"NMS is implementing what the county had failed to do. We have to work with NMS so that Nairobians can get services. If we join forces, things will get better for all Nairobians," he said.
The former Makadara MP also said that had Sonko focused on service delivery, the city would be in a better state.
Temporary incumbency
"During this period of temporary incumbency, I expect full support from the CECs, the few chief officers left, directors and county government staff. I will rely on their wise counsel as we make decisions that affect Nairobians. We cannot go wrong," he said.
On pending bills, Mutura said the delay in paying suppliers and contractors had led to untold suffering of individuals who were conducting business with City Hall. "It is sad that Kenyans who did business with the county have never been paid. This must come to an end."
Sonko was impeached by the Nairobi County Assembly a few weeks ago and the decision was upheld by the Senate, which voted him out last week.
He was accused of abuse of office, gross violation of the law, committing a crime under the national and international laws and lacking the capability to run the county.