Prisonbreak and land cases mark Sonko Coast life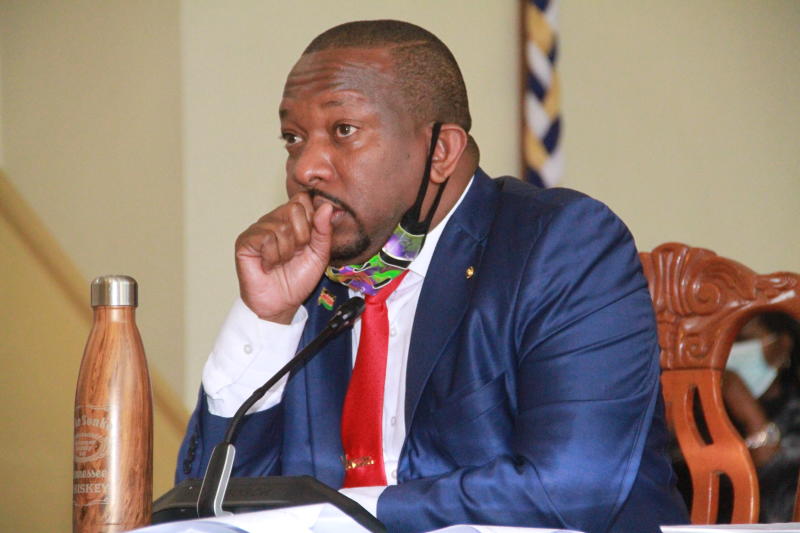 On December 4, last year, Nairobi Governor Mike Sonko (pictured) moved to the High Court in Mombasa seeking to stop his arrest over his alleged escape from Shimo la Tewa Maximum Prison more than 20 years ago.
The governor wanted the court to grant him anticipatory bond to enable him appear in court in another case arising from an altercation with police officers in Voi.
Sonko's run-in with the authorities revolved around his alleged assault of Coast Regional Commander Rashid Yakub. Mr Yakub later withdrew the case.
Lawyer Jared Magolo told the court that Sonko feared the police wanted to arrest and charge him with breaking out of prison in 1998.
Mr Magolo said the matter in which the governor had been jailed for six months for not attending court proceedings had been dealt with and the sentence successfully appealed.
The famous jailbreak had been a matter of conjecture in political circles despite furious denials by the governor. It was said he gave law enforcers the slip at the Coast General and Referral Hospital, adding to his controversial days in the Coast where he was born and raised.
Speaking during a morning show on Radio Maisha in November, last year, the governor admitted that he was convicted twice for failing to appear in court and jailed for six months.
While dispelling reports that he mysteriously disappeared on April 16, 1998, barely a month after his imprisonment, Sonko claimed he left with the full knowledge of Shimo la Tewa Prison officials.
"I stayed in prison for one month and was released after my mother's death," he said.
The governor, however, did not reveal whether he was allowed to attend the funeral on humanitarian grounds and then voluntarily return to prison, or if he was let off the hook for good.
When asked whether he had faked illness so that he could be hospitalised and plot his escape, he said "these are things that happened 23 years ago and I have been cleared. That is why I ran for public office."
For years, the governor has been linked to multiple land disputes in Kwale, Mombasa and Kilifi. Some of the cases involve foreign nationals.
In January 2017, a German national, Monika Herta Elfriede Behrmann, laid claim to a disputed Sh183 million land in Kikambala, Kilifi, that sucked in the Nairobi governor.
Monika claimed she had bought the land in 1994 from Mubia Holdings Limited for 20,000 Deutsche Mark (Sh2 million) and later sold it to Caroline Mwelu Mwandika for Sh23 million.
In an interview with Monika that was corroborated by court papers, she claimed that Mwelu broke the terms of sale by paying only Sh2 million.
Mwelu, who is allegedly related to Sonko, continued to live on the property despite a court judgement that restored the farm to the German.
Weeks later, there was a fight at the property after youths and residents allied to Mwelu clashed with Monika and her companion, Joseph Lenguris.
Mr Lenguris later filed a case at Kijipwa Police Station claiming that Sonko and his bodyguards stormed the property and opened fire. Sonko and the police denied the claim.
But Mwelu's lawyer, Benjamin Musyoki, later confirmed that Sonko had tried to intervene to resolve the land dispute.
There are at least two other cases in Mombasa where Sonko has appeared as a prosecution witness.
In one case, he allegedly acted as an agent while in the other he is facing a defamation suit filed by a lawyer, who also wants him charged for fraud in a Sh16 million land matter dating back to 2009.
State witness
The lawyer, Lucy Momanyi, has written to the Director of Public Prosecutions several times questioning why Sonko was turned into a State witness and not a co-suspect in the trial of Ruwa Mwaruwa Kurera, who is charged in criminal case 929/2012 with fraudulently obtaining money from a German, Morgenstern Joachim, by pretending he could sell him land that he did not own in Shanzu, Mombasa.
During the transaction, Sonko allegedly pretended to be Ruwa's son when the accused reportedly received Sh16 million in cash inside a bank. Ruwa had reportedly posed as a sick person in need of money to travel to India for urgent medical attention
But in a police statement dated October 16, 2010, Sonko denied benefiting financially from the fraud as alleged by the German.
He also denied using an identity card bearing the name Mike Munga Kurera and his photograph during the alleged transaction.
"I was informed that the said identity card had been used by somebody who fraudulently assisted one Ruwa Mwaruwa Kurera to obtain Sh16 million from a German national by falsely pretending that he had a beach plot in Shanzu for sale," said Sonko in court papers.
On June 6, 2012, in a letter to the DPP, Momanyi wrote that Joachim recognised the senator as one of the suspects yet he had not been charged alongside Ruwa.
In another letter to the DPP in 2014, the lawyer asked that Sonko be investigated for fraud. She also complained that he had called and threatened her several times, claims that Sonko denied.
On July 4, 2017, Momanyi told the court that the case had stalled since 2012, delaying justice for her client.
But that was not the only land case that Sonko was entangled in. On June 8, 2016, he admitted before a Mombasa magistrate that he had acted as an agent in the sale of a Sh29 million plot that saw businessman Afzal Ahmedali charged.
Mr Ahmedali was accused of selling property in Bamburi to two brothers from Kajiado. The State said the land did not belong to him. The State also accused the businessman of forging a title deed for the property four years before selling it.
Sonko, who said he was in the real estate business from 1996 until 2009 through his P and P Group of Companies, told Chief Magistrate Julius Nang'ea that he had acted as an agent in the sale and received Sh870,000 as commission from Ahmedali.
Ahmedali faced three counts of fraud, including making a fake title deed on August 19, 2005, with intent to defraud. He was charged with presenting a forged document to lawyer Kanaiyal Mohamnal Pandya at his office in Mombasa on July 27, 2009. He was also charged with swindling the two brothers of Sh29 million between July 31 and September 17, 2009.
Sonko testified that he met flower farmers, Hittesh Pravin Dave and Rajesh Pravin Dave, who wanted to buy land in Nyali through Pandya Hitesh Advocates, one of the law firms he was dealing with.
He said he introduced Ahmedali as the property owner to the advocate and was to be paid a commission after the transaction was concluded.
But investigating officer Millicent Ouko said Sonko used aliases like Mike Munga and Mika Musa when Ahmedali sold the land that belonged to Tecaflex Ltd to the two brothers. Tecaflex had allegedly bought the land from Bamburi Cement Limited.
"There were no such documents in the Lands office indicating a transfer between Tecaflex and Ahmedali. The original transfer is from Bamburi Cement to Tecaflex, who are the real owners of the property," said Ms Ouko.
Ahmedali is said to have received a first payment of Sh3 million and another Sh15 million from Standard Chartered Bank in Westlands, Nairobi. He received a further Sh10 million from Victoria Bank and Sh1 million from I&M Bank.
Hittesh said they first met Sonko at the offices of AB Patel Advocates in Mombasa where he introduced himself as Mike Musa, Ahmedali's agent.
He testified that while at the law firm, his lawyer told him that an agent would be sent to take him to view the properties he could buy. Sonko arrived and drove the brothers to Nyali.
"He was an African in his 40s. He was called Mike Musa. He drove me in his car to Nyali. He showed me the house. I saw a sign board showing the house was for sale but I did not like it. He told me there was another property in Bamburi."
Meanwhile, in the Monika land saga in Kikambala, court documents seen by Sunday Standard indicate that on January 23, 2014, Tonny Kamande and Patrick Kuria Mwangi incorporated a new company with the same name, Mubia Holdings, but with different directors, to acquire a title for the same land.
According to the judgement that restored the property to Monika, the new directors fraudulently purported to sell the same property to Mwelu.
Fraudulent deal
On April 11, 2017, the Environment and Land Court in Mombasa ruled that the action by Mr Kamande and Mr Mwangi was fraudulent and quashed it before restoring the property to Monika.
"It is the plaintiffs' contention that on January 23, 2014, one Caroline Mwelu Mwandiku through proxies Tonny Kamande and Patrick Kuria Mwangi incorporated a new company with the same name as Mubia Holdings Limited and thereafter fraudulently obtained a provisional title over the suit property," read the court documents.
The judgment by Justice Charles Yano states that Monika lodged a complaint with the National Land Commission and the commission later determined that the land belonged to her.
"The defendant (Mwelu) was served with summons to enter appearance but failed to do so. The interlocutory judgment was entered against her in default of appearance on May 16, 2016," read the documents, which are also available on the Kenya Law Reform website.
Justice Yano ruled that the land belongs to Monika and cancelled the registration of Mubia Holdings Limited as the owners. On April 20, 2017, Monika was issued with a provisional certificate of title by the Registrar of Titles.