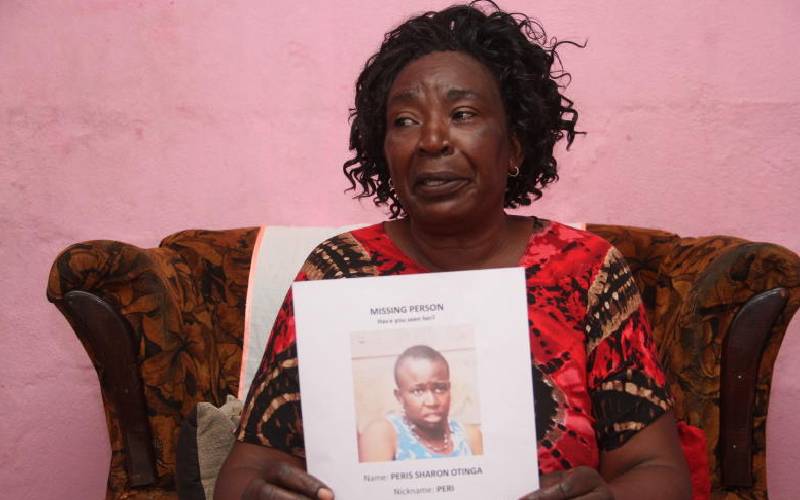 Rose Odhialo's 25-year-old autistic daughter has been missing for the last three days.
As the rains continue to pour, lulling many Nairobians to sleep, the distraught mother has stayed awake for the last four days.
Sharon Peris Odinga, fondly known as Peri, wandered off from her family's home in Eastlands, Komarock Phase 3A around 2am on Wednesday. Her siblings, who had been watching television in the living room with her, had momentarily dozed off.
Peri, who was wearing a black shirt, black trousers and no shoes, used the back door unnoticed. "We have not slept in the last three days. When it rained heavily last night, I was in anguish. I asked myself, where could my child be in this weather? What people is she with," posed Odhialo (pictured).
The family's search for their loved one began urgently, with security guards at the estate court being the first to be put to task.
"They said they did not see her leave. How could they not have seen her? They man the gate strictly and watch who gets in and out of the court at all hours. The CCTV cameras that we expect to document any occurrence have been dysfunctional since October," said Odhialo.
The mother said her daughter enjoys sneaking out for walks, and needs constant supervision. "My child was diagnosed with autism when she was two years. She cannot communicate fully; she understands what she is told, but cannot talk back," said Odhialo.
Antoinette describes her sister as a gentle and curious person, who tries to fix untidy places, even picking up trash and putting it away.
"People may misunderstand her if she reaches for their things, and this is one of our fears. Peri does not fear strangers and is not violent. She cannot fight back if attacked," said the sibling. The family reported Peri's disappearance to the District Officer's post in Kayole, Donholm, Embakasi and Obama Estate police posts.
At the same time, the family has been following leads from banners and posters they have circulated. "Someone told us they may have seen her in Saika. We combed the area, only to find that it was a case of mistaken identity. That was another mentally challenged girl and not our missing Peri," said Antoinette.
Kayole police have urged anyone with information on the missing person to come forward and report.