Call off BBI and focus on Covid-19 fight, Muslim leaders tell Uhuru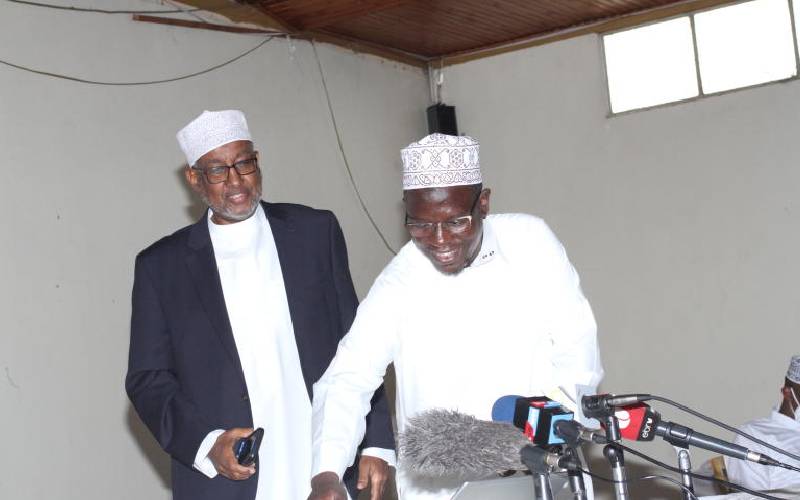 Muslim leaders have called on President Uhuru Kenyatta and ODM leader Raila Odinga to call off the Building Bridges Initiative (BBI) process and instead focus on the against Covid-19.
Speaking on Sunday during a press conference at the Kenya Arab friendship society offices in Nairobi, the leaders led by Supreme Council of Kenya Muslims (Supkem) chairman Hassan Ole Naado said the envisioned constitutional amendment in the BBI report is not a priority now with the country experiencing the second wave of Covid-19 with cases and deaths rising on a daily basis.
With the rising cases of Covid-19 and deaths being witnessed, the two leaders should focus on dealing with the virus, not skewed constitutional amendments," said Ole Naado.
They told Kenyans to reject the BBI report saying the document will claw back the gains brought about by the 2010 constitution.
Ole Naado said if passed, the report will return the country to a dictatorship by creating an imperial president.
"BBI will create an imperial president. It will weaken the checks and balances created by the 2010 constitution," he said.
The Catholic Church were the first to weigh in on the matter 10 days ago after they told the two leaders to open the document for amendment failure to which they will oppose it.
The Kenya Conference of Catholic Bishops (KCCB) said the BBI report requires "serious panel beating" before it is passed, amplifying calls to amend the report, which have been resisted by allies the two leaders and their allies.
The Catholic bishops cautioned against reintroduction of an imperial presidency, a bloated Parliament, compromising the independence of the Judiciary, imposing a police state and a "dangerous" proposal on the electoral commission.
The Ufungamano Joint Forum of Religious Organisations (U-JFRO) also proposed radical reduction in the number of elected representatives while the Kenya Council of Church Alliances and Ministries (KCCAM), forum be convened to resolve contentious issues.