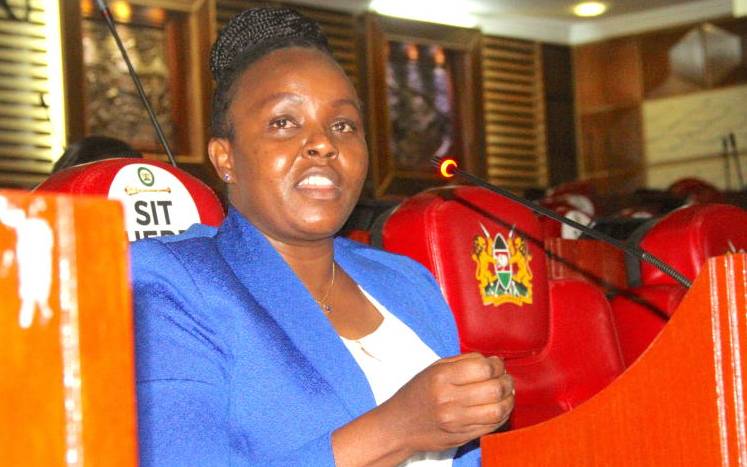 Ghosts of the annulled 2017 presidential election yesterday returned to haunt a nominee to the post of Data Commissioner.
MPs vetting Immaculate Kassait yesterday questioned her role in the bungled polls and subsequent failure by the Independent Electoral and Boundaries Commission's (IEBC) to open data servers as had been directed by the Supreme Court.
Kassait served as the Director of Voter Registration and Electoral Operations in the 2017 elections.
National Super Alliance (Nasa) presidential candidate Raila Odinga and running mate Kalonzo Musyoka successfully challenged President Uhuru Kenyatta's re-election.
Read More
"We need you to come out clearly on how you are going to ensure personal data is safe? Tell us it will not be abused," said Marakwet West MP William Kisang, chair of the departmental Committee on Communication, Information and Innovation.
He added: "You also need to tell this committee if it is good to store data here in the country or out there and whether it is reason IEBC denied Nasa an opportunity to access the servers," said Kisang.
Bumula MP Mwambu Mabongah also questioned the decision of the commission to have its data stored by a French company.
"IEBC contracted a French company to store our data. What was the reason?" posed the MP.
Mathare MP Antony Oluoch argued that suitability of a candidate cannot be pegged only on actual conviction.
"Chapter Six of the Constitution talks about the confidence you bring to that office. In light of the mishandling of data at IEBC, including elections data during presidential elections and data which the Supreme Court said should be given and was never given; can you look at Kenyans and say you have confidence and that we can trust you with the data?" asked Oluoch.
The nominee said her mandate at the electoral agency did not extend to the handling of election data. Kassait told the committee that she was only in charge of voter registration and education.
"My responsibility was not on data storage. It was the responsibility of the ICT directorate. I was in charge of voter registration and education," she said. "Data for voter registration was stored locally. It is the data for results that was stored in cloud for purposes of security," added the nominee.
She also said agents of political parties in the elections were granted access to the data server at the national tallying centre. Kassait assured that her office will follow the rule of law in protecting personal data and will not be prone to manipulation by powers that be.
President Uhuru had on Mashujaa Day celebrations asked the National Assembly to fast-track the approval of Kassait to facilitate the rollout of the Huduma Namba.